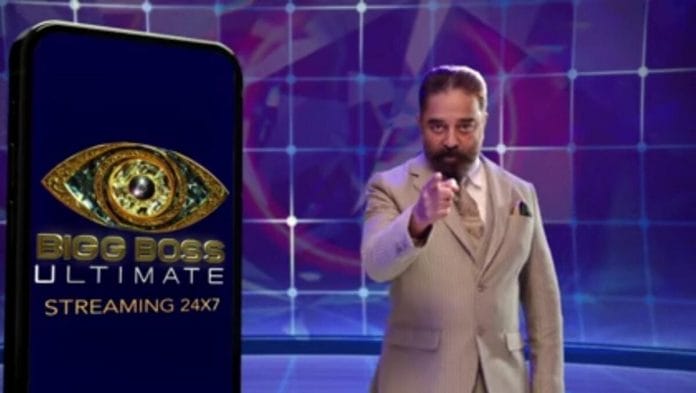 Bigg Boss Ultimate Tamil 5th February 2022 Written Update on TellyExpress.com
The show begins in Day 4 at 9.00 pm, Shariq is in confession room. Bigg Boss says to him that captaincy report card kept in garden area of Bigg Boss ultimate. He wanna give mark to the housemates according to their weekly performance and writes remark under their name. After he finishes his work he can inform this to any one of the camera. He asks to him only he allowed to go to garden area? He nods to him.
At 9.10 pm, Shariq writing report card. Bigg Boss asks housemates to go to garden area and stands in the red mark. Shariq says to them he didn't give this mark to hurt anyone personally. He gives 7 mark to Abhinav for maintaining his over confident. He adds to him that everyone feels new because of time gap. He says to Anitha that he feels she is very calculate here and being so silent here. He thinks she is observant so giving 8. Shariq gives 6 mark to Balaji for talking behind otters. Shariq says that he thinks July is fake after seeing the dye matter so giving 6 to her. He says to Niroop that he is not over confident and being himself so giving 8 to him for playing his own game. Shariq says to Suja that she entered into house as new person but pretending like she don't know certain things so giving 6 Mark to her. He says to Vanitha that she is having too much anger with her but playing game good. because of her outburst otters are suffering so gives 7 mark. She says to him that it's his opinion and his judgement is also good but she didn't get this anger from birth. He says to Suresh that he is getting anger for unnecessary things so giving 6 to him. He gives 6 to Sruthi for Playing game only but not open to with others. He gives 8 mark to Thamarai for doing good here but pretending like don't know many things its unnecessary that's why she lost 2 points. They appreciates him for observing well.
At 10.55 pm, All lights turns to off in the house.
Day 5 at 8.00 am, Morning wake up song plays at the house and housemates starts dance for the song " Aathaadi enna udampu" and greets everyone.
At 8.15 am, Vanitha thank Bigg Boss for giving curd to her. She says to camera that they only gave one packet coffee to them. She says to them that she was hurt because of that she never got this much embarrassment in her life. She asks them to send one coffee for her alone or else she won't drink it. Suresh asks camera to send coffee to her and also noodles are not matching here so it's better to take it back and send coffee to her.
At 12. 40 pm, Bigg Boss asks the housemates to choose the two best performance of the week considering their task and household works. They might choose the persons except Anitha, Abirami and Shariq. Abhinav chooses Snehan fot attending the interview well and also Bala for performed well in task and home too. Suja chooses Balaji for doing his work well and Bala for performed well in task. Balaji chooses Snehan for performs well and also Vanitha. Vanitha chooses Suja for taking care of the house well without expectations and Snehan for supporting the team. Niroop choose Suresh for working well in house to solve the issues in different ways and another one is Vanitha. Bala chooses Thamarai because she gave her best in task and also household works but no one nominated her so he feels bad for her and another one is Niroop. Suresh nominates Thamarai and Niroop. Now it's tie to do they go for another voting to four of them and freally choose Suresh and Bala as best performers. Bala says to them that previous season contestants advises to him keep calm and slowly wins the race but he don't like it because he is being himself here and not acting. Suresh shares few words to housemates about him.
At 2.50 pm, Suja cries inside the dressing room thinking about her baby and husband there. She comes out later after fresh up.
At 5.20 pm, Bigg Boss says to housemates that they give Bigg Boss currency to them to make this game so interesting. Now they can use their money to buy things through Kanna Laddu Thinga aasaya task. They can choose their things when it appears on Plasma Tv. Some list comes on TV with the points. Housemates asks to Bigg Boss Is they expecting to buy the things or not. They says that they don't need this all. Suja says to them that she wishes to give treat to all so she gonna buy the coffee powder and give treat to all. Housemates says she needs that money for her game. They demands her to give money instead of this items. Housemates advises her to use that money for her game play reasoning she may regret this later. Bigg Boss announces the quantity to them. Vanitha asks to him what other options are there.
At 6.10 pm, Bala says to Suresh that he is giving 100 to him for his love not for lighter. Suresh shows his money to them Thamarai asks to him how did she got it? He explains it to her.
At 6.30 pm, Snehan reads the new task information to all. Task name " Nee Athukku seri Pattu Varamaatten" this first captaincy task will take place in garden area. Anitha, Suresh, Bala and Abirami gonna participate in it. Their face printed tiles kept in garden area. After buzzer plays housemates wanna mention whom don't deserve to be a captain of this Bigg Boss ultimate house and breaks the tiles with a valid reason. They might share why are they choosing two person to become a captain also. Contestants can able to stop the housemates by their convincing speech.
At 6.45 pm, Niroop says that he gonna break Suresh and Bala. Suresh trying to convince him and says he wishes to give importance to ladies and youngsters. Niroop says to him that he is gonna do that because Anitha and Abirami are participating too. He breaks Suresh's tiles. Anitha asks him to don't take it to heart. Bala teases him. Niroop breaks Anitha's tiles and says he wishes to see Bala and Abirami as a captain. Vanitha says to them that she already selected the two of them in her mind. She wishes to see Suresh as a captain because he has an image of triggering people she wanna see him doing the captainy in the house. Vanitha adds that she understood Anitha is a calculative and smart girl so she wishes to see her as a captain. She says to Bala that she has the confident he will go to finals and he already became a runner up so she is breaking his tiles. She gives her opinion to Abirami and breaks her tiles.
Shariq asks the contestants to convince him not to break the tiles. Suresh says to him that he was the one encourage him to become a captain and praised himself. Shariq says to him that he was praising himself and not convinced him. He breaks his tiles. He breaks Abirami's tiles reasoning she has the ability to become a captain but she is getting angry for small things its not good to team.
Thamarai says to them that she wanna choose them but before that they wanna convince her. Anitha says to her that she will do her best in captaincy. Thamarai asks her to do well without captaincy also she breaks the tiles. Thamarai asks Abirami to say how to cook brinjal curry? Abirami says to her she will learn cooking if she teach her. Thamarai says as a captain she wanna teach them. She gives her reason to choose Bala and Suresh for captaincy. July breaks Bala and Suresh tiles reasoning they are strong contestants. She says that she has hope for Anitha and Abirami. Balaji says to Abirami that she will lose her smile if she become a captain so he wanna see her keep smiling the whole week. He breaks the tiles. Balaji says to Bala that he misunderstood in the previous season and he understood his character in this season. He Wanna see him as a contestants. He breaks his tiles. Abhinav says that Anitha is his favourite player in the last season he put vote for her. She is very calculative so he feels like its better to give chance to others. He breaks her tiles. Abhinav gives his reason to Suresh and breaks the tiles. Abhinav says that Abirami is strong he feels that she has the fire to prove herself. He gives the same reason to Bala.
Suja says to Bala that she talked with him a lot and she find the entertainment side of him so she is damn sure he will be a good captain and make everyone happy here. He is bold enough to question the housemates if they done mistakes. So she wishes to see him as a captain. She chooses Suresh as next because he is old enough to lead them. She breaks Anitha and Abirami's tiles. Snehan breaks Abirami and Bala's tiles reasoning they will get votes from people's and giving chance to others whom is in danger zone. Shariq counts the votes and says Abirami is out she can vote now. She breaks Anitha's tiles. Now Suresh and Bala goes to next level task.
Episode end