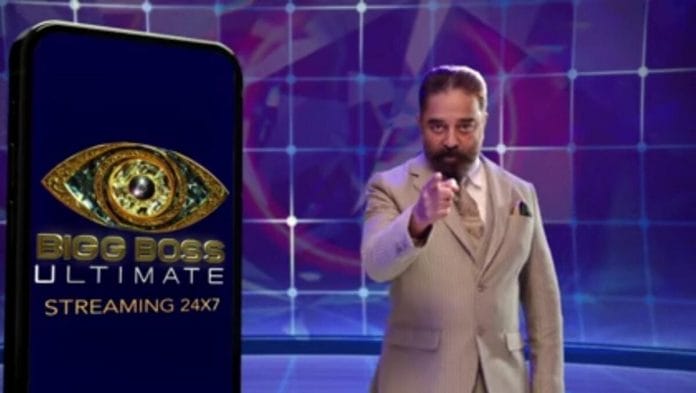 Bigg Boss Ultimate Tamil 7th March 2022 Written Update on TellyExpress.com
The show begins in Day 35 at 9.40 pm, Niroop consoles Snehan and tell him only two weeks left so he can meet him outside. Doesn't he know about Bigg Boss? Snehan shares to him that Balaji said to him if he stay till finals his daughter will unite with him which hurted him more. Niroop consoles him. Snehan tells him time he is aware of the Bigg Boss house but Balaji felt his daughter will stay with him forever if he stay here. He managed to maintain that bond with him for that reason only.
At 10.25 pm, July asks Abirami to stop complaining about him to her hereafter? Bala says that there is an quote in Tamil " Kadamai sei Palanai ethir paarathai". Is she know the meaning of it? If someone back stabbed him also but their good deeds won't turn bad. He got angry and tried to broke the door not even considered he will get red card when he made Sruthi wait out for one hour. They didn't said to him it was fun on that time but they mentioned it as fun in front of Simbu. What's logic it is? Abirami agrees with his point. Bala asks to her Is they think him as fool to believe that drama? He won't believe that at least he has his own brain to think about it all. If they mentioned it as fun earlier itself he wouldn't have tried to break the door. Whom whose sombu here? If he ask this to them she will mention him as jealous! When that incident happened she didn't have dare to say it on his face now complaining him. Abirami appreciates him for good observing.
At 10.35 pm, Abirami shares to July that she wasn't worried about it and cried at all. July shares to her that she observed something from Simbu's word. She took it as an advice too. Their comments are they are always together and not doing anything particular in the house right? Let's stop talking in the task and shares everything after the light go off? If she get any problems she wanna fave it alone without her support. Let's maintain this hereafter because all are thinking they don't have dare to face it alone. Abirami tells her same goes to her also.
At 10.55 pm, Bigg Boss asks Suresh to come to confession room. Snehan asks Suresh to request Bigg Boss to call him. Suresh enters into confession room. Bigg Boss asks Suresh to take the papers in front of him. Its an questions paper he wanna answer to it. He asks him to answer it in Boy's bedroom till he gets next announcement he should not share the questions and his answers with anyone in the house. Everyone will do this task. When they are sending one box they wanna place their questions papers in it. Suresh nods and leaves from there. Bigg Boss calls Sruthi to come to confession room and repeats the same information to her. After her Bigg Boss calls Niroop to come to confession room. He asks him to sit beside the captain room and fill it.
At 11.00 pm, Snehan says to Bala that he has no problems with anyone here but he will get head ache if Anitha and Sruthi comes to kitchen team. They are not maintaining their surroundings clean and throwing banana peels on table. He scolds them many times but they seems not understanding his words or decided to not obey him. July says to him nothing to worry let's take care about it next time.
At 11.55 pm, Bala gets his questions papers and ask to Suresh Is he finished writing? He nods to him! He ask to Bala where is that box? He informs to Suresh it's kept in store room. They places the questions paper inside the box.
At 12.00 am, Suresh asks to Thamarai why didn't she answer to him? Thamarai says to him its unnecessary matter that's the need to bring it again here? Bala interrupts them and enquires to them what happened? He keeps questions Thamarai which offended Suresh he leaves from there angrily. He asks Bala to keep respect in his heart not in words. Bala asks to Thamarai what happened now? Why is he getting angry on him out of the blue? Abirami says no idea!
At 12.20 pm, Bala arguing with Abirami and Thamarai for fun there. Bala asks to Thamarai why is she looking dull? Is she dull because they mentioned him as Abirami's sombu or he not taking Sombu for her? Thamarai says to him that she is unaware of this that's why. Bala chases her there for teasing him. She pushed down Suresh's dress whilw running mistakenly. Bala passed comments for it. Abirami asks to Bala why did he talking like this? His crime rate are increasing day by day with him. Bala says to her that he just said it for fun. Thamarai asks Bala to stop she is his Sombu so she will accompany i
him here. Bala says to her stop bringing that matter bad words coming in his mouth. Suresh comes there searching for his clothes. Thamarai gives the folded clothes to him. He talks with them in sarcasm and leaves. Bala asks to him what did he done to him to treat him in this way? Later Anitha and Thamarai are discussing about the questions they got and shares the anger with each other.
At 12.30 am, Suresh says to July that he was hurt when Thamarai asked to him why did he gave Sombu to her doesn't she showing love to him? Suresh asked to her in return when did he gave it to her? She changed that topic and not dared to answer him if he take that topic again. He tried to sort it out today but she ignored his talk then Bala interrupted him to divert him. He don't like that. July says to him that they are taking advantage on him because he is close with him. Thamarai comes there to talk with him. Suresh says to Thamarai that she came from poor background and he had huge respect on her. If she stoop low too he won't do like that. One old man trying to clear something from her but she simply avoiding him without giving respect to him. He don't wanna ruin her game play. She smiles to him Suresh complaints that she is insulting him and not giving heed to his feelings. They are hurting him he is saying it on her face. If she do like this to her closed one what will she do to others? She is enough matured to find out others feelings. She wanna listen to others first. He will get more hurt if his closed one behave like this.
Bala comes there Sumesh says to him that he knew well that he is trying his best to change himself here. He is appreciating that but he might take care of his mannerism and maturity. Bala explains to him that he only heard that Bala name and Sombu that's why he asked to her what happened? Suresh explains the situation to him. Bala says to him that he didn't take that matter but he is not giving respect to his feelings and laughing like this when he was hurt. Bala asks him to stop taking small things to his heart. Doesn't he talked with Suresh funnily how could he change his reactions! He advises to Bala something. Bala hugs him and share to him that he loves him a lot and listen to him here after.
At 1.30 am, Suresh advises to Thamarai and ask her to behave matured inside the house and handle all the situation well. Doesn't she complained many times Abirami and July are making fun with all she immature she is also behaving like that. He says to her that she is clear person and dealt all problems well what happened to that Thamarai? He explains the situation to her and advised to her.
At 1.50 am, Thamarai shares to Anitha and Niroop what did Suresh advised to her. She complaints that he took 1 hour to advise her. Anitha narrates the incidents to him.
At 2.30 am, Thamarai asks to Bala why did Suresh advised to her 1 hour for the small things. Bala clears to her that he was upset after he got eliminated he advised to her don't take his talk to her heart. She says to him that she is getting laugh seeing him. They makes fun of him.
Day 36 at 8.00 am Morning wake up song plays at the house and housemates start dance for the song " Engayo pokinra" then greets each other.
At 9.35 am, July takes the post and information to housemates that they wanna share their morning status to camera.
At 9.45 am, Housemates shares their status to camera one by one with morning energy.
At 10.00 am, Niroop shares to housemates that he gonna give one task to them. Everyone might behave like kids from this moments but they can be in their character. Except Bala all are kids here he is a care taker. We can skip it in task matter. Snehan asks him to let him be a care taker because he needs little time to come back. He nods to him.
At 10.05 am, Thamarai pretends like Kid and goes inside jumping like kid. Like this housemates are pretending like kids and enters inside one by one.
Episode end.
Click to read