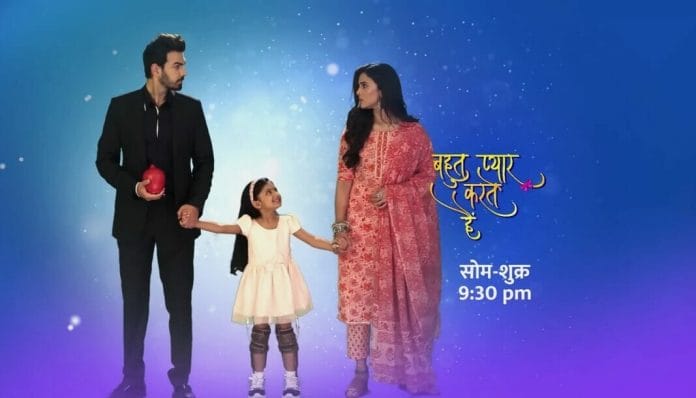 Bohot Pyaar Karte Hai 10th November 2022 Written Update on TellyExpress.com
The episode starts with Kalpana tells this isn't the first time Ritesh loses his temperament. He even hurt people around him recently he hurt Sameer too who is his brother. Meghna tells Swati this claims have nothing to do with the case but Swati denies it and asks Kalpana to continue. Kadambari acts and says for her Zoon's safety is real important so she don't want her daughter to suffer. Ritesh asks Swati to not to trust Kadambari's words. Kalpana interrupts and says that she has a proof about Ritesh's anger issues. She then submits the treatment paper to Swati. Swati checks the papers. Ritesh asks Swati to not to fall into Kadambari's act. Swati asks Ritesh is this true that he had undergone a treatment for his anger issues.
Ritesh says yes which shocks Indu. Ritesh further adds that he was a kid. His father passed away and his mother was paralyzed in that situation he blamed his existence that's why he was upset and angry with himself. Noticing his behavior his teacher's suggested counseling which he undergone but it happened a long time back which now Kadambari and Sameer is trying to use it against him to get Zoon's custody. Swati asks Ritesh to reply to the questions he asked for only. She then asks Indu is she knows that Ritesh had anger issues before the marriage.
Indu wonders what she should say. If she tells no then there is a huge chance Ritesh might get trapped so she lies that she knows about Ritesh's anger issues which shocks Ritesh and everyone. Swati gets furious and asks her then why did she married to Ritesh even after knowing because of his anger Zoon might get hurt? Indu becomes helpless and struggles to reply. Swati scolds Indu for risking Zoon's life to get Zoon's custody also shows her disappointment on Indu which upsets both Indu and Ritesh.
Kalpana tells Swati that Indu is not Zoon's real mother that's why she went to this extend to win this custody case because for her winning is more important than Zoon's custody while Kadambari decides to withdraw the case of Zoon's safety because she is her real mother and wants to protect her. Ritesh gets angry and tells Swati to not to believe the nonsense talks against Indu and she knows well Zoon who wants to be with Indu only. He also says that all this six years Indu taken proper care of Zoon and treated her as her own daughter and seeing them both anyone can tell the same though. He then says to earn more money the lawyer is supporting Kadambari.
Kalpana objects it. Swati supports Kalpana and demands Ritesh to apologise in the court for his choice of words. Sameer interrupts and says that Ritesh won't apologise because he never done this as he thinks he never makes any mistakes though which angers Ritesh. Sameer then talks about Ritesh's childhood in which he was in guilt for whatever happened to his parents thinking it was him who is the reason behind everything happened and he dont have both parents by his side to advice him.
Ritesh warns Sameer to not to talk about his parents. Sameer acts and says that he is supporting him only. He then tells Swati this is the reason why Ritesh have anger issues. Ritesh loses his temper so he goes and chokes Sameer which shocks everyone. After so much difficulty people around Ritesh and Sameer separates them.
Swati scolds Ritesh then postpone the hearing to the next day. Ritesh rushes to Swati and pleads with her to listen to him but Swati warns him and makes him give her space to leave the place. Meghna asks Indu why did she lied to the court and says that Swati is a smart judge who can decode her lies easily so asks her to be more careful if she tries to lie because it might backfire them. She then says that they can hope that tomorrow is better than today then leaves.
Indu and Ritesh reaches home. Indu is on call with Sunita. She learns Vivek is bringing Zoon home so she decides to prepare her milkshake. After disconnecting the call Indu asks Ritesh why did he hide his anger issues from her. Ritesh tells in his school it was common and more often the students undergoes this also it happened a long time back and he isn't aware both Sameer and Kadambari will use this against him. He also says that he isn't a crazy person to beat whoever he sees. He takes a stand for what's right.
Indu pleads with him to not to fall victim of Sameer's provocation game against him because they might lose the custody but Ritesh refuses to listen to her which leads an argument between them. Kadambari comes there and taunts them both then closes the door saying their arguments are disturbing them. Rahul informs Ritesh that Zoon is in Shakuntala's room so Ritesh and Indu goes there. Zoon apologises to Shakuntala for feeding her whole laddu then promises not to repeat the mistake also tells that she will feed her halwa in a small spoon and feeds her.
Ritesh praises her. Zoon asks Ritesh when she can stay with them. Ritesh tells her soon and pinky promises her. Indu gets emotional. The next day Kadambari tells Sameer her plan to get a house worth hundreds crore because they are going to get five thousand crore worth property. Just then Sameer receives a call from Kaamna and happily informs Kadambari its time for to execute their next plan and they both smiles. In the court Ritesh apologises to Swati and everyone for his behavior.
Indu takes Swati's permission and talks about Ritesh and Zoon's connection. She also praises Ritesh for taking good care of Zoon like her father and Zoon's unconditional love for him. She further says that in order to win the case anyone can say anything against Ritesh but Ritesh never hurt anyone especially kids. Sameer and Kadambari wears a mockery smile. Just then someone comes there and claps their hand. Ritesh and Indu looks on with confusedly.
Precap: Kalpana tells Swati that Kadambari carried Zoon in her womb for nine months and she is her real mother so requests Swati to give verdict on Kadambari's favor. Swati tells that she has listened both the sides and she decides to give the custody case to according to that she is going to give the verdict.Indu looks on shocked.
Click to read