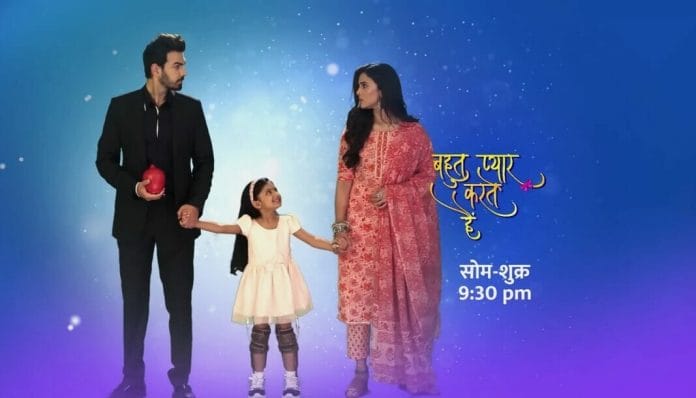 Bohot Pyaar Karte Hai 11th November 2022 Written Update on TellyExpress.com
The episode starts with Meghna worries now who it is. Rahul asks when did she comes out of the prison. Kadambari tells it's a surprise. The woman comes forward and looks at Ritesh. Sameer and Kadambari looks happy. Ritesh looks at a worried Indu then the woman. The woman greets Swati. Swati asks her who is she. The woman tells that she is here to reveal Ritesh's true face.
Ritesh and Indu looks at each other with confused filled eyes. Swati tells her whoever she is she shouldn't come here and create a drama like this because it's a hearing and not anyone can come here and behave like this. Kalpana tells Swati that she is the one who called her here and submit the documents in the court. Kalpana introduces Shivangi to the court. She then seeks Swati's permission to let Shivangi speak. Swati permits it. Shivangi introduces herself and says that she and Ritesh used to date few years back. Ritesh and Indu gets shocked. Ritesh shouts and says that Shivangi is lying.
Swati warns Ritesh by pointing out his behavior and it's consequences then asks him to speak when she allows her. Ritesh feels helpless but obliges. Shivangi tells that she and Ritesh was dating few years back that time also he had so many affairs but her blind love made her ignore everything. Then one day she got pregnant but Ritesh refused to accept the child and forcibly made her abort the child so the person one who kills his own child how can they expect that person can take care of an adopt child.
Ritesh tells himself that he don't have any other option but to control his anger. Swati tells that she needs one more day to think so postpone the hearing to the next day and leaves. Shivangi smirks at Ritesh then leaves the place. Indu and Rahul calms down Ritesh. Meghna goes to Indu and Ritesh and asks her whatever Shivangi told is true? Indu says no and Shivangi is unnecessarily framing Ritesh. Meghna worries that they may lose this case if this is how it goes. Ritesh and Indu gets upset.
In Malhotra's house Dolly asks Jaya for who she is making juice. Jaya says that she is making juice as per Kadambari's order. Dolly thinks its for Kadambari so she taunts her but Jaya clarifies this is for Kadambari's lawyer. Ritesh comes to his house and vent out his frustration and expresses his helplessness to Rahul.
He then tells that he dont know why Shivangi is always against him. First she framed him in drug case now this abortion case. Rahul tells him its not Shivangi but Kadambari who is behind all this. Ritesh wonders why Kadambari is determined to get Zoon's custody. Dolly comes there and gives juice to both Ritesh and Rahul also advices Ritesh to not to stress himself much. She also tells Ritesh about Kadambari's lawyer visiting her in the house. Ritesh smiles and says to Dolly Kadambari's lawyer is a female and her name is Kalpana.
Dolly tells but Jaya informed her it's a men who visited the house. Ritesh gets confused and asks Dolly the lawyer's name but the latter tells she doesn't know. Rahul calls the security and learns the lawyer is Mr.Kapadiya. Ritesh calls Meghna and asks her to learn about Mr.Kapadiya. He then tells that he won't spare Kadambari in the court tomorrow. The next day Indu and Ritesh meets Meghna outside the court. Ritesh asks Meghna is she learned the truth? Meghna says yes and informs Kadambari's late father's will. Ritesh tells that he knows well Kadambari is a selfish person and now he won't spare her at all.
Swati arrives at the court and orders to continue the hearing. Meghna tells Swati there are so many things happened in the court for the last few days by Kadambari and Sameer's continuous efforts but an important information has been hidden from them and says that Kadambari's father left a will which Kadambari gets only if she gets Zoon's custody and submits the documents in the court. Kadambari and Sameer looks on shocked.
Swati questions Kadambari what she is going to tell this to the court. Kadambari acts and says that when her father was alive she never expected him anything from him. It's his decision to give her the property and it has nothing to do with her want her daughter because she is the one who suffered without having her daughter by her side but people wants to frame her to win. Kalpana defends Kadambari and says even Indu married Ritesh after learning he has anger issues just to get a lavish life using Zoon.
Swati tells that she don't want to increase Zoon's worries so she will tell her decision after lunch break. Meghna hopes Ritesh and Indu gets the custody. Zoon packs her things and tells Sunita that Ritesh promised to take her home today itself. Vivek comes there and informs Sunita after lunch break Swati will reveal her decision. Sunita prays to God but worries when the Diya goes off. Sameer and Kadambari discusses with Swati's decision to Kalpana.
Kadambari says they still have so much time to use it in their favor. Swati recalls everything that happened and thinks herself both Indu and Kadambari made mistakes but she has to pass the verdict keeping Zoon's future in mind. Just then a man enters claiming himself as Ritesh's assistant with the box full of money saying Ritesh wanted to give this to her. Swati gets furious and sends the man out. She tells that she thought Ritesh is a good person but he proved her wrong by doing this and looks on.
Precap: Kalpana tells Kadambari carried Zoon in her womb for the nine months and she is her real mother so requests Swati to pass the verdict in favor of Kadambari. Swati tells that she heard both the sides arguments and gathered so much information and facts so her decision to give Zoon's custody is and looks on. Indu and Sameer gets shocked.
Click to read