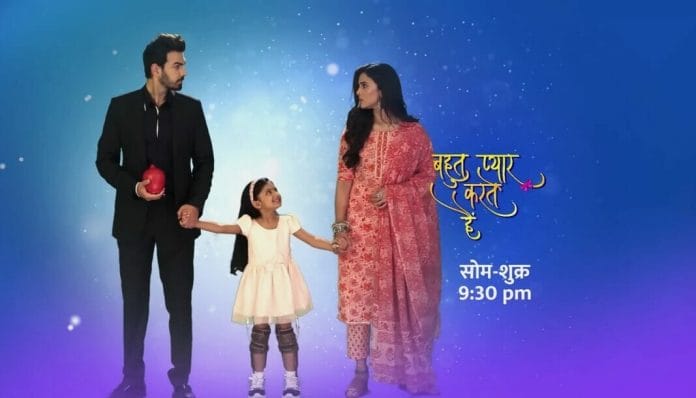 Bohot Pyaar Karte Hai 12th November 2022 Written Update on TellyExpress.com
In today's episode, Ritesh tells Indu and Meghna that he is certain about winning the case and getting Zoon's custody. Indu looks lost. Ritesh asks her to not worry as Zoon will stay with them only. Indu says that she is scared as they can't predict the judgement. Ritesh says that he is confident that the judgement will go in their favour only. They go to hear the judgement. Swati arrives at court. She asks Meghna and Kalpana if they want to say something for the last time.
Kalpana says that Kadambari is Zoon's real and biological mother, none can love Zoon more than her. Kadambari is independent and financially stable, Sameer is also finally stable and fit both mentally, physically. Sameer possesses every qualities to become Zoon's father. She requests the court to give Zoon's custody to none other than Kadambari and Sameer. Meghna says that Zoon herself considers Indu as her mother. Both Indu and Ritesh tried their level best to give Zoon a perfect life. They prioritised Zoon over everything. They can support Zoon in every sense and Zoon herself wants to stay with them.
She requests Swati to give Zoon's custody to Indu only. Swati says that both parties have everything to give Zoon a perfect life. Then she gives Zoon's custody to Kadambari and orders Ritesh, Indu to not maintain any contacts with Zoon. Everyone gets shocked. Swati dismisses the court and leaves. Indu looks blank while Ritesh gets clueless. Ritesh says that he doesn't care about the judgement and tells Kadambari, Sameer that he won't let Zoon go away from him. He says that he will go to Highcourt, Supreme Court for justice. Sameer sarcastically says that he is feeling bad for Ritesh. Ritesh threats him to not talk to him.
Sameer proposes to go Indu's house with Kadambari to take Zoon's custody. Ritesh says that he will kill Both Ritesh and his wife if they roam around Zoon. Sameer reminds him about court's order. Ritesh gets agreesive. Vivek, Rahul control him. Ritesh notices that Indu is not there, Vivek finds Indu's phone. They start looking for her. At Indu's house Sunita prepares Kheer. Anjali asks her the reason. Sunita says that Ritesh, Indu might got Zoon's custody and would arrive to receive her. Also she wants to send kheer for Deep and Dolly for supporting Indu, Ritesh throughout. Rajender comes there and informs Sunita, Anjali about the judgement.
Sunita drops the vessel. Later, Anjali criticizes Swati for the judgement. Rajender says that they have to follow Court's decision. Anjali asks if they should inform Zoon about all these. Rajender asks to wait for Ritesh and Indu's arrival. Sunita feels bad for Zoon as she is so excited to go with Ritesh and Indu. Sameer comes there to take Zoon and calls her. Rajender asks him to wait for Indu to arrive but Sameer doesn't listen. Zoon comes there and looks for Ritesh, Indu. Sameer says that he is calling her and calls himself Indu's father. Indu looks for her mother.
Sameer calls Kadambari her mother. Zoon does not agree. Sameer tells her about judgement. Zoon wishes to meet Ritesh and Indu. Sameer says that they can't meet her otherwise police will arrest them. Ritesh arrive there with Rahul, Vivek. They look for Indu. Rajender worries for Indu. Ritesh comes face to face with Sameer. Vivek goes to check Indu's office. Sunita prays for Indu's safety. Zoon calls Ritesh. Ritesh hugs her. Zoon says that she missed him a lot. She asks about Indu. Ritesh confronts Sameer. Sameer reminds Ritesh about court's decision.
Ritesh says that he doesn't agree with it and asks Sameer to wait for Indu. Sameer says that he will call police if anyone stops him. He asks Zoon to go with him. Zoon says no. Ritesh, Sameer become agreesive. Indu comes there and tells Ritesh that they have follow Court's decision. She says that she wants to talk to Zoon for the last time. Zoon cries and tells Indu that she wants to go with her and Ritesh. Indu asks her to not cry and listen to her carefully. She tells Zoon about Court's decision and asks her to stay strong so that they can bring her back. The episode ends.
Precap – Indu tells Sameer that she will get Zoon back. Zoon believes that Indu will fix everything. She says bye to everyone and leaves.
Click to read