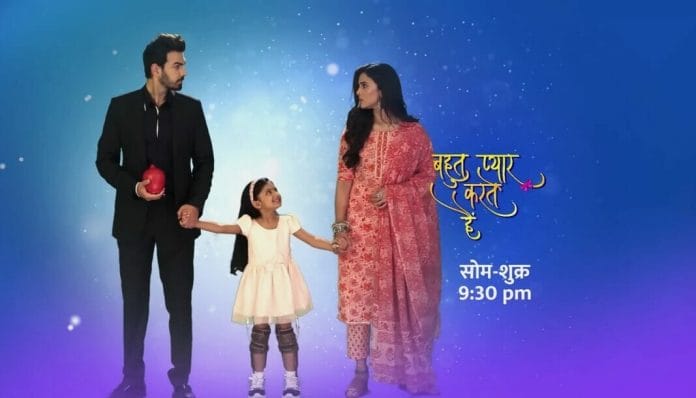 Bohot Pyaar Karte Hai 13th September 2022 Written Update on TellyExpress.com
The episode starts with Ritesh tells his advocate that Zoon don't deserves to live with Raina's because she has gone through a lot. He wants to give Zoon a life she deserves so asks him to do whatever he needs to do. The advocate assures Ritesh he will definitely help him get Zoon. He also adds that Indu kept Zoon for five years illegally and this very reason will help them get Zoon. Rahul asks the lawyer even if they separate Indu from Zoon how come Ritesh can able to adopt her because he is an unmarried man. The lawyer assures Ritesh that he will do something about Zoon's adoption and asks him to not to worry and do anything that legally right.
Ritesh obliges and leaves the place with Rahul for Visarjan. In Raina's house Rajender chants 'Ganapati Bappa Morya' infront of Zoon. Zoon asks him the meaning. Rajender tells her he is asking Lord Ganesh to come to their home next time soon. Sunita comes there and asks Rajender to go with her to attend the puja. Rajender says they can take Zoon with them but Sunita refuses saying Zoon can come with other's and takes Rajender with her. Zoon gets sad and confused by Sunita's behavior towards her.
In Malhotra's mansion the advocate tells Kaamna they know very well Ritesh can't technically adopt Zoon but he gave him false hopes and he is worried what will happen if Ritesh learns the truth. He also tells her he did all this as per her instructions only. Kaamna tells him he will get his payment and asks him not to worry she will take care of everything also asks him to give Ritesh false hope until she asks him to. The advocate obliges then leaves the place. Sameer asks Kaamna why she is doing all this. He dont understand anything.
Kaamna tells him she knows if they separate Zoon and Indu then Ritesh is willing to adopt Zoon but she dont want that to happen. So she is using the lawyer to give false hope to Ritesh so that she can make Zoon a homeless person. Also all these dramas will make Ritesh believe they are on his side. Sameer worries about getting caught but Kaamna smirks and says that Ritesh is blinded by the love he have for his Kaamna di so they dont have to worry about any of this.
In Raina's house Indu tella both Anjali and Asha that she and Zoon will be in the house and clean the utensils which is yet to get cleaned and they are not going to take part in the Visarjan. Asha and Anjali questions Indu why she is doing all this. Indu recalls Ritesh's vow and worries. She remains stubborn to not to send Zoon outside the house. Zoon pleads with Indu saying she wants to take part in Visarjan. Vivek comes there and asks them why they all are here and outside the next part of ritual is about to start. Anjali and Asha tells him about Indu's decision to not to send Zoon outside.
Vivek tells them he will talk to Indu and asks them to go and take part in Visarjan. They both leaves. Indu takes Zoon to the kitchen and asks her to help her dry the utensils. Vivek comes to the kitchen and pleads with Indu to send Zoon with him and he will protect her at any cost. Zoon also persuades Indu and pleads with her to let her go by folding hands. Indu gets teary eyed and gives into Zoon's plea. She then tells Vivek that she believes him and asks him to make sure he is with Zoon all the time. Vivek assures her and leaves the place.
Vivek sees Zoon looking at the sketches. He takes her with him to dance with other's. She starts happily dancing with Vivek. The CAA officer's reaches the society in which Indu lives. They asks a man the direction of the house to Indu then goes inside but fails to notice Zoon. Indu hears the doorbell. She opens it and find the officer's outside. She asks them who they are. The senior officer tells her they are from Child Adoption Authority Centre. Indu gets shocked and worried. She recalls Ritesh's vow and gets teary eyed.
The senior officer asks Indu is Zoon and Indu is living in the house? They got an information that Indu didn't adopt Zoon legally. Indu remains silent. The officer asks her is she Indu? Indu lies and says no. The authority urges to call Indu outside also asks to pack Zoon's things as they are here to take Zoon with them. Indu hears one of the officer asks the cops to wait outside the pandal until they comes with Zoon as per the senior officer instructions. The senior officer again questions Indu. Indu lies to them that Zoon is inside the house and asks them to come inside. She thinks to herself that Ritesh is behind all this. She then takes the officer's to the room and locks them inside the room then goes and locks the house door and leaves the place. The officers realises she is Indu. They alert the cops then calls their driver for help. The senior officer gets upset with her driver for enjoying outside unaware about their state.
Indu searches for Zoon. She finds her between so many people. She takes her in her arms and tells her they should leave immediately. Zoon tells but she wants to be part of Visarjan. Indu tells her she can't because she is taking her to Lonavala the place which she likes the most. She then find it difficult to carry Zoon in her arms so she asks her to walk with her for few minutes and puts her down. Both Indu and Zoon let go off each other's hand in the crowd. They both looks for each others. Indu then finds Zoon and gets relieved but she gets worried seeing the officers of Child Adoption center one side and the cops other side which makes her feel trapped. She pleads with God to help her.
Zoon also prays to God to help Indu as she can't see her crying. Indu gets an idea when someone put the vermilion plate filled by vermilion. She throws it both the cops and the officer's of CAA then runs away from there with Zoon. Zoon insists they should call Ritesh and he will help them but Indu refuses saying he must he busy. She then boards on an auto with Zoon asking the driver to take her to bus station.
The officer of CAA saw this and alert the Mumbai cops. She also informs Kaamna the same and thelatter gets upset her plan may not get succeed. The auto driver stops his auto and says due to Visarjan there is a traffic jam it will take more than an hour to get cleared so asks her to pay his money and walk from here because the bus station nearby only. Indu obliges but realises she neither have her phone nor purse so looks on worried.
Precap: Indu takes Zoon with her and walks towards the bus station. Zoon sees Ritesh and calls him. Ritesh turns around but Indu hides. Indu then put Zoon and board on a truck. Later Ritesh gets shocked learning Indu run away with Zoon. He tells he knows where she took Zoon with her and looks on.
Click to read