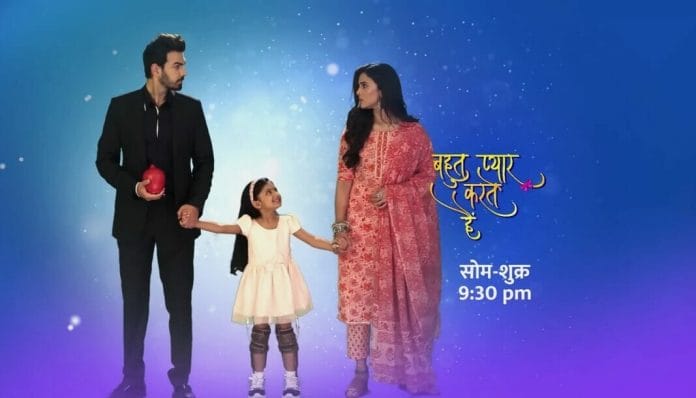 Bohot Pyaar Karte Hai 14th November 2022 Written Update on TellyExpress.com
Bohot Pyaar Karte Hai 14th November Written Update
The episode starts with Indu asks Zoon that she remembers when she used to be in CAA centre that time they used to miss each other. But this time they don't have to stay away from each other. They will stay under same roof only. Zoon asks Indu that means they can meet each other right. Indu doesn't say anything but shakes her head no. Zoon asks why which makes everyone upset. She further says that she don't like Swati and her decision and cries saying she always wanted a happy family but because of Swati's order it's not happening.
Indu hugs Zoon and asks her not to cry. She tells Zoon if she cries then they she will be weak but her mother is a strong one because her daughter is strong so asks her not to lose hope. She also tells Zoon that she has to stay strong and asks if she wants her mother to be weak? Zoon says no. Indu tells then she has to follow her instructions and tells her Zoon she will return to her mother and Ritesh so asks her not to cry. Zoon asks Indu that she and Ritesh will come to the house in which she stays right? Indu says yes and makes a promise.
Indu and Zoon hugs each other. Indu tells Sameer that today he is taking her daughter but he needs to remember one thing Zoon she will get Zoon asks him to let Kadambari know the same. Sameer mocks at her saying she is dreaming such a good dream. Indu tells him with determination she will make her dream come real for sure. She also tells that both Sameer and Kadambari will never understand the relationship of a mother and daughter and they may think they defeated her which is their biggest misunderstanding because of which they are going to lose.
Sameer mocks at her saying Swati not even permitted to look at Zoon and she is showing attitude to him to snatch Zoon. Indu reminds him how she get Zoon after Kadambari gave birth to her and says a room isn't going to separate her from her daughter which shocks everyone. Sameer calls her crazy and says even she herself knows that she can't able to do anything so he don't want to waste his time by indulging in a conversation with her and says that he is leaving.
Indu asks Sameer to stop saying the conversation isn't over yet and says yes she is a crazy mother who made all the impossible things to possible one for her daughter. She also says that she is still strong and mother's affection with her to once again fight for her daughter with this world which Kadambari doesn't have. Kadambari may won this case by fooling everyone also with her influences but soon she is going to expose her and Zoon will return to her and that day is not far away. Everyone looks on.
Indu asks Zoon that now she knows what she has to do right. Zoon says yes and says that she is a strong daughter of a strong mother and asks Indu to take good care of Ritesh. She further asks the family members not to cry because she is also not crying also she knows her mother Indu will fulfill the promise she made to her and says bye to everyone and walk towards the exit of the house. Sameer goes and extends his hand but Zoon ignores him and walk out on her own. Sameer looks at Indu then leaves. Ritesh tries to go behind Zoon saying that he can't let Zoon stay with the irresponsible people like Sameer and Kadambari.
Indu stops him and tells him that they have to follow the court orders as they have no other option left than this. Ritesh shouts at Indu saying that he won't follow the court orders and says that he will do everything in his power and if he wants he will take Zoon to other country where Sameer and Kadambari can't reach Zoon but he won't let Zoon stay with them. Indu tells Ritesh he himself knows that they have no other option but to follow the orders.
If she didn't talked to Zoon that way then Zoon would have cried hard and dragged away from them which neither she nor him want right and please with Ritesh to listen to her. Ritesh pushes her away and tells that his daughter will stay with him only. He also tells that he made a promise to Zoon and tries to leave the place but Indu reminds him that he even made a promise to Zoon to control his anger what about that.
Ritesh looks on shocked. He then cries infront of everyone by blaming himself for losing the case. The Raina's gets teary eyed. Ritesh falls on his knees and calls himself a failure. Indu kneels infront of him and says father never fails especially genie papa. She also tells that she will stay strong to fight this battle because if she accepts this defeat then she can't able to get back to her daughter which she never let it happen and encourages Ritesh to stay strong.
Indu tells Ritesh that after hearing the judge decision she also breakdown just like him but after she comes out of the court she has seen a mother with her child. She then get a reminder of Zoon. She also realises their tears are making them weak instead of wasting their energy she decides to use it to get back Zoon. She then asks Ritesh if he is ready to support her in this fight and forwards her hand.
Ritesh nods and puts his hand in her's. Indu goes inside her room where she breakdown. Ritesh watches this through the window and gets upset. He then knocks the door and when Indu opens the door he tells her that they have to go to house so that they can keep an eye on Sameer and Kadambari also take care of Zoon. Indu nods okay. In Malhotra's mansion Kaamna does aarti for Zoon.
Sameer forwards his hand for Zoon but the latter ignores him and goes inside on her own. Kaamna mocks at Zoon's attitude but Sameer tells her Zoon will change like them by being with them. Kaamna congratulates Sameer and Kadambari for winning the case. Sameer tells her Kadambari went to the doctor to check up as she feeling not well also adds that this victory is everyone's. Kaamna agrees with him. Indu and Ritesh comes to the living room.
Anjali hugs Indu. Sunita comes there with curd and sugar and feeds Indu saying their battle is not ended yet. Her mother's support blessings are always with her which makes Indu and Ritesh happy. Vivek asks Ritesh and Indu to ask him any help which he is willing to do. Anjali and Rahul also says their support is with them. Rajender tells his support is with them always. They all joins hands together and says they will bring back their Zoon. Indu and Ritesh stare at each other with a smile on their face.
Precap: Sameer discusses with Kadambari over a phone call about her father's property process also their plan to leave India which Indu and Ritesh learns and wonders how to stop Sameer and Kadambari. Ritesh tells they have to stop Sameer and Kadambari taking Zoon away from them by legally only just then Indu receives a call from Meghna and Ritesh asks her to answer it. Indu looks on.
Click to read