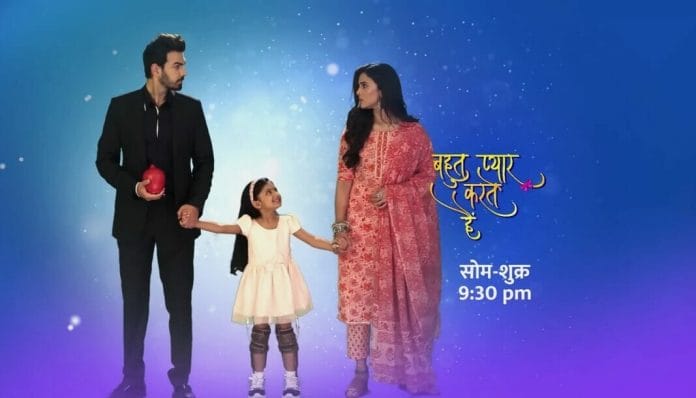 Bohot Pyaar Karte Hai 14th September 2022 Written Update on TellyExpress.com
The episode starts with Indu and Zoon comes near the bus station. The auto driver asks her to board down saying because of Visarjan there is a traffic jam so she has to walk from here. He then asks Indu to pay him the fare. Indu realizes she dont have a purse neither her phone because she is in huge trouble and forget to take anything with her. The auto driver scolds Indu. Zoon pleads with the auto driver to not to scold her mother because she is a good woman. She won't trouble anyone so she will definitely return his money for sure. The auto driver gets surprised seeing Zoon's stand for Indu. He tells her that she is surprised with the way Zoon is taking stand for Indu.
Zoon tells definitely she will get affect if someone scolds her mother because she loves her so much. The auto driver tells seeing the love Zoon have for Indu anyone could meltdown. So he tells them that he would let them go now. Indu thanks him then takes Zoon with her. Ritesh and the Malhotra's men are there nearby the station where the people are there for Visarjan. Fans takes photos with Ritesh. Indu and Zoon walks past them. Zoon tells Indu that she is thirsty. Indu sees the barrel nearby God's idol where she takes her. Ritesh asks Rahul where he kept the boxes and the latter tells its on the tempo so Ritesh decides to take those boxes on his own.
Indu gives water to Zoon and takes her in her arms and walks away. Ritesh comes there. Zoon sees Ritesh and calls out. Indu gets shocked and sits down inorder to hide herself and Zoon from Ritesh. Zoon questions Indu why she is hiding themselves from Ritesh. Indu lies they are not and they are in hurry to go somewhere but once she reaches the place she will tell her everything. Ritesh searches for Zoon. Rahul comes there and tells him he is thinking so much about Zoon that's why he feels this way and asks him to go with him then leaves the place. Ritesh prays to God to protect Zoon from all the bad things.
Indu thinks to herself that she should leave this city at any cost before anyone could get hold of her. But she worries without money how she is going to reach Lonavala. A taxi driver asks her to board on his taxi saying the fare is two thousand rupees. Indu tells him she was in hurry so she dont have money with her but pleads him to take her to Lonavala. The driver scolds her and leaves the place with his taxi. Indu prays to God to show her a way to leave the city. She sees a old man giving some money to a tempo driver and asks him to reach Lonavala on time then leaves the place. Indu takes Zoon with her and boards on the tempo without the driver's knowledge. In Raina's house Anjali Asha and Vivek searches for Indu and Zoon. They worries finding Indu's phone is in the house and she nowhere to be found.
Ritesh tells Jatin that he should suggest him something else other than getting married to adopt Zoon while entering the house with the men behind him. Kaamna comes to him and acts saying she is worried about Zoon. Ritesh gets worried and asks her what happened. Kaamna tells her as per his saying she informed CAA about Zoon and when the officers reached Indu's house Indu ran away from there with Zoon. Ritesh and everyone gets shocked.
Sunita and Rajender learns Indu and Zoon is nowhere to be found but Sunita tells Zoon and Indu must went to Malhotra's for Visarjan. Rajender scolds her and goes with Vivek to search for them. Ritesh calls Indu a crazy person and decides to take Commissioner's help to search for Indu and Zoon. Sameer tells Indu kidnapped Zoon also the taxi stand where they last saw Indu goes to Lonavala and some other city's. Ritesh recalls Indu's conversation with Zoon the other day and tells he knows where Indu must have taken Zoon and looks on.
In the tempo Indu tells Zoon the rabbit and turtle's running race story. Zoon tells that she thought rabbit will win the race and tells just like her now the rabbit must have worn out all the energy and questions Zoon when they are going back to the house. Indu tells soon and thinks to herself that she will go to any extend without caring about the right and wrong and says she wont let anyone snatch Zoon from her. She will make everything right for Zoon. She then gives a carrot to Zoon when Zoon tells her she is hungry. Anjali apologizes to Vivaan for calling him and asks him is Indu and Zoon is in his house.
Vivaan tells her no and says that Indu run away with Zoon when CAA officer's comes to take Zoon with them so with the help of police now they are searching for both of them and they are on their way to Lonavala because Ritesh suspect Indu must went there. Anjali gets shocked. Vivaan tells her that if Ritesh hates someone he will go to any extend to ruin them then offers to take her to her house but Anjali refuses and leaves the place. The tempo comes to a stop and the tempo driver gets shocked seeing Indu and Zoon in his tempo. He demands money and threatened to call the police. Indu takes him away from there and gives him het earring instead of money. The driver leaves the place.
The inspector tells Ritesh they reached Lonavala and they will definitely arrest Indu for her actions. Ritesh thanks the cops for the help. Anjali tells her family about what she learnt from Vivaan which shocks everyone. Zoon questions Indu when they are going back to their house. Indu tells her some bad people are there try to snatch her from her saying she is not her daugher so they have to stay here for few days. Zoon tells Indu to bring those people to her and she will tell them she is her mother. Indu cries and kisses Zoon's forehead. She then thinks to herself she will make everything right for sure.
Precap: Indu returns and gets shocked seeing Zoon is not where she left her and searches for her. She then sees the police vehicle. She runs behind it. She then gets shocked seeing Zoon is sitting between Ritesh and Rahul. Ritesh smirks at Indu.
Click to read