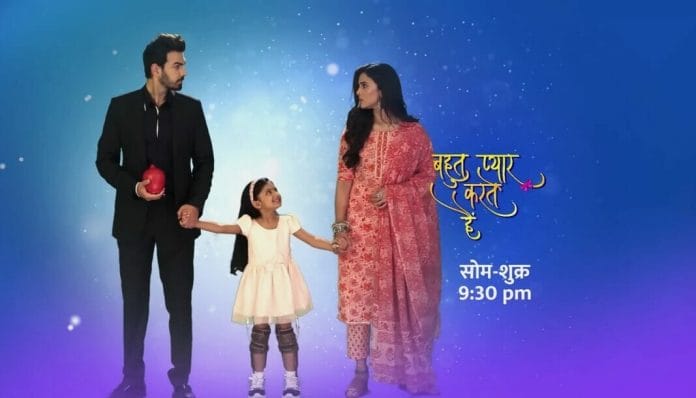 Bohot Pyaar Karte Hai 15th November 2022 Written Update on TellyExpress.com
The episode starts with Zoon goes to meet Shakuntala. Dolly asks Zoon where is Ritesh and Indu and asks her why she looks sad. Kaamna enters the room and calls Zoon as her granddaughter which confuses Dolly and Shakuntala. Sameer and Kaamna smirks at one another. Sameer tells Dolly that it's him and Kadambari who win Zoon's custody which shocks Dolly and Shakuntala. Dolly tells Zoon that atleast she can stay with them under the same roof though and tells her that she can talk and have food with her grandmother Shakuntala. Sameer tells Dolly that Zoon's grandmother isn't Shakuntala but Kaamna. He then forcibly takes Zoon with him and the latter stared at Dolly and Shakuntala sadly. Kaamna taunts at both Dolly and Shakuntala then leaves the place.
Later Dolly pleads with Shakuntala to have food but the latter refuses which worries Dolly. Indu and Ritesh comes there. Indu pleads with Shakuntala to have food because they have to stay strong in this battle. They may have been defeated but the battle isn't over yet also assures Zoon that she will get back Zoon at any cost. Ritesh also assures the same to Shakuntala. Dolly praises both of them for being strong and not losing hope in this situation also decides to remain strong. Sameer tells Kadambari over the phone call that he will talk to his travel agent to book their tickets also inquire about her will process then cuts the call.
Indu and Ritesh learns that Zoon is staying alone in a room through Dolly. This information upsets Indu and Ritesh. Ritesh gers furious and scolds Kadambari for the way she is treating Zoon and decides to meet Zoon. Indu gets worried and follows Ritesh. She pleads with Ritesh to not to fall into the trap of Sameer and Kadambari as they try to provoke them so that they can go against the court order which they shouldn't. She also pleads with him to control his anger then goes to see what Zoon is doing. She comes out and finds few caretakers entering the house. She asks them who they are. One of them says Sameer called them here. Just then Sameer arrives there with Zoon. He deliberately drops Zoon's hand from his. Zoon takes a step towards Indu but the latter shakes her head no so Zoon stays in her place. Sameer gets shocked seeing it. He then introduces the nannies to Zoon.
Zoon greets them as di but Sameer asks her to call them by their names because they are working for them. Zoon refuses and tells the nannies are elder than her. Sameer sends Zoon with the nanny's. Indu looks at Sameer and thinks to herself that she won't fall prey to his games then leaves the place. Sameer thinks that he will do everything in his power to make Ritesh and Indu break the court order. Vivek goes to a travel agency to book tickets for the upcoming wedding event which he is handling. He learns through the owner Ashok that Sameer is booking three tickets so he calls Indu and alerts her about the same. Indu gets worried. Vivek suggests Indu to inform whatever she learned now to Ritesh and together find a solution soon. Indu obliges.
Indu informs Ritesh about Sameer and Kadambari's plan to take Zoon with them to Spain. Ritesh gets angry and says that he knows this is what going to happen as Kadambari getting five crores. Indu tells him that they have to stop Sameer and Kadambari at any cost. She then receives a call from Meghna. Ritesh tells Indu that they have to foil Kadambari's plan using legal ways so asks her to answer Meghna's call because she can help them. Indu tells Meghna that she is going to meet her as she needs to talk to her about something important. Meghna agrees to meet them. Ritesh and Indu meets Meghna. Meghna tells them they can't stop Kadambari. She then adds if there is someone who can challenge Kadambari's will that can delay her getting her property in that way they can stop Sameer and Kadambari taking Zoon with then to Spain. She also informs in that will someone's name Nima Bakshi is mentioned and goes to bring the will.
Meanwhile Ritesh receives a call from Kaamna who informs Zoon is staying alone in a room also Sameer rebuked her from going to stay with Zoon then cuts the call. She also calls Sameer and asks him to come home so that he can make Indu arrest for going against the court rules. Indu tells Ritesh that she will go and look after Zoon. Dolly scolds thr care taker for her rude behavior towards Zoon. She then tells Zoon a story and make her fall asleep. Indu arrives there and gets emotional seeing this. She then hugs Dolly and thanks her.
Precap: Indu pleads with Sameer to not to make noises because Zoon is sleeping peacefully and she don't want her daughter to lose her sleep. Sameer tells her that Zoon is not her daughter but his wife Kadambari's also mocks at her by reminding her about the court order. In Meghna's office both Vivek and Ritesh hope to find a clause to use it against Sameer and Kadambari. They both also wonders who is Nima Bakshi.
Click to read