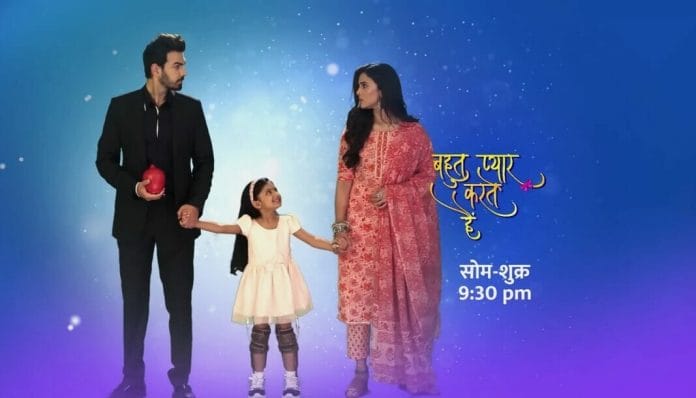 Bohot Pyaar Karte Hai 17th November 2022 Written Update on TellyExpress.com
The episode starts with Indu searches for Zoon and Dolly asks her what happened. Indu tells her that Zoon is nowhere to be found and she is getting late for school. Sameer comes there and says that he doesn't know where Zoon is when Indu questions him. Dolly scolds Sameer for his behavior. Sameer taunts her for being a puppet to Indu. Indu tells Sameer to not to change the topic all she wants to know is where Zoon is.
Sameer tells her that Zoon went out of Mumbai for her school trip which shocks Indu. Indu pleads with him to tell her where Zoon exactly went. Sameer refuses to tell which angers and upsets Indu. Sameer taunts Indu for being a mother but not even learning about her daughter's whereabout. Indu feels helpless. Ritesh comes there and asks Sameer to tell them where Zoon is. Sameer refuses to tell him which angers Ritesh so he holds his shirt. Indu and Dolly pleads with Zoon to not to get into a fight. Kaamna comes there and scolds both Ritesh and Sameer for fighting like a kid. She then asks Sameer about Zoon's whereabouts. Sameer tells Zoon went for a school trip which is Rajasthan.
Ritesh scolds Sameer for unnecessarily making simple things as a huge matter and takes Indu inside the room. Indu shares her worry about Zoon's safety with Ritesh. Ritesh checks up her temperature to learn whether she is having fever or not. He then gives her medicine also scolds her for not taking proper care of her. He then tells her that he is sending Rahul to take care of Zoon so asks her not to worry. He further tells her that he learned Nima Bakshi is none other than Kadambari's father's second wife. Indu gets hopeful and asks Ritesh that they have to do something to meet Nima Bakshi.
Ritesh tells Indu that Nima Bakshi is no more which makes the latter lose all her hope but Ritesh tells her Nima Bakshi's daughter is alive but he don't think Nima Bakshi's daughter will agree to help them. Indu pleads with Ritesh to take her to Nima Bakshi's daughter and she will convince her eventhough they dont have any relationship with her. Ritesh tells Indu they know Nima Bakshi's daughter especially Indu who have a connection with her which confuses Indu and asks Ritesh what is he saying. Ritesh calls someone to come inside. Asha enters the room which shocks Indu and the latter asks is she is Nima Bakshi's daughter? Asha looks on.
Kaamna scolds Sameer for unnecessarily provoking Ritesh and Indu because of which Ritesh may beaten him up so asks him not to do this. Sameer tells her that he is enjoying this game of his. He also asks her not to worry about anything. Kaamna asks him when they will get Kadambari's father's property. Sameer asks her to have patience once the legal processes are over they can get it.
Kaamna urges him to do something to get the property soon as she wants to teach a lesson to Ritesh and Indu. She also tells Sameer that both Ritesh and Indu is smart so they have to be more careful. Sameer assures her that they are having upper hand so no need to worry. Ritesh Indu Vivek sits with Asha. Asha tells them that her mother is Nima Bakshi. She loved Kadambari's father unconditionally not even aware that he is already a married man.
After her mother got pregnant Kadambari's father left her mother and her. Even after all this struggles her mother gave birth to her. She also expected one day Kadambari's father will return to them realizing his mistake but he never come so her mother decides to not to have any connection with the family. When Nima is in dead bed she made her (Asha) promise to not to have any connection with the Patel family and that's the reason why she didnt tell anyone about this and apologises to Indu for the same.
Indu gets teary eyed hearing it. Ritesh tells Asha that he won't force her to help them but pleads her to help them. Indu also pleads with Asha saying if she helps them with this then Kadambari Kadambari can't able to take Zoon away from them. She also tells that she is more worried about Zoon's safety. Asha refuses to help saying that she cant break a promise to her mother. She also says that the Patel's are no one to her.
Indu says that they have a relationship with her right for that sake asks her to help them. Her help will stop Kadambari from getting money. If Kadambari don't get money she will definitely not take Zoon away from them also take proper care of Zoon and will not allow anything or anyone to harm Zoon but if she gets money then she will definitely take Zoon out of India and won't t take care of Zoon. Indu also tells Asha one side her mother who brought her up without expecting any money from her husband and other side Kadambari who is using her own child to get money which they won't let it happen.
Asha feels helpless when Indu begs her infront of her so she agrees to help Indu saying her mother will definitely understand the reason behind her breaking the promise. In Raina's house Sunita is worried but Anjali assures her everything will work on their favor only also expresses her joy that Asha is Kadambari's step sister. Asha arrives there with Vivek and apologizes to Sunita for hiding the truth. Sunita tells her that she understands so no need to apologize. In Malhotra's house Vivaan and Sameer talks about Kadambari's property. Sameer receives a call from someone and gets angry learning Ritesh sent Rahul which he expresses it on Vivaan also and goes out to confront Ritesh and Indu.
Indu questions Sameer for blocking her path also tells him that she will go to any extend for Zoon's safety when he asks her about sending Rahul with Zoon. Sameer threatens to take Zoon to a place which neither Indu nor Ritesh will not find it which shocks Indu. Sameer leaves the place. He then informs the same to Kaamna and the latter asks him to do what he told to Indu so that he can able to teach a lesson to both Ritesh and Indu then leaves the place. Sameer also likes Kaamna's suggestion.
Precap: Sameer gets shocked when Ritesh shows him the stay order for Kaamna's property. Indu reveals Asha is Kadambari's step sister. Sameer looks on shocked.
Click to read