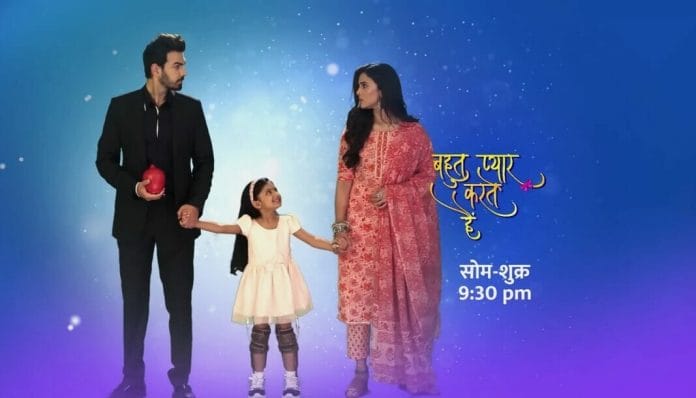 Bohot Pyaar Karte Hai 19th November 2022 Written Update on TellyExpress.com
The episode starts with Dolly asks Anjali how is her tea. Anjali praises it. Dolly then praises both Indu and Anjali and their bond. She then tells that Indu is too good of a person. Anjali also agrees with Dolly and says that but this world is tit for tat so for that they have to act like the rest of the people in this world too. Dolly agrees with her and then they both hifi each other saying both of their thought process are similar. Zoon comes home and calls out Ritesh and Indu. Dolly and Anjali goes to Zoon. Zoon asks them about Indu and Ritesh's whereabouts then demands to meet them.
Dolly and Anjali tells Ritesh is busy in his film shooting and Indu went to meet the lawyer. They both will return home soon and asks her to play with them until then. Zoon tells but she wants to meet both of them. Anjali diverts Zoon saying they can play for some time until Indu and Zoon returns then takes her inside. Other side Vivek and Indu meets Meghna. Meghna tells Indu that they have submitted the papers in the court to claim half of the property for Asha as she is also Vinod Patel's daughter.
Now they have to gather proofs for the same to prove that Asha is indeed Vinod Patel's daughter. She further adds that Kadambari also do everything in her power to prove that Asha is not her step sister. She then asks Indu to ask Asha if there is anywhere in any of her documents like birth certificate or any of her school bills or anything in which Vinod Patel's involvement is in her life so that they can able to prove Asha is Vinod Patel's daughter. Indu tells Meghna she will ask this about Asha. Meghna then warns Indu that they have to be more careful and cautious because Kadambari can go to any extend and asks her to alert Asha also.
Vivek recalls his phone conversation with Deep and tells Indu that Asha's number is in not reachable state. Indu tells that Asha keep her phone switched off when she is in work so they don't have to worry. She then receives a call from Anjali. Zoon talks to Indu about her trip with Indu and how she enjoyed it. She further asks Indu when she is returning home as she wants to show her photos of her school trip. Indu silently cries. Anjali informs she is also hearing everything. Indu tells Anjali to take care of Zoon and she will return home.
Asha is in a dark room with her tied in a chair that too in an unconscious state. Sameer throws water on her face and Asha wakes up. She then tells Sameer that she isn't surprised seeing him kidnapping her and asks him to let her go saying if Ritesh and Indu learns about this they wont spare him at all. Sameer laughs at her and tells that they both won't learn about this. He then asks her what is the need to interrupt their plans like this as their plan is working on their favor and they are supposed to leave the country with Zoon but because of her (Asha) their plan is stopped abruptly.
Asha tells Sameer that she is doing all this for Indu and her family who are there for her always. She also says that they won't let him and Kadambari gets succeed in their plans though. Sameer laughs and asks her to worry thinking whether she can able to reach the court on time to prove that she is Vinod Patel's daughter? He also tells that he will kill her and send her dead body to the court or else her death certificate saying she is no more and closes the case then leave the country with Zoon.
Asha tells him that they wont never let him succeed in his plan. Sameer leaves the place angrily. Indu receives a call from Sunita and gets shocked learning Asha isn't returned home yet. She starts worrying about Asha. In Malhotra's house Zoon asks Anjali about Ritesh and Indu's whereabouts. Anjali tells her they both will return home and made her lay on the bed saying she will tell her a story of lion and mouse. Vivaan enters the room and starts telling the story animatedly.
Zoon falls asleep. Anjali gets too engrossed in a story asks what happened next. Vivaan proposes her to be his girlfriend and they both shares an eye lock and gets closer but interrupts when Anjali's phone starts ringing. Anjali gets shocked when she learns through Indu that Asha is not returned home yet. Vivaan assures Anjali that Asha will definitely return home though. He also decides to find whether Sameer is the reason behind Asha's disappearance? Then leaves the place.
Sunita prays to God for Asha's safety. She then tells God that her faith on God will become Zero if anything wrong happens to Asha saying she endured so much pain at this age. Indu and Vivek Vivek comes home and learns Rajender went to check up on Asha. Indu also informs Sunita that Ritesh also took Commissioner's help to find Asha. Sunita assures Indu that she is fine and asks her to home which the latter obliges and leaves.
Asha cries recalling the moments she shared with her family members. She then realizes her mobile is in her bag which is few feet away from her so gets determined to get it on her own. She tries to untie the rope around her hand. Indu returns home. Dolly tells Ritesh and Indu it's Deep who talked to Asha last. Ritesh tells there is someone who also knows about Asha's plans and they have to find out who it is. Vivaan calls Sameer and asks him to have some brother time together in his club. Sameer lies he left the club right now only but Vivaan learns through his worker Sameer is lying and he is the reason behind Asha's disappearance.
Asha takes her phone from her bag and calls Indu and worries when the latter isn't answering the calls. She then senses Sameer's presence so goes and pretends to be tied in a chair. Indu cries seeing Zoon from outside the room and refuses to break the court order when Ritesh suggests it. She then talks about Zoon and Asha's unique bond also calls Asha is another mother of Zoon. She will not forgive herself if anything happens to Asha and cries hard. Ritesh holds Indu.
Precap: Ritesh encourages Indu saying they have to stay strong so that their family members will also stay strong. Indu then gets shocked seeing Asha's missed calls so calls her back. Sameer who is about to leave the place gets stopped when he hears the vibrating of phone and wonders whose it is. Asha gets worried.
Click to read