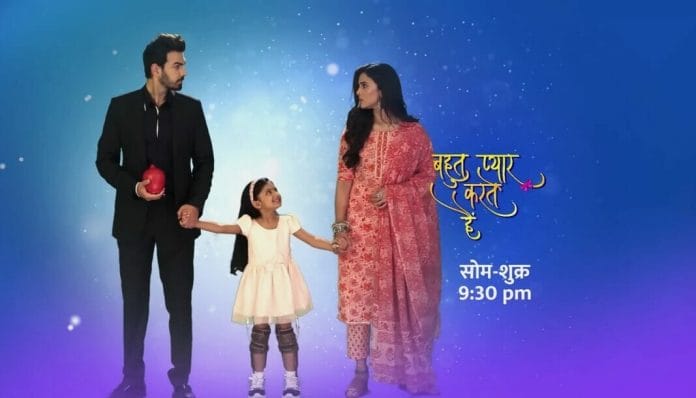 Bohot Pyaar Karte Hai 19th September 2022 Written Update on TellyExpress.com
The episode starts with Rahul tells Ritesh they have stayed the entire night in the car and tells him to fresh up after he meets Zoon. Ritesh agrees and goes inside the CAA office. Geeta comes to Ritesh. She tells him that Zoon is stubborn to not to have food until she meets her mother. Ritesh goes inside the room where Zoon is. He asks her how is she feeling now. Zoon says she is fine. Ritesh asks Zoon why she isn't having her breakfast. Zoon tells that she wants to meet her mother. She also asks Ritesh why Indu didn't come to meet her. She then asks he is her genie Ritesh right? She then asks then why he is not fulfilling her wish to let her meet Indu? Ritesh tells Zoon that he is her genie Ritesh and he will fulfill her every wish.
Zoon gets happy and asks him to pinky promise her. Ritesh promises her and tells her he will let her meet Indu and asks her to have food first. Zoon obliges. Ritesh comes out of the room. Rahul advices him to go home and freshen up or else his health will get detoriate. Ritesh obliges. In Raina's house Atul and Vivek tells the Raina's in order to get bail Indu has to lie to the court. Asha asks what kind of lie. Vivek meets Indu. Indu refuses to oblige lawyer's words and tells Vivek she wont tell the court that she kept Zoon with her because she is helpless and she don't have any problem if anyone adopts her because she dont have any relationship with Zoon at all.
Vivek pleads with Indu to understand that this is the only way she can able to get bail and she don't have any other option and asks her to stop thinking and do what she asked her to so that she can able to meet Zoon. Indu cries helplessly. Rahul asks Ritesh why did he made a promise to Zoon to let her meet Indu and how he is going to fulfill the promise he made to her. Ritesh tells him that he dont know about any of this but he will do something about it. He further adds that Indu will get bail today so he will let Indu meet Zoon Zoon once then Zoon will calm down after that.
Sameer and Kadambari meets each other in the restaurant. Sameer tells her that he was kind of busy in family stuff and asks her why she didnt come to their house for Ganesh Chaturthi puja. Is she also busy? Kadambari recalls her father's lawyer's words. She tells Sameer that she was also busy that's the reason she didn't took part in the puja. She then changes the topic by asking what's happening in Ritesh's life. She heard he is cancelling the shoot also meetings also he and director Kashyap isn't in good terms. Is that all true? Sameer laughs and says it's not true at all. Rajender comes to the same restaurant to collect the money which they have to pay him which he wants to use if for Indu's bail.
Kadambari asks Sameer what's interesting thing happening in Ritesh's life though? Sameer tells her that Ritesh is getting attached to the kid which she wrote an article earlier too. Kadambari decides to pry more information but before she could ask something she gets shocked seeing Rajender there. She recalls meeting him in the bus. Rajender sees her and thinks she is Zoon's mother. Sameer sees Kadambari's change in behavior and wonders why she is reacting this way and what is the connection between her Indu and Rajender. Kadambari excuses herself to go to washroom.
Rajender goes out. Sameer decides to find out the connection between the three of them at any cost. In CAA Gayatri and Geeta makes the kids play together. Geeta plays the music and the kids passes the cushion. Priya who has cushion when the music get stopped tells her favorite person is Gayatri because she took her to park and gave her icecream and says she loves her. Gayatri also says that she loves her too. Next the music gets stopped when the cushion is in Zoon's hand.
Geeta asks her to tell who her favorite person in the world is? Zoon tells it's her mother. Geeta asks her to tell the reason. Zoon looks on. Ritesh tells Rahul that he will go to the court hearing because Zoon thinks he is the only person who can fulfill her wishes so he will let Indu meet Zoon for sure once and then they can do something about the situation because he is sure Zoon will calm down after meeting Indu.
The cops brings Indu to the court. Vivek Asha and Anjali rushes to Indu. They asks her how is she now? Vivek pleads with Indu to follow the instructions of their lawyer. Indu cries. The judge comes there. He tells Indu that he read her case and is this true she kept Zoon with her illegally for the last five years? Also is she want to tell the court something from her side? Indu puts her hand on the nearby bench. She hurts her hand while recalling when she met Zoon for the first time. Ritesh comes to the court. The judge asks Indu to tell something. Indu tells herself that Zoon is her everything. The lawyer gets tensed hearing it. The judge asks Indu to speak loud.
Indu lies in the court that she dont have any relationship with Zoon. She kept her against her will because she dont want Zoon to suffer if she learns the truth about her whataboutery. She further adds that she is forced to keep Zoon with her. Ritesh angrily leaves the place. The judge grants bail to Indu and leaves. Indu breaksdown. Zoon tells the CAA officer's these all are the reason she loves her mother the most. They all claps for her. Vivaan asks Kaanna the reason behind her goes to meet Zoon.
Kaanna tells that Indu get bail so she wants to meet Zoon first and tell her that Indu isn't her mother because of which the situation will become more complicated and laughs saying that's what she wants. Ritesh in the car shares Rahul about getting disappointed by Indu's confession in the court. He then asks him to call Jatin to do something so that he can take Zoon with him to the house the next day itself. Rahul obliges. Vivek takes Indu with him to the CAA office. Indu expresses her hatred for Ritesh to Vivek for separating her from Zoon and urges him to take her to Zoon soon.
Precap: Kaamna meets Zoon and tells her that Indu is lying to her all this while saying she is her mother but she isn't her real mother. Zoon looks at Kaamna. The CAA officer stops Indu from entering the office. Indu struggles and calls out Zoon. Zoon hears Indu's voice so she comes out and asks where she is. Ritesh is there with the CAA officers stand there and doesn't say anything.
Click to read