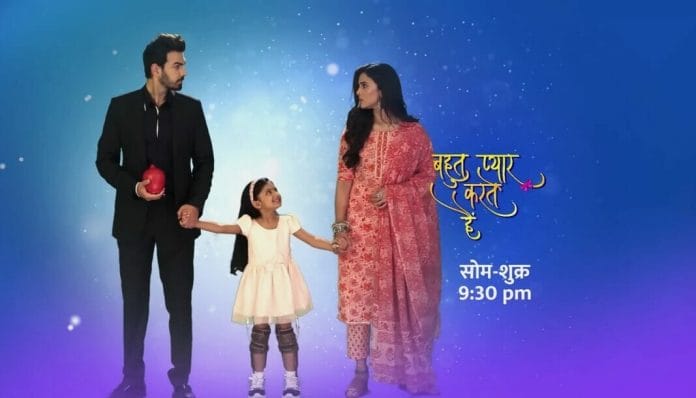 Bohot Pyaar Karte Hai 1st November 2022 Written Update on TellyExpress.com
The episode starts with Zoon sees Ritesh and Indu in shower and laughs. She then asks them why they are showering together. Ritesh and Indu becomes helpless and tells her that they are here to shut the shower also remove Indu's dupatta which get stuck inside the shower. Ritesh asks Zoon what is she doing here and the latter tells her that Dolly sent her here to bring them out. She then laughs and says that she is going to tell this to the family members which shocks both Ritesh and Indu. They both asks Zoon to not to tell this to anyone but Zoon laughs and leaves the place. Both Ritesh and Indu scolds each other. Sunita gives the shagun to Dolly and asks her to keep it safe. Rajender discusses with Vivek about the wedding arrangements. Zoon comes there and calls out Rajender. She then calls Asha all the while laughing. They all gets confused. Asha asks her what happened. Ritesh and Indu comes outside fully drenched. Everyone gets shocked and surprised. They all laughs at them which confuses both Indu and Ritesh. Indu asks Zoon is she told the family members anything. Zoon says no and says but they can clearly see them.
Indu and Ritesh realises they both are drenched in water. Indu leaves the place and Ritesh also goes behind her. They both accuses one another for the reason behind them facing this embarrassment infront of their family. Other side Kadambari tells Sameer his plan is perfect but she is worried how they are going to execute it. Sameer tells her not to worry he will manage everything. He also asks her to be more careful. Kadambari receives a courier filled with bridal things. Sameer smirks and asks her is she ready for this marriage? Kadambari looks on. Vivaan and Anjali flirts with one another and when Anjali leaves the place after get shy with Vivaan's words the latter gets happy his plan is working on his favor and smiles.
In Malhotra's house Dolly comes to meet Indu is Ritesh's room. She gives the bridal things for Indu to Indu and tells her as per their tradition the bride should wear what the groom family gives her. She then tells her how they dont get their wedding attire from designer's like fans of Ritesh and other's thinks. She also praises Indu who will look pretty and add more beauty to the dress. Indu thanks her and takes her blessings. Kadambari tells Sameer that she is ready for this marriage. In the evening in the Malhotra's house Vivaan and Deep discusses about the wedding arrangements. Dolly orders around everyone so that any kind of mistake take place during the ceremony. Deep asks Dolly to not to stress herself much. They both gets romantic. Vivaan interrupts them which makes them to go to see the wedding arrangements.
Dolly praises Rahul and asks him to find his bride on Ritesh's wedding. She then asks him to check whether Ritesh get ready or not. Rahul obliges and leaves the place. Sameer who sees the arrangements are on full swing says himself soon Ritesh is going to get the shock of his life. In Raina's house Rajender Vivek and Sunita are busy on the wedding arrangements. Rajender thanks Vivek but the latter threatens him to leave for treating him like an outsider. Anjali comes there decked up. She shows off to her parents. Rajender scolds her for spending more money and tells this the reason behind the wedding expenses which increased.
Ritesh gets upset with the Sharwani he is wearing it. He buttons up and motivates himself in the mirror that he can handle this marriage though. Rahul arrives there and teases Ritesh. He also makes Ritesh realise that he is nervous about this marriage. In Raina's house Indu shares her worry with Asha about her marriage and asks her is she also worried liked this during her wedding. Asha tells this is how all the girls feels on their own marriage. She further tells that after marriage their responsibilities increases to handle the new family who they become part of. She also praises the Malhotra's also assures Indu that she won't regret her marriage decision. Indu thanks Asha. Asha then helps Indu get ready meanwhile Kadambari also gets ready as a bride. Sunita comes there and expresses her happiness of seeing Indu as a bride and gets emotional. She then puts kaala tika on Indu so that any kind of evil eyes won't come near her. Kadambari tells her reflection in the mirror no matter how much Indu try she will be her bad omen also will never let her get succeed in her plan.
In Raina's house Asha notified the bharat has arrived so Sunita asks Indu to wait here and goes to welcome Ritesh and family. Ritesh is inside the car and smiles seeing his family members are dancing happily. Raina's also joins the dance. Ritesh comes out of his car. Sunita does aarti and put tilak on his forehead then welcomes him inside. Sameer receives a call from Kadambari and he tells the latter to wait until he calls her and Kadambari obliges. He then calls someone and tells this is the right time and asks to do the work which he asked him to. He then thinks himself that Ritesh would have never thought in his dreams also how his life his going to change and smiles.
Precap: Indu tells that she is doing all this for Zoon's happiness only by looking at Zoon's name in her hand. She then receives a call from her lawyer who asks her to meet her immediately so she leaves without informing anyone. Indu reaches the lawyer office and wonders where her lawyer is and gets shocked seeing Magesh at the door step.
Click to read