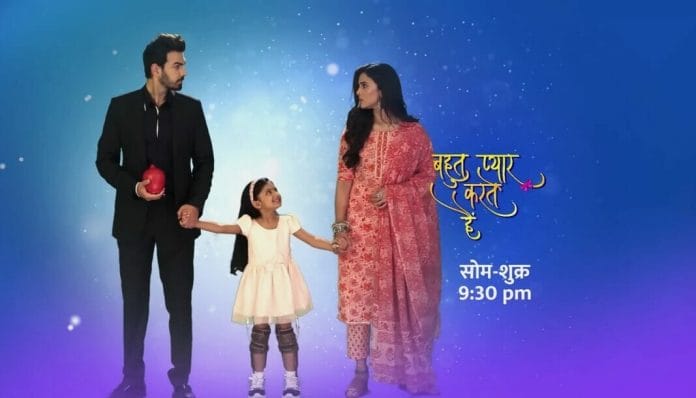 Bohot Pyaar Karte Hai 22nd September 2022 Written Update on TellyExpress.com
The episode starts with Indu looks at Zoon who is enjoying the party. She gets emotional. Zoon gets paint in her hand with a smile on her face. Ritesh looks happy seeing Zoon's happy face. Rahul tells he is happy to see him happy. Ritesh tells him that he is happy that Zoon is happy and decides to thank Kaamna for giving him such a good idea. Rahul leaves the place when he recalls some important instructions given to him by Kaamna. Indu looks at Zoon and thinks to herself eventhough Zoon is nearby her she can't able to reach her. She then wipes her tears.
Just then two kids comes there and fights for the juice box which spills on Zoon. Both Ritesh and Indu rushes to Zoon. Before Indu could say something Ritesh asks Zoon is she fine now. Zoon tells him her dress get spoiled. Ritesh tells her to not to worry saying they can buy her new dress if she wants. He then decides to take her to clean her dress. The kids comes there and demands Ritesh to take a photos with them right away. Ritesh looks helpless. Indu signs at him that she will take care of Zoon. Ritesh tells her that he isn't sure about it. Zoon assures Ritesh that she is fine and willing to go with the clown.
Indu brings Zoon to her room and helps her clean her dress. Zoon tells the disguised Indu that she is reminds me of her mother and she wants to meet her mother. She further asks she is clown that means she must know magic right? And pleads with her to do magic so that she can meet her mother. Indu signs at her to close her eyes. Zoon obliges and tells she will count till five and starts counting it. She then opens her eyes and gets shocked finding no one there. Indu then appears infront of her. Zoon gets happy and hugs her. Indu gets emotional and hugs her back.
Sameer sees Kadambari in a society where Indu lives. Kadambari talks to Mr.Kapadiya who is her father's lawyer that she wants to meet him immediately and calls him to her office over the phone call. She then calls her employees and tells to cancel the meeting then gets into her car and drives off from there. Sameer wonders what is Kadambari doing here. The driver tells Sameer that Zoon is living here only. Sameer recalls Kadambari's reaction seeing Indu in MRTO office. He decides to find out what is the connection between her and Indu. He asks his driver to go to Kadambari's office. The driver obliges. In CAA centre Zoon questions Indu why she didnt come to meet her earlier. She also asks her is she troubled her so much is that why she left her here and apologises to Indu. Indu gets shocked and tells Zoon she didn't made any mistakes. She also apologises to her for leaving her here. She then tells her she will soon take her with her to their house. Zoon tells her that she don't want to stay here and why she has to stay here when she is her mother though. Indu hugs her closely and cries hard. She wonders how she is going to reveal Zoon their relationship truth.
Tushar sees Vivek and questions him for disguising himself as a clown. Vivek pleads with him to not to tell anyone anything and take him away promising he will tell him the truth. Kaamna gets shocked seeing Vivek and realises the another clown must be Indu so she gets furious and decides to do something. Indu looks at the photo frame of Lord Krishna and his mother Yashoda. She shows that to Zoon. She then starts telling her the story of Lord Krishna Devaki and Yashoda. Indu tells Zoon that Devaki knows if Lord Krishna stays with her then he will be under huge trouble so she made sure Lord Krishna has to lead a happy and safe life hence Yashoda become Lord Krishna's mother and brought him up. She then tells just like Lord Krishna Zoon also have two mothers and she is her Yashoda maa.
Zoon gets upset and removes her hold from Indu. She then tells that means what Kaamna told her is true that Indu isn't her real mother. Indu gets shocked and hugs Zoon closer and tells her that she is her daughter only and pleads with her to talk to her and cries hard but Zoon remains same.
Kaamna realises both the clown and Zoon is nowhere. Just then she spot Ritesh and asks him where Zoon is. Ritesh tells her he send Zoon in her room to clean the spilled juice from her dress. Kaamna acts and tells her she should have helped her though. She then goes with Ritesh to see Zoon. They both knocks the door but when they get no response they opens the door but gets shocked finding no one is inside. Kaamna suggests that they can look after another rooms which Ritesh agrees. Indu cries and pleads with Zoon to talk to her. She also tells just because it's a truth nothing is going to change between them and no one can change she is her mother and Zoon is her daughter.
Vivek comes to the room and tells Indu that Tushar learnt everything now he is going to inform Ritesh so before they could get caught they should leave and tries to drag her with him but Indu refuses to go with him saying she wont leave Zoon in this condition though. Vivek sees Ritesh and Kaamna is nearby the door so he pleads with Indu to go with him and drags her out assuring Zoon they will meet her soon. Ritesh finds Zoon and asks her the reason behind her looking sad. Kaamna tells Ritesh that she thinks the clown must be Indu and Vivek which Ritesh refuses to believe so Kaamna brings Tushar to Ritesh and made him confess that clowns are none other than Vivek and Indu. Ritesh gets shocked.
Precap: Ritesh and Vivek gets into a huge fight in Raina's house. Indu breaks their fight. Ritesh tells Indu his plan to adopt Zoon legally. He then warns Indu to not to spare her if incase anything happens to Zoon. Indu and the Raina's gets shocked by Ritesh's decision. Zoon tears her sketch she made and cries. She tells that she is a bad daughter that's why Indu is suffering so much. She then takes her bag and leaves the room.
Click to read