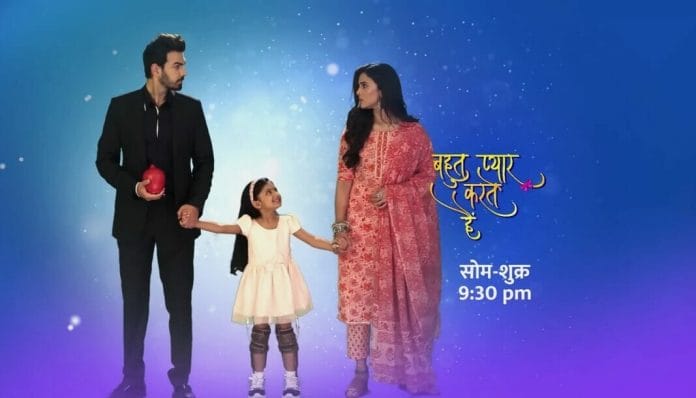 Bohot Pyaar Karte Hai 24th August 2022 Written Update on TellyExpress.com
The episode starts with Ritesh taking Zoon with him. Indu goes to Ritesh and asks him is he okay. Ritesh tells her he is perfectly fine he is just a little late that's it. He then goes to the Raina's and asks their permission to spend time with Zoon. Sunita approves. Ritesh takes Zoon with him. Indu watches them worriedly. Inside the office room Zoon asks him why he took her with him inside Indu's office. Ritesh remains silent. Zoon asks him is he crying. Ritesh says no. Zoon sees a tear on Ritesh's face. She removes his glasses from his face and sees him crying.
Zoon asks him why he is crying also why he lied to her when she questioned him is he crying? She also tells that good boys don't lie. Ritesh wipes his tears and laughs hearing Zoon's words. Zoon asks him the reason behind him crying. Ritesh tells her it's nothing. Zoon tells him if he tells her then she will tell Gannu bhaiya about his problem who will take care of everything and bring big smile on his face. Ritesh asks who is he.
Zoon tells that her mother told her it's her brother and she can share him her problems and he will help her in everything. She also adds that sometime the result may come a little late just like how her leg isn't recovered yet because of which she can't able to play around or dance happily. Ritesh asks her is she want her leg to recover. Zoon nods yes. Ritesh suggests that they both can request her Gannu bhaiya to heal her leg fast then only she can able to do what she wants to.
Zoon says okay but says to herself Gannu bhaiya solve Ritesh's problems then heal her leg afterwards. Ritesh tells Zoon that they can now go or else her mother will get upset and take her in his arms. He gets stopped seeing Indu. Indu asks Zoon to go and see Vivek who is waiting for her outside to show something. Zoon obliges and leaves the place.
Ritesh decides to leave but Indu stops him and asks him to have the drink and she will bring him snacks too. Ritesh takes the tray in his hand and throws down. Indu gets shocked and asks him what is he doing. Ritesh hold Indu with so much force. Indu tells him he is hurting her. Ritesh asks her to stop acting nice towards him thinking he is sad because he is not. Indu tells him she did felt that he is upset or something that's why she brought the drink for him. She further adds that she is here to thank for attending the event. Ritesh tells her that he is here for Zoon not for her. He then starts insulting her. Indu gets hurt.
Ritesh warns her to stay away from him then leaves the place. Indu gets shocked and hurt by Ritesh's behavior towards her. Later in the house Vivek comes to give prasad to the Raina's while Asha teaching Zoon maths. Vivek tells Zoon after having this prasad everyone will become happy. Zoon stops herself from having the prasad and asks her is that mean Ritesh will also become happy right after having the prasad. Asha says yes. Zoon tells then she wants to give prasad to Ritesh first. Indu comes there and asks about the discussion that's happening.
In the hospital Ritesh hold Shakuntala's hand and cries. He tells his fate is really something because all this years he stayed away from her because of the guilt he carried with himself but when Zoon made him guilty free and he decides to spend time with her she is in the hospital. He then tells that he misses both her and his father a lot. He also adds that he dont want to lose her so asks her to wake up. He then tells eventhough he is surrounded by their family members without her by his side he feels alone all the time. He always fulfilled the responsibility of an actor Ritesh Malhotra but failed as a a son and cries. He then reminisces the moment in the childhood how he pretend to sleep to bunk school but Shakuntala whispers in his ear who is her favorite and he wakes up screaming him. He goes near Shakuntala's ear and asks who is his favorite repeatedly then pleads her to wake up and cries.
Rahul comes to the hospital room and asks Ritesh to go and freshen up until then he will take care of Shakuntala. Ritesh refuses to leave until his mother recovers. Indu tells Zoon that they can go to Ritesh's house to give him the prasad if that's what she wants. Zoon gets happy and decides to go with Asha to get ready. Indu stops Zoon and asks her who she loves the most her mother or Ritesh? Vivek and Asha gets shocked and confused. Indu further asks Zoon will she give prasad to her if she is sad.
Zoon says yes and takes the prasad in her hand and asks Indu to have it..Indu hugs Zoon and says she loves her the most. Zoon also says she loves her too then goes to get ready. Vivek asks Indu what is all this. Indu tells it's a mother's insecurity. She then cries and tells him Zoon loves Ritesh so much and she loves Zoon so much. She is worried that Zoon may love Ritesh a little more than her and she won't be her priority and she may fail as a mother.
Vivek tells Indu that she may not give birth to Zoon but she proved herself as a wonderful mother so asks her not to never doubt herself. Indu tells Vivek she have Zoon only and she dont want to miss her at any cost. She would rather die than to be not being Zoon's mother. Later Indu and Zoon reaches Ritesh's house. Through the receptionist Indu learns that Ritesh's mother's accident and he is in hospital. She asks him about the hospital name but he tells her he doesn't know but she can ask to Kaamna. Indu agrees. Zoon tells that she wants to use washroom.
Indu scolds her. The security tells she will take Zoon to the washroom. Indu agrees and sends Zoon with her. Kaamna asks Pankaj to thank her for saving him from Ritesh's wrath but the latter refuses and blames her. They both then gets shocked seeing Zoon and the security at the door step. Zoon and the security looks on shocked.
Precap: Kaamna threatens Zoon to lock her in a dark room if she tells anyone about what she heard. Later Indu and the Raina's gets worried seeing Zoon's health detoriating. Indu tells that she knows Kaamna is behind this and if anything happens then she won't spare her for sure.
Click to read