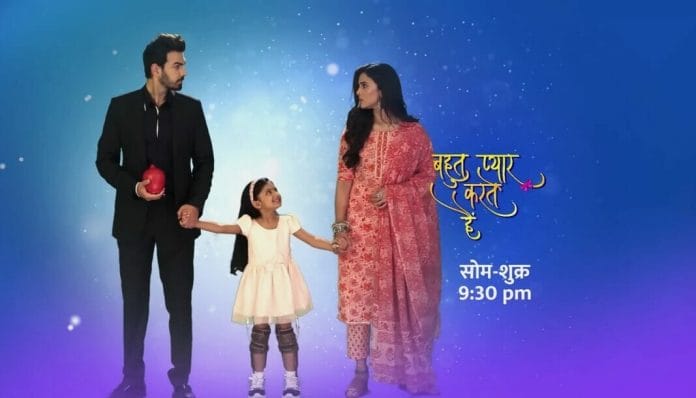 Bohot Pyaar Karte Hai 24th September 2022 Written Update on TellyExpress.com
The episode starts with Zoon walks on the road alone. Bhavna calls out Zoon's name. She then sees Zoon. Zoon sees her and turns around. She says to herself if Bhavna takes her with her then she wont able to meet Gannu Bhaiya and starts walking away. Bhavna tries to go behind her. Zoon hides herself. A tempo move backwards towards Zoon. Before it could hit Zoon a stranger comes there and saves her. He tells her that she might have get hurt by the tempo though. He then asks her is she alone? Zoon says to herself that Indu always told her if anyone asks this question then she should tell them that she is with her mother. She tells the same to the stranger and leaves the place. Bhavna comes there and gets shocked not finding Zoon there.
Rahul talks to someone on the call and tells Ritesh that Kaamna published the photo's of Zoon in every police station and they will notify them when they find Zoon. Other side Indu asks everyone on the road whether they saw Zoon or not by showing Zoon's photos but all of them says no. Asha and Anjali also searches for Zoon and they reaches where Indu and Vivek is. Indu saw a girl wearing a crutches. She thinks its Zoon so she rushes to her hopefully but gets sad seeing it's not Zoon. She cries. Vivek Asha and Anjali looks helplessly. Kadambari calls someone and asks them to help her get information about Zoon.
Zoon goes near a tea stall where she sees Vada Pav filled in a plate. She tells herself that she is hungry but she don't have food. She then sees one Vada Pav falling on the ground. She decides to have that but before she could take it in her hand someone stomped on it which makes Zoon cry hard. She tells herself that she is hungry. Indu pleads with Vivek to do something to find Zoon.
Zoon walks on the road and decides to cross it on her own. She gets shocked seeing a car approaching her and looks on stunned. The public rushes to her. Indu tells Vivek Asha and Anjali that she have a feeling Zoon is under huge problem and cries and they have to find her Zoon. The people around there scolds the person inside the car. A lady comes out of the car and apologises to Zoon. She then calms down a scared Zoon and decides to give her a water. Later the woman introduces herself by telling her name is Swati and asks Zoon her name but the latter remains silent. Swati then asks Zoon how she will inform her parents who must be worried searching for her.
Zoon tells her she dont have parents. Swati gets shocked. She then gives Zoon toffee and calls the police station. Indu and Ritesh receives a call from police station so they both rushes there. Ritesh comes to the station first and goes to meet her. He gets sad seeing Zoon's state. He asks her lovingly why she left the center alone that too without informing anyone. Atleast she should have told her genie Ritesh right because he is worried about her. He then asks her the reason. Zoon tells that she wanted to meet her Gannu bhaiya. Ritesh asks her the reason behind it.
Zoon tells that she wants to tell God to end all the sufferings of Indu. Ritesh gets shocked. Zoon further adds that Indu isn't happy because of her only and going through so much. Ritesh asks her is Indu told her this? Zoon says Indu told her she isn't her real mother and tells Ritesh that she dont have both parents. She also tells she dont have anyone. Ritesh hugs her and tells her her genie Ritesh will be by her side no matter what.
Indu comes to the police station and asks where Zoon is. Rahul points at a door. Indu runs towards it. Meawhile Rajender asks how did they get hold of Zoon. Rahul tells a stranger brought Zoon here and Zoon told her that she neither have father nor mother. Indu gets shocked and stops in her track. She cries and tells that Zoon hates her. She decides to run out but Vivek stops her and asks her what is she doing. Indu cries and tells that Zoon hates her that's why she told that she don't have mother and refuses to meet Zoon and leaves the place. Vivek follows her. The Raina's gies to meet Zoon.
Asha and Anjali tells Zoon that they are upset with her for leaving outside without anyone's knowledge even after Indu told her not to. Rahul takes Ritesh outside. Asha tells Zoon that Indu is waiting for her outside. Zoon refuses to meet her. Indu tells Vivek that she isn't brave enough to see the hatred Zoon for her in her eyes and cries. Vivek asks her to stop talking nonsense. Ritesh expresses his disappointment for Indu to Rahul and asks him to call Jatin to do something so that he can take home Zoon the next day.
Asha tells Indu that Zoon refuses to come out to meet her. Indu cries hard. Vivek decides to go and talk to Zoon. He asks Zoon to come outside to meet Indu but the latter refuses. Zoon gives a chocolate wrapper to Vivek and asks him to give it to Indu and she will understand. Vivek gives the wrapper to Indu. FB shows in which Indu scolds Zoon and asks her to arrange the book according to her time table on her own and goes to take something from the cupboard. Zoon gives Indu a empty chocolate wrapper and tells her this is Zoon and Indu's unique way to say sorry and promises Indu to tell her sorry this way only. FB ends. Indu cries and says Zoon isn't hating her but she is saying sorry to her but gets confused why Zoon wants to say sorry to her.
Precap: Zoon tells Indu that because of her only she is suffering a lot so she dont want to go with her home. Indu cries and asks her who told all this. Gayatri comes there and tells they are going to put Zoon in foster care where she will get treated by a psychiatrist. Later Indu vows to make a change in a system with her and Zoon's relationship and show the power of their relationship to the world.
Click to read