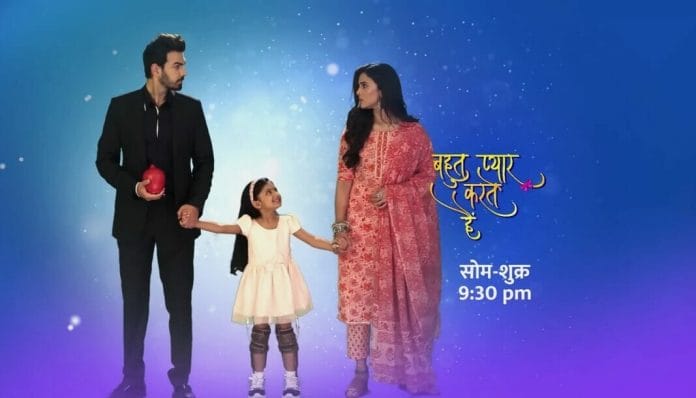 Bohot Pyaar Karte Hai 26th October 2022 Written Update on TellyExpress.com
The episode starts with Sunita tells that the Malhotra's shifted Ritesh to the house but wonders whether he will get proper treatment or not. Zoon asks Indu about Ritesh and asks her what happened to him. Indu tells that nothing happened to Ritesh which leads Zoon to ask her to take her to Ritesh. Indu feels helpless and tells Zoon that Ritesh is sleeping now so they can meet him after some time.
Zoon refuses to listen and demands to meet Ritesh also threatens to meet Ritesh on her own so Indu agrees to take her to Ritesh's room. On their way Indu pleads with the doctor to allow them to meet Ritesh and the doctor agrees but asks not to disturb him as he is under heavy medication. Indu and Zoon promises not to disturb Ritesh and enters the room. Indu assures the nurse they are here after doctor permitted them only.
Zoon asks Ritesh to wake up then asks Indu why Ritesh isn't waking up. She then asks is Ritesh is going to heaven to be with Gannu bhaiya? If that's the case then she will also go with him. Indu gets shocked and pleads Zoon to not to say such things and tells her Ritesh is a genie and he is tried of helping others so he is taking rest but soon he will come back and starts helping others. She then insists that they can leave the room but Zoon refuses so Indu suggests that they can stay nearby sofa and takes her there.
They both fall asleep. The next day Zoon wakes up and calls Indu and the latter also wakes up. Dolly and Vivek comes to the room. Vivek tells Indu that he is going to take her home so that she can freshen up. Indu agrees. Dolly pleads with Indu to stay with them because they needed her. Indu agrees so Vivek suggests to take Zoon home but Zoon refuses which leads Indu to decide to keep Zoon with her. Vivek tells he will bring them their dresses and leaves the place.
Dolly shares her worry about Ritesh's recovery to Indu. Indu assures that Ritesh will be fine. Zoon thinks that she needs to talk to Gannu Bhaiya. Indu gets shocked not finding Zoon in that room. Zoon goes to the temple inside the house. She asks the God why he is trying to snatch her genie papa from her.
He knows how she always wanted a father and finally when she is about to get one he is making him suffer which is not right and threatens to not to speak with God until Ritesh recovers. Indu and Dolly reaches there. Zoon asks Lord Ganesha why he is punishing Ritesh for no reason? She then puts the idol inside the water bowl and tells until Ritesh recovers the idol will stay inside the water only. Indu and Dolly gets confused. Indu asks Zoon what is she doing. Zoon tells that she is punishing Gannu bhaiya for hurting Ritesh.
Indu tells Zoon it's not a right behavior. Dolly asks Indu to let Zoon do what she wants to atleast God may hear the kids plea and make Ritesh gain consciousness. Indu asks Zoon to have food. Zoon refuses to leave the place so Indu tells her that she will bring food for her and asks her to wait here until she comes back then leaves with Dolly. Kaamna goes to Zoon and asks her what is she doing. Zoon tells she is punishing God for hurting Ritesh.
Kaamna tells Zoon when she was a kid she also done the same when her father fall sick but God didn't helped her so she take a vow to not to have anything until her father's recovery that's when God listened to her prayer request. Zoon tells Kaamna then she will also not to have anything until Ritesh recovers then turns around and tells the same to God's idol. Kaamna gets happy and leaves the place. Vivaan beats Sameer for trying to kill Ritesh also warns him about Kadambari who may put him under huge trouble then leaves the place. Sameer gets angry.
Indu brings food for Zoon and tries to feed her but the latter refuses to have saying she isn't hungry which confuses Indu. Indu pleads with Zoon to have food. Zoon reveals her vow to fast until Ritesh's recovery which shocks Indu. Indu pleads Zoon to not to do this or else she will fall sick but Zoon remains stubborn.
Other side Sameer comes to meet Magesh who is in Kadambari's house. He informs him that Kadambari wanted him to end Ritesh's chapter tonight itself. Magesh refuses saying he can't risk his life again. Sameer and Magesh gets into an argument. Sameer convinces Magesh and shares his plan to kill Ritesh. In Malhotra's mansion Deep and Rahul wonders who attempt to kill Ritesh. Dolly informs them about Ritesh's health is worsening and they all rushes to the room.
Indu and Zoon also arrives there. Doctor informs the family members about Ritesh's pulse which is dropping all of sudden which shocks everyone. He then takes the CPR machine to treat Ritesh. All of sudden all the machines in the room stops notifying Ritesh stopped breathing. Doctor stands from his place. Kaamna rushes to Ritesh and tries to wake him up. She asks the doctor what's happening here. The doctor informs he fails to save Ritesh and Ritesh is no more now which shocks everyone. Everyone looks at Ritesh with tear filled eyes.
Precap: Zoon goes near Ritesh and pleads him to wake up saying if he leaves her side then once again she will become a laughing stock in her school for not having a father. She also promises not to trouble him. She then falls unconscious which shocks Indu and the latter rushes to her.
Click to read