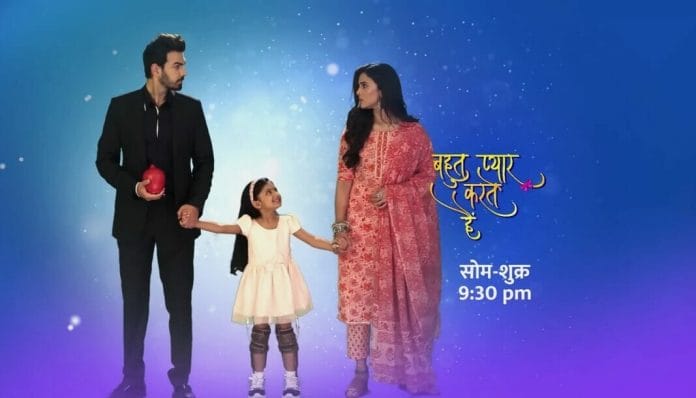 Bohot Pyaar Karte Hai 27th October 2022 Written Update on TellyExpress.com
The episode starts with Kaamna warns the doctor to not to say such thing or else he won't spare him. Doctor says that he understands what she is feeling now but the truth is they lost him now and they all should accept this which makes everyone cry hard. Zoon also cries and goes to Ritesh. She asks him to wake up saying everyone is crying and seeing them making her cry and pleads him to wake up saying he can't leave her. She also promises not to trouble him after he wakes up and pleads. Vivaan glares at Sameer and the latter looks away and remains silent.
Shakuntala cries hard. Dolly hugs Deep and tells him that Ritesh can't leave them like this. Indu Kaamna and Rahul also cries. Zoon tells Ritesh that everyone is crying for him and the doctor is saying he won't return to them and pleads him to wake up. She takes his hand in her's and kisses it. Other side Ritesh walks in a dark place and a door opens. He takes a step towards the door but Zoon comes and takes his hand in her's. She asks Ritesh to go with her but the latter refuses and asks her to go and stay with Indu. Zoon refuses and tells if he don't return then she will also go with him.
Ritesh asks her not to say such thing and go back to Indu but Zoon remains stubborn. She then tells Ritesh about her fast for him also the Prayers request and asks God to return Ritesh to her. The door closes slowly and Zoom smiles at Ritesh. Ritesh comes alive and the machine's around him notify the same. Ritesh takes Zoon in his unconscious state. Zoon tells everyone that Ritesh is alive now which shocks and surprises everyone. Doctor calls it as a miracle and starts treating Ritesh.
Zoon who is near Ritesh falls unconscious which shocks and worries Indu so she rushes to her and pleads Zoon to wake up. She also pleads the doctor to treat Zoon. Indu and Rahul takes Zoon to the guest room. The doctor checks her up and assures Indu due to not taking food Zoon fall unconscious but now she is stable so no need to worry about anything then leaves the place. Indu cries and pleads Zoon to wake up. Ritesh opens his eyes and searches for Zoon. Kaamna informs him that Zoon fall unconscious but she is stable now so Ritesh removes his IV and decides to go to meet Zoon despite Kaamna's attempt to stop him as he isn't fully recovered.
Ritesh reaches Zoon's room with the help of Vivaan and takes a place beside Zoon and asks Indu why Zoon fall unconscious. Indu tells him that Zoon kept fast for him which shocks and makes Ritesh emotional. Ritesh pleads with Zoon to wake up saying he listened to her words and wake up so now she has to oblige his words and wake up. He then tells her about her excitement to see his and Indu's wedding and asks her if she don't wake up them how come she can take part in their wedding which is going to take place in film style as per her wish only.
Zoon opens her eyes which makes Ritesh and Indu happy. Indu goes out to bring food for Zoon. Ritesh makes a promise to Zoon that he will never leave her side. Later they both together spend time together by reading books. Zoon also kisses Ritesh's cheek when she sees him suffering with the wound which makes Ritesh smile.
Indu comes to Ritesh's room. The nurse who is there to take care of Ritesh instead of helping him clean himself feels up his body. Indu goes there and glares at Ritesh and the latter covers his face with towel. She then signs at the nurse who leaves the place hurriedly. Indu then takes the nurse place in Ritesh's bed and helps him clean himself. They both shares an eye lock while Indu helps Ritesh.
Later Indu brings food for Ritesh and Ritesh tries to have food on his own but fails so Indu feeds him and helps him to take him to washroom also. After seven days Ritesh recovers fully to walk on his own. He gets ready. Dolly Deep Rahul and Vivaan comes to Ritesh's room and wishes him happy diwali. Dolly praises Indu and Zoon and gives credits to them for the reason behind Ritesh's speedy recovery. Ritesh enquires about their whereabouts and Dolly informs the Raina's are conducting a puja so they are busy there. She also tells Ritesh that due to Pankaj's accident Kaamna went to USA all of sudden but she made all the wedding arrangements of him and Indu though.
In Raina's house the Raina's greets all the guests and welcomes the Malhotra's happily. Ritesh enters the house and gets mesmerised seeing Indu. He ignores Neelam who tries to take a photo with him and goes behind Indu. Indu turns around and gets shocked seeing Ritesh. They both stares at each other.
Precap: Mehendi function starts. The Mehendi designer fills Indu's hands with Mehendi. The family members dances together happily. Zoon goes to Ritesh and shares her wish to apply mehendi on her hand but Indu is opposing it so Ritesh confronts Indu and Indu tells him it's against the school's rule so Zoon is prohibited from this and leaves the place. Ritesh smiles and tells Zoon will definitely apply mehendi in her hand.
Click to read