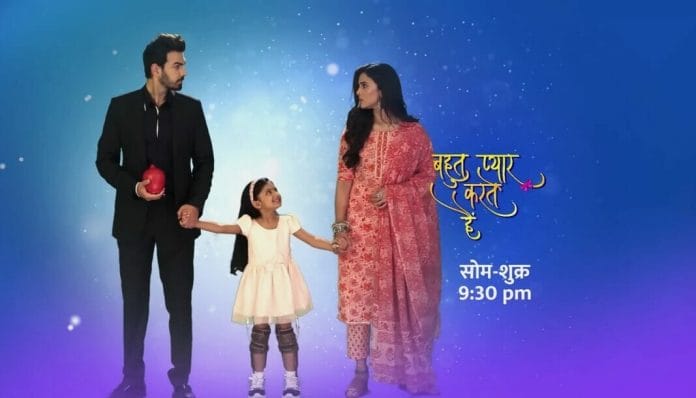 Bohot Pyaar Karte Hai 2nd December 2022 Written Update on TellyExpress.com
In today's episode, Sunita worries for a scared Diya that she has lit for Indu and Ritesh. Vivek asks her to not worry as they will win the battle this time, Zoon and Indu will reunite soon. Sunita praises Vivek. Vivek says that he is son of Sunita. Ritesh informs Indu and others that Zoon is fine and she will be better soon. Dolly wonders about the medicine that was given to Zoon. Indu says that she has given the medicine which Zoon only brought with her. Ritesh asks them to not stress about all these.
Kamna also asks Indu to not stress and leaves. Dolly prays to God. Indu asks Dolly and Anjali to leave as she is there with Zoon. Ritesh asks Indu to take care of herself. Indu says that she planned many things but all are in vain. Ritesh asks her to see the bright side as they are spending a lot of time with Zoon after long. Both Indu, Ritesh say that they would not get sleep. Later, Indu falls asleep. Ritesh keeps pillow at her back. Sameer criticizes Kaamna for giving full medicine to Zoon. They have an argument. They keep blaming each other. She asks him to keep some faith in her as she will take advantage of the guilt Indu and Ritesh are having.
Dolly feels bad for Indu and Ritesh. She prays for their happiness. Kamna plans to make Ritesh and Indu villain in this incident infront of the family. Kamna goes to Dolly and shows concern for Zoon. She says that Ritesh and Indu got over excited after getting Zoon which exhausted Zoon. Ritesh hears her words and accepts the allegation. Sameer asks Kadambari to not worry and take care of herself. He discusses his devious plan with her. His uncle comes there and confronts him. Sameer does not get affected and says that soon he will get whole property of Kadambari so he doesn't fear anyone and anything.
Uncle meets Vivian and asks him to put some senses in Sameer's head. Zoon gets up and talks to Anjali and Indu. Vivian comes there and says that he will tell princess stories to Zoon. He flirts with Anjali and leaves. Zoon says she is hungry. Indu goes to bring food for her. Later, Indu finds a medicine in Zoon's room and thinks that it looks like sleeping pills. Kamna comes there to enquire about Zoon. She asks Indu to give Zoon back to Sameer. Indu agrees. Later she packs Zoon's luggage.
Zoon says that she does not want to leave. Indu cheers her up and says that they have to follow the court's instruction. Zoon informs Indu that she didn't pack her medicines, it was done by Kamna. Indu gets shocked. She checks her medicine box and realises that one pill from her medicine box is missing. She understands the devious plan by Kamna. She thinks that now Kamna will have to face her. The episode ends.
Precap – Indu confronts Kamna for her deeds. She says that she will tell Ritesh everything. Kamna raises hand to slap her. Indu holds her hand.
Click to read