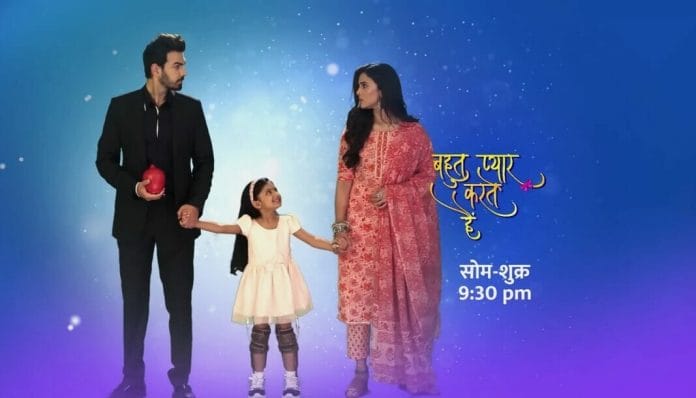 Bohot Pyaar Karte Hai 31st October 2022 Written Update on TellyExpress.com
The episode starts with Ritesh tells the Raina's to not to worry saying after his and Indu's marriage the judge will definitely give the verdict on their favour. Sunita expresses her worry to Ritesh that even after their marriage Kadambari is going to create more problems. Ritesh takes Sunita's hand in his and calls her mouj which shocks and surprises everyone. He assures her that he will make everything right and make sure that Zoon is with them only. He then asks her is she believes him? Sunita says yes. Ritesh asks her to not to lose her faith in him. Rajender praises Ritesh and tells Sunita that after Prasanth's sudden demise none was there to fill his void but now she got another son.
Ritesh smiles then tells them that he is leaving because he has to help Deep and Dolly with the marriage arrangements. Rajender asks Indu to send off Ritesh but Indu tells that she is thirsty and goes inside. The family members looks on shocked. Ritesh goes to Indu and asks her to drink water using the sipper bottle in that way her mehendi won't get ruined. Indu gets annoyed and asks Ritesh to not to fake his concern to her. Ritesh asks Indu to forget what happened earlier. Indu tells him that she is hurt by his words and asks him to apologise to her then leave because she can't tolerate him at all thinking he is here to apologize to her. Ritesh tells her that he is not here to apologize to her but to ask her to forget and move on. They both gets into an argument then Ritesh leaves the place.
Swati's husband sees Kadambari's video and tells Swati that Kadambari is faking her illness also points out how there is nothing that shows she is directly come from the hospital after getting treated for a heart attack. Swati also gets shocked realising the same. Her assistant makes an excuse and leaves the place. Swati tells her husband still they can able to give the verdict on Ritesh and Indu's favor only if their marriage takes place before the court next date. Her assistant calls someone.
Kadambari receives a call and gets shocked learning Swati learned she faked her illness and asks to do something so that she can get Zoon's custody. Sameer scolds her for her stupid plan. Kadambari lashes out at him and says that till date not even once he suggested a plan so he have no audacity to question her and asks him to think a way to help her instead of blaming so that she can able to get her five crore property. The next day Rahul tells the worker on the call that he is going inside for an important meeting so asks him not to disturb him. He further warns not to make any mistakes like before in security then goes inside. The Raina's comes there. Dolly praises Indu and Zoon and asks them to meet Shakuntala in her room because she is not feeling well which Indu obliges.
Inside Ritesh's room the writer tells his story to Ritesh how he is going to become a friend of a dragon and will fight against the villain in the film. Ritesh praises Verma and tells him this is what the people wants to see nowadays and asks him about the budget of the film. Verma tells its hundred crores. Ritesh agrees to produce this film. He then goes out with Rahul and Verma beside him and takes Zoon with him to the stage. He apologises for being late on his own Haldi but announces his decision to produce a film which makes everyone happy. He also praises the writer's and promises Verma through this film he will make sure Verma get the recognition and respect he deserves the most.
Indu congratulates Ritesh but mocks at him room. Ritesh ignores it first because Zoon is with them. Zoon expresses her happiness to Ritesh. She then leaves the place. Both Ritesh and Indu once again gets into an argument but Dolly stops them. Anjali and Vivaan flirts with one another. Later Zoon applies haldi on Ritesh and Indu. Ritesh applies Haldi on Zoon which makes Zoon happy. Both Malhotra's and Raina's applies Haldi on both Indu and Ritesh. They all takes a family picture. Dolly and Deep asks Ritesh to take Indu with him to his room to help Indu refresh. Ritesh expresses his sadness to share his room with Indu after marriage which makes Indu angry so she taunts him.
Ritesh takes Indu to washroom where he explains how to use the shower and the pipes then taunts her and leaves the place. Indu gets angry and punches the shower knob and it starts pouring so she tries to close it but fails which leads her to call Ritesh for help. Ritesh arrives there and scolds her for malfunctioning the shower knob. They both gets closer while trying to stop the water from pouring on them and stares at each other.
Other side Kadambari sees Ritesh and Indu's Haldi photos and pleads with Sameer to not to say anything so that she can get Zoon's custody. Sameer gets an idea recalling Magesh's words to let Kadambari marry Ritesh to solve this problem. Sameer tells Kadambari that she needs to get married. He then explains his plan to her. Kadambari agrees to marry and looks on with determination.
Precap: Ritesh is on his way to mandap and both the families happily dances around infront of his car. Kadambari gets ready as a bride. She tells no matter how much Indu try but she will become a bad omen in Indu's marriage and smirks.
Click to read