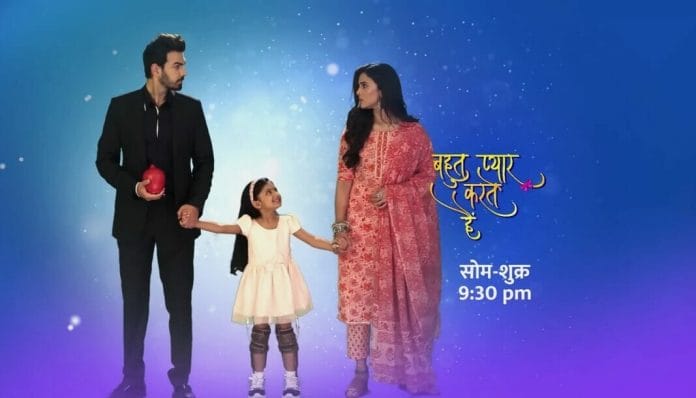 Bohot Pyaar Karte Hai 3rd November 2022 Written Update on TellyExpress.com
The episode starts with Vivaan tells Anjali even in his dreams he knows the dance steps just because she is going to lose the game doesn't mean she can cheat on him to win the game. Anjali argues with him. Zoon asks them both to stop arguing then calls Ritesh and asks to show both Vivaan and Anjali a right dance steps. Ritesh thinks that Rahul asked to distract the guests so he decides to give a dance performance. He asks Zoon to play a song from her phone then goes to the stage.
Zoon plays the music and Ritesh dances accordingly. He takes Anjali with him to the stage and they both dances and the guests cheers up. All the family members joins on the dance floor and dances to the music played in the background. Rahul receives a call so he goes outside just then the song comes to an end. Vivek gets relieved that everyone is distracted by this dance performance and he hopes that Indu reaches the venue on time.
Rahul informs Vivek that he bought generator so they don't have to worry about power cut and urges him to come inside as the wedding rituals are about to start and goes inside. Vivek worries and wonders why Indu didn't reached the venue yet and how he is going to manage the situation. Kadambari reaches the designation in her car. She comes out of it. A bride who covered her face with the veil enters Indu's room. Outside Rahul praises Ritesh for agreeing to his request and entertaining the guests. Deep comes there and informs the priest is calling him to start the wedding ritual. Ritesh searches for Zoon but Deep informs him Zoom is there only so Ritesh goes to the mandap.
The priest starts the mantras. He puts tilak on both Ritesh and Zoon's forehead then asks Sunita to bring the bride. Sunita asks Asha and Anjali to bring Indu and they both obliges and goes towards Indu's room. Vivek worries and stops them from entering the room. He insists to bring Indu but Anjali tells him its their duty and goes inside the room. Vivek apologises to Indu for unable to save her and hopes she reached the venue.
Vivek enters the room and gets shocked finding a bride there. He gets relieved and goes towards the bride. He expresses his relieved state to find her here in her room and asks her is her work is completed or not. The bride remains silent which confuses Vivek. Asha and Anjali takes the bride outside. Vivek wonders why Indu is behaving like this though. Ritesh sees the bride and wonders why Indu is covering her face like this. He then thinks that he is happy without seeing her face like this. The bride sits beside Ritesh. Ritesh taunts bride and gets surprised when he didnt get any reply in return like how he used to get. He asks the bride to remain the same after marriage also so it will be easier for him to tolerate her.
The priest asks both Ritesh and the bride to exchange the garlands. They both exchanges it. Then as per the priest's instructions Ritesh takes Indu's place and Indu takes Ritesh's place in the mandap. The priest asks who is going to do gathbandhan. Dolly suggests Zoon is right person because Ritesh and Indu's marriage is taking place because of her only. Rajender and Sunita agrees. Rajender takes Zoon with him and help her tie the gathbandhan. Zoon ties the dupatta with bride's dress with a big smile on her face.
The priest asks Ritesh and the bride to take pheras. Ritesh and the bride take pheras. After the ritual completes the priest asks Ritesh to fill the bride's hairline with vermilion. Ritesh obliges and takes the veil from the bride's face. Everyone gets shocked finding Indu in an injured state and asks what happened to her. Zoon cries so Indu asks Asha to take Zoon inside and the latter takes Zoon inside. Rajender asks Indu how did she get injured. Dolly asks Indu to tell the truth to everyone which shocks and confuses everyone.
Indu tells Ritesh and everyone that she received a call from Meghna so left the wedding venue after informed Vivek. Everyone looks at Vivek but the latter tells him that he cant say no to his friend at last minute so he deliberately cut the power by taking the fuse out which shocks everyone. Indu tells that it was Magesh who used Meghna to call her and tells how he tried to kill her but Dolly arrived there on time and saved her from him.
Dolly tells the family members she saw Indu leaving the venue so she followed her and found Magesh trying to kill Indu so she beaten up him and saved Indu from him. Rajender and Sunita expressed their gratitude to Dolly for saving Indu. Ritesh gets furious at Magesh and decides not to spare him. He tries to leave but Indu and everyone stops him. Ritesh wipes Indu's tears and asks her is she okay. Indu nods yes.
Precap: Indu performs vidaai and gets emotional with her family members. She then leaves the venue with Ritesh and Zoon. Dolly does aarti for Indu and asks her to enter the house after pushing the rice pot with her legs. Indu obliges and pushes the rice pot just then someone joins her and performs the ritual with her. Indu gets confused and shocked.
Click to read