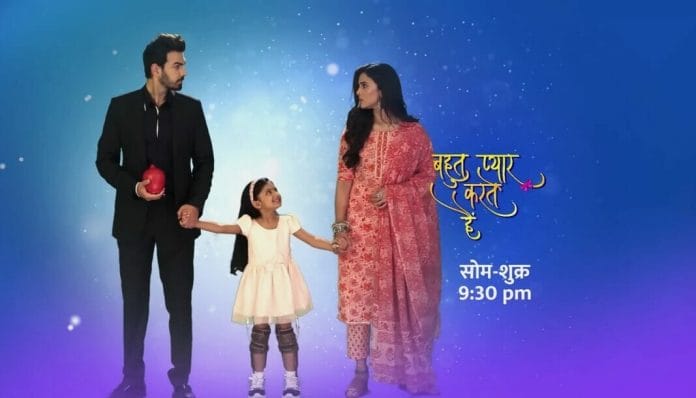 Bohot Pyaar Karte Hai 5th November 2022 Written Update on TellyExpress.com
The episode starts with Ritesh is in his room with Zoon and Zoon is lying on his lap. Ritesh talks to his father by looking at the sky. He tells that if they have to fight with outsider he can do it but how to fight with his brother for his doings. Indu arrives there. Zoon asks Ritesh who he is talking with. Ritesh tells her that he is talking with his genie papa and tells her it's her genie dadu and he is in the sky now. He will fulfill all their wishes eventhough he is staying far away from them. He then encourages Zoon to ask her genie dadu to fulfill whatever the wish she wants. Zoon tells genie dadu that she is scared of Ritesh's anger so asks him to control his anger which makes Ritesh speechless. Indu smiles hearing it.
Ritesh tells Zoon that she dont have to get scared of him at any time also promises to control his anger also promises to protect her always. Zoon tells now she is feeling thirsty. Ritesh sees there is no water so he tells he will bring for her. Indu tells she will bring water for Zoon and leaves the place. Ritesh plays with Zoon. Indu fills the glass with water and turns around and gets shocked seeing Kadambari there. Kadambari congratulates Indu and asks her to congratulate her also but Indu remains silent.
Kadambari tells Indu that she thought marrying Ritesh will help her get Zoon's custody because she will be financially stable also give a perfect family but she defeated her by marrying Sameer now what she is going to do to convince the court to get Zoon's custody? She also tells once she gets determined to get something she will get it at any cost by going to any extend. She then tells now this battle is between two mother's one is given birth to Zoon and the other one snatched Zoon from her. She is sure the final verdict of the court will be on her favor because she is Zoon's biological mother.
Indu tells Kadambari that she knows well that Kadambari can go to any extend so she isn't surprised by her decision to marry Sameer. She also tells she is right about the battle related to Zoon's custody. One given birth to a child and left without caring anything and the other one taken proper care of the child and given her everything to fulfill all the child's wish. She also tells Kadambari how much sacrifices a mother has to make for her own child and asks her is she know anything about Zoon? And tells Kadambari even she is eagery waiting for the verdict which is going to be in favor of a selfish woman or a mother who will go to any extend for her child's happiness. Kadambari mocks at Indu saying that she gave a good speech but she can sense her fear though then leaves the place. Indu apologises to Zoon for bringing water a little late.
Dolly suggests Zoon and Indu to go to bed. Indu obliges and decides to take Zoon to the room. Kadambari arrives there and tells Zoon that she cant stay here. Ritesh gets angry and asks her who is she to tell this and reminds her this is house so he will decide who to stay here and who is not. Kadambari reminds him about the court's order that Zoon has to stay in a foster care. Dolly scolds Kadambari and Ritesh threatens Kadambari to throw her out of the house. Sameer comes there and warns Ritesh to speak to Kadambari respectfully because she is his wife now. Ritesh tells Sameer to take his wife inside before he loses his cool but Sameer provokes him and Ritesh loses his cool and they both get into a fight. Zoon gets scared seeing it so she hugs Indu. The family members tries to separate Ritesh and Sameer. Indu shouts at Ritesh that Zoon is scared which lead Ritesh to calm down. Kadambari takes Sameer inside.
Ritesh apologises to Zoon for scaring her also breaking the promise to try to control his anger which he made a few minutes back also assures her he will work on his temperament. Indu tells Ritesh that she is taking Zoon to Vivek's house. Ritesh tells her not to worry about Kadambari and ignore her but Indu tells him that she don't want to take any risk at this point. Kaamna also supports Indu's decision. Zoon tells Indu that she don't want to go to Vivek's house but Indu makes her understand that it's necessary also promises to spend entire day with her only. Ritesh decides to go with Indu and Zoon to drop them. Kadambari in her room recalls Sameer and Ritesh's fight. Sameer arrives there and compliments her. Kadambari thanks Sameer for helping her. Sameer gets romantic with her and takes her to his bed.
Other side Ritesh Indu and Zoon reaches the Raina's house. Vivek and Ritesh takes Zoon to Vivek's house. Sunita expresses her worry about the sudden turns of events to Indu and the latter also tells her even she is confused how to handle this now. Sunita gives the court notice and Indu learns the next hearing date is postponed to November 8th which she informs to Ritesh and they both decides to meet the lawyer the next day. Indu decides to stay so Ritesh also stays in his car but Sunita orders both Indu and Ritesh to share a room together. In Malhotra's mansion Kadambari asks Sameer is Ritesh have any anger issues. Sameer tells her he have gone through so much after his parents accident.
Kadambari tells Sameer that she is planning to use Ritesh's anger as her trump card to get Zoon's custody. Other side Indu and Ritesh decides to sleep in a separate bed. They both gets into an argument over a mosquito coil which Ritesh allergic to. Indu leaves the place. Sameer asks Kadambari how she is going to use Ritesh's anger in her favor though. Kadambari smirks at him.
Precap: Kadambari asks Sameer to tell her everything that related to Ritesh so that she can use that in her favor. Sameer tells there is one person who can help them in this. Other side Meghna warns both Ritesh and Indu to be more cautious and not to take any step or do anything without thinking twice because their one wrong move can change everything which worries Ritesh and Indu. Kadambari reveals to Kaamna about getting five crore property if she gets Zoon's custody so asks her to help her. Kaamna asks Kadambari what she wants to know about Ritesh which makes Kadambari and Sameer happy.
Click to read