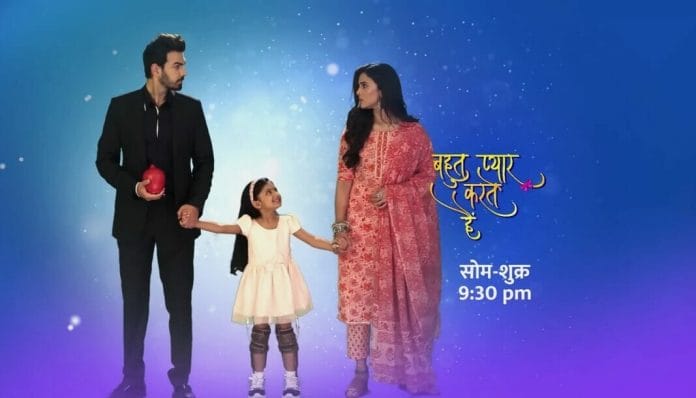 Bohot Pyaar Karte Hai 7th November 2022 Written Update on TellyExpress.com
The episode starts with Ritesh taking Zoon's toys and says that her toys are cute just like her. He then senses the mosquitoes are so much and says to himself Indu is right about the mosquitoes. He also wonders why not put not on the window. Indu arrives there and says to herself that indeed Ritesh making a small matters as a bigger issue and thinks to keep the water which she brought for him. Ritesh turns around and sees Indu staring at him. He asks her about the same. Indu tells him that she will say and puts the water in a side table just then misses her balance and falls on Ritesh and they both falls on the bed. They both then realises their position so distances themselves from one another.
Indu tells Ritesh that she kept water for him in a nearby table then goes to the other bed where she removes her jewellery. Ritesh stares at her then closes his eyes to sleep. Indu sees Ritesh's struggle to sleep as the mosquitoes are biting him eventually she falls asleep. The next day Dolly scolds the worker for not preparing enough food and asks to make Indu's favorite food too. Kaamna arrives there and reminds Dolly there is two new daughter in law in this house. Dolly tells Kaamna that she already told her and everyone for her Indu is this house daughter in law.
Ritesh and Indu arrives. Both Kaamna and Dolly questions them. Ritesh tells them they both stayed in Indu's house only. Dolly asks Ritesh to refresh and come to have breakfast. Kaamna notices Ritesh's restless face so he asks him to take a nap but Ritesh refuses saying he and Indu need to go and meet the lawyer regarding Zoon's custody case then goes inside the room. Dolly takes Indu with her to have breakfast.
Kadambari gets ready in her room. Sameer wakes up and greets her. Kadambari goes to him and hurries him to get ready as they have to so much to do. Sameer demands her to kiss him but the latter refuses and reminds him her earlier conversation about her want to know Ritesh's weakness to defeat Indu. Sameer asks Kadambari what she wants to know about Ritesh. Kadambari tells him she wants to know everything about him. Sameer tells her there is only one person who can help them with this and looks on. Indu enters Ritesh's room and asks him to come out of the shower as they are getting late ready for the meeting with their lawyer. She then sees Ritesh fell asleep. She recalls Ritesh's struggle to sleep in her house so she decides to let Ritesh sleep for a while. She calls Meghna and informs her to postpone their meeting. She then sees Ritesh is shivering so goes to cover him with a blanket.
Ritesh puts his head on Indu's lap and sleeps which shocks and makes the latter helpless. She tries to remove herself from Ritesh's hold. Ritesh opens his eyes and finds herself in Indu's lap so distances himself. He asks her what she is doing. Indu tells him that she saw him shivering so decides to cover him but he started sleeping on her lap. Ritesh refuses to acknowledge also accuses her for trying to take advantage of him and calls himself hot. Indu gets furious and tells him that she dont want him at all. She also tells that she decides to postpone their meeting in order to help him get peaceful sleep. Ritesh scolds her and calls Meghna and informs her they are on their way so no need to postpone the meeting. Indu leaves the place angrily after Ritesh and her argues.
Kaamna mocks at Sameer for coming to her for help. She reminds him about his behavior towards her few days back also the works she told him that he will crawl back to her that time she wont have time to help him and says Sameer that she is not in a mood to help him so asks him to leave. Kadambari tells Kaamna that she doesn't know what happened between her and Sameer but both of their enemies are same so why can't they join hand to defeat their enemy. Kaamna tells that she don't need their help and decides to leave but Kadambari tells her that if she wins Zoon's custody then she will get five crores worth property so pleads with Kaamna to help her and says that she will share a part of property to her also. Kaamna agrees to help Kadambari which makes the latter happy and she smirks at Sameer.
Ritesh and Indu meets Meghna. Meghna apologises to Indu for helping Magesh but the latter asks her to ignore that and tells their focus should be on Zoon's custody. Ritesh asks whether the current situation they are in can help them get Zoon's custody. Meghna tells now that Kadambari also married they are in a tough spot so the steps they are taking they should be more careful. Kaamna shows all the documents that related to Ritesh since childhood. Kadambari learns that Ritesh undergone a psychiatric treatment after his parents accident which she decides to use it on her favor by publishing it.
Indu breaksdown infront of Ritesh that she lost all her hope. She married him to get Zoon's custody but now this will also not work and if she fails to get Zoon's custody then definitely she will die. Ritesh gets annoyed and scolds her for talking negative. He then receives a call from his upcoming movie writer who asks him time which angers Ritesh so he lashes out at the writer then asks him to do the work as per the plan or else he will cancel everything then cuts the call. The writer gets shocked. Ritesh tells Indu they can find a solution so asks her not to lose hope then they both leaves the place. The nanny who takes care of Shakuntala informs that Shakuntala is coughing after the new nurse fed her. Kaamna gets worried and rushes to Shakuntala's room.
Sameer and Kadambari also follows her. Kadambari thinks herself today is her lucky day as she is learning more Ritesh's weakness. Kaamna lashes out at the nurse after seeing the nurse fed Shakuntala with a big spoon also threatens to spoil her career. The nurse pleads with her not to do anything such. Kadambari smirks and thinks to herself that she needs to use Ritesh's anger and Shakuntala's illness to defeat in her favor.
Precap: Kadambari tells Sameer that they should make Zoon feed a whole laddu to Shakuntala that will work on their favor. Later Zoon feeds laddu and Shakuntala struggles to have it. Ritesh who enters the room gets shocked so he rushes to Shakuntala and pushes away Zoon. Indu enters the room and gets shocked.
Click to read