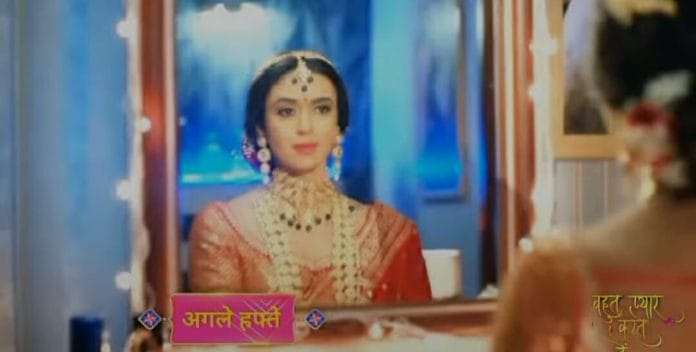 Bohot Pyaar Karte Hai Spoilers, Upcoming Story, Latest Gossip , Future Story, Latest News and Upcoming Twist on tellyexpress.com
Star Bharat's show Bohot Pyaar Karte Hai is gearing up with an interesting drama with Kadambari entering the Raina's house and create a drama infront of the guests to gain public support and it works on her favor which worries Indu and Ritesh.
Now it will be interesting to see what will happen next. Will Indu and Ritesh be able to get Zoon's custody? Will Kadambari's support from public help her get Zoon's custody? To whom Swati give permission to Zoon's custody?
In the previous episode we had seen that Indu saw Ritesh was opposite to her when she opened her mouth to talk to him the latter praised himself also mocked at Indu and told her now her dressing sense was improved which annoyed Indu so she once again tried to scold him but Zoon interrupted them.
She complimented Ritesh. Indu noticed due to injury he couldn't able to life Zoon so she took Zoon in her arms and Zoon kissed both Ritesh and Indu. They both smiled at her. Rahul got hurt when he saw Anjali and Vivaan's closeness. Later while Indu's hands were filled by mehendi both Malhotra's and Raina's danced happily.
Zoon shared Indu her wish to apply mehendi on her hand too but Indu refused saying it was against the school rules so she went to Ritesh and the latter told her she can apply mehendi and took her to the designer which made Zoon happy.
Indu stopped the mehendi designer from applying mehendi on Zoon's hand and refused to gave permission to Zoon. Ritesh tried to persuade Indu but the latter remained stubborn so he decided to find some other way to fulfill Zoon's wish. Other side Magesh lashed out at Sameer and tore the ticket to Bhopal into pieces then left the place which made Sameer furious.
Ritesh called Zoon's vice principal to took special permission so that Zoon can able to apply mehendi on her hand. Both Indu and Ritesh got into an argument over rules infront of the vice principal about the rules and in the end the vice principal refused to accept Ritesh's request which made him upset. Both Indu and Ritesh walked away after saying each other the other one was never going to change.
In the upcoming episode it will be shown that Zoon will apply Haldi on both Indu and Ritesh. Sunita will also apply Haldi on Indu and Ritesh. Kadambari will get worried and ask a plan to stop their wedding to Sameer. Later Kadambari will decked up like a bride and look herself in the mirror.
To know more about what's happening in Your favorite shows keep checking this space.