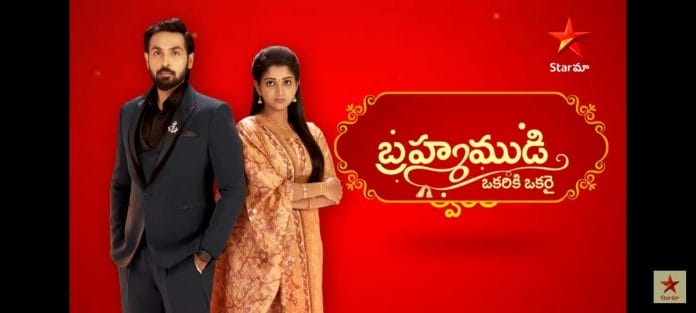 Brahmamudi 24th January 2023 Written Update on TellyExpress.com
The episode starts with Kanakam and her husband coming to Sandeep's birthday party with their children. Kanakam says to her husband they couldn't afford to buy new dresses for their second and third daughter. Duggirala's family head and his grandson Raj come there. Sandeep parents welcome Raj and his Grandfather. Kavya asks her parents why they didn't get welcome like them. Kanakam says it's the power of money. Kanakam and her family try to enter the party. The servant stops them and says the worker's entry to the party is different. Kanakam feels bad and enters the party. Swapna sees ice cream at the main party. Kavya tells ger they can't enter there but Swapna doesn't listen and goes to get ice creams.
Swapna's gown tore while going to another side but she doesn't see and tries to take all the ice creams. Raj stops her and tells her she can't take all the ice creams but she doesn't listen. Raj argues with her. Kanakam asks Kavya where is Swapna. Kavya goes to call Swapna. She sees Raj arguing with her sister. She tries to stop Raj but he pushes her. Kavya gets hurt. Kanakam comes there and sees a Kavya is hurt and Swapna's gown is torn. Kanakam asks how it happened. Swapna lies Raj spoiled her gown for taking ice cream. Kanakam scolds him. Sandeep parents cones there and asks Kanakam to not create a scene. Kanakam says she won't leave until she gets money for the gown. Sandeep mother pays the money and fires Kanakam's husband from his job. They leave from there. Kavya throws a stone that hits Raj's forehead. Kanakam decides that they have to become rich.
Few years later, Kanakam comes to the rich family marriage bureau. She acts like super rich and asks the bureau head to show good matches to her daughter. Bureau head shows her matches. Kanakam doesn't like any and tries to leave then the bureau head stops her and says he has a match which she needs and tells her about Duggirala Seetharamaiyya's grandson Swaraj aka Raj. On another side, someone calls Raj and asks him to stop the marriage. Raj says he is going. Raj reaches to temple and notices Sravani and his friend getting married. Raj lies to Sravani that his friend is poor. Sravani confronts Sandeep. Raj says you have money, isn't it? Sravani says she doesn't and lied that she is rich to get married to Sandeep. Raj asks her to shut up. He asks Sandeep to understand Sravani's reality and takes Sandeep with him. Sandeep asks Raj why he brings him and says I have money so I can take good care of her. Raj says Sravani is a cheater and she may deceive you many times. Sandeep tries to talk. Raj says in your birthday two girls made me get scolded by grandfather without my mistake and my scar will never let me forget that incident.
Kavya paints Vinayak's idol along with her dad. She asks Vinayak's idol to see his face in her eyes. Kavya's father praises Kavya's art. Kavya says she will make Ganesh wear temple jewelry design. The manager comes there and asks her to keep idol plain as it's going to deliver to rich people house. Kavya says don't know who is that rich family making Ganesh poor.
On another side, one girl starts face book live and introduces her family members to viewers. She says today is 100 years of the Swaraj group and Raj is going to become Md. Marriage bureau person tells the history of Duggirala family to Kanakam. Kanakam calculates her son in law will get a 500cr share. The marriage bureau head asks Kanakam to tell him about her family details. Kanakam asks if he is doubting her who send driver to eat tiffin giving 500. The driver comes there and scolds Kanakam and secretary for stealing his watch. The marriage bureau head asks why the driver is talking in this way to owner. Driver says she is not his owner and exposes them. Marriage bureau head gets shocked. Kanakam vows to get her daughters married to Duggirala family.
Episode ends.
Precap – Raj breaks Kavya's idol. He pays her money for the loss without apologising to Kavya. Kavya gets mad and scolds him.