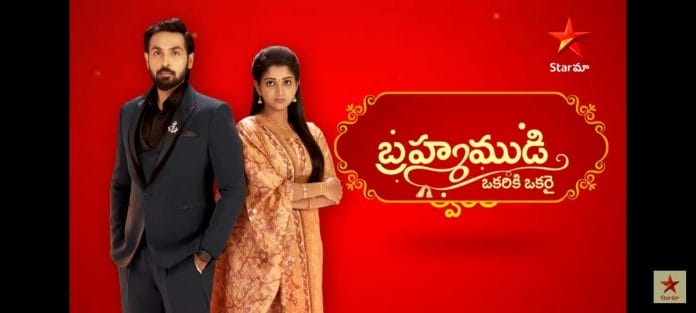 Brahmamudi 25th January 2023 Written Update on TellyExpress.com
The episode starts with Driver exposing Kanakam in front of the Marriage bureau head and leaves. The marriage bureau person mocks Kanakam for her overaction and tells her that she can never let her daughter get married to the Duggiraala family's grandson. Kanakam asks what he does if she does it. The marriage bureau person says he will hold her feet if get the passes to today's function at the Duggirala family. Kanekeswari vows to get the passes and send her daughters to Duggirala's house.
Subhash says Swaraj is doing all the arrangements for the 100-year party. Sitharammayya comes there. Swaraj takes his blessings. Sitharamayya asks where is Ganesh idol. Swaraj says it's coming. He calls the manager and asks how much time it takes for the idol to reach them. The manager asks Kavya about it. Kavya says 30 minutes. The manager informs him about it. Swaraj tells the family ladies that he is planning a surprise for Grandfather. Ladies ask what's it. He says he is going to decorate Ganesh with real gold. He calls Kalyan and they go to get the good jewellery. On the way
Vendor pays 1k less to Kavya. Kavya confronts him about it and threatens to wipe the colors from the idol if he didn't pay the full amount. The vendor pays her the complete amount. Kavya gives 2k to her father and asks him to give it to her mother. She asks where her mother went. He says he went to search for rich matches. That time Kanakam calls him and asks him to return home raking money from Kavya. He agrees.
Kalyan sees the jewelry Swaraj prepared for Ganesh ji. Swaraj and Kavya get into an accident. Kalyan comes out of the car. He apologises to Kavya for breaking her dolls. Kavya feels worried seeing the broken dolls. Swaraj asks Kalyan to come leaving his social service. Local people demands Swaraj to come out. Swaraj comes out and says he will pay for the loss. Kavya confronts him. Swaraj asks why they are creating a scene for a clay doll. Kavya asks if he didn't see the art of her doll. Swaraj says you're selling your art. He talks rudely about her work and offers her money. Kavya gives him money and tells him to get treatment for his arrogance of money. Swaraj gets angry and asks Kavya to shut up. Kavya also tells Swaraj to shut up. Swaraj asks if she knows who's she. Kavya says you're are a blind person who can't see the art. Kalyan tries to stop his brother. Swaraj says she is creating a scene for money and it's their regular work. Kavya stops him and asks him to apologise to her. Swaraj says he applied break to save others and says it's not his mistake. Kavya says you have to apologise to me for disrespecting my work otherwise you can't leave. Swaraj asks Kalyan to come and they are about to leave. Kavya takes a big stone in her hand and comes in front of the car. Kanakam comes to that side but she didn't see the issue and asks the Auto driver to take them in a different way. Kavya threatens to break the car's mirror if he didn't apologize to her. Kalyan requests Swaraj to apologise to her as we are getting late. Swaraj comes out and apologizes to her. Kavya takes money for her loss and returns the remaining money. Swaraj asks Kavya to pray to god that you will never come in front of me. Kavya says same to you and leaves.
On the way, Kalyan sees their company executives and asks what's happening. Swaraj stops the car and he tells old couple that their company will take care of them fromhere onwards. An old couple blesses him.
Kanakam takes money from her husband. She asks him to arrange passes to the Duggiraala family function. Kavya returns home. Kavya's father notices dolls are broken. He asks her what happened. Kavya says she met with a small accident. Kanakam says hope you won't get hurt in your face. Kavya says she is fine and asks what passes she is talking about. Kanakam tells how she challenged the marriage bureau head.
Media people cover Swaraj group event. Ladies praises Swaraj's idea of gold jewelry to Ganesh's idol. Rudrani says it's too much. Swaraj says it's needed. Aparna and Indira Devi discuss when Swaraj gets his life partner. On another side, Swapna is shown to be dreaming of winning a beauty contest.
Episode ends.
Precap – Kanakam and her husband's heated argument.