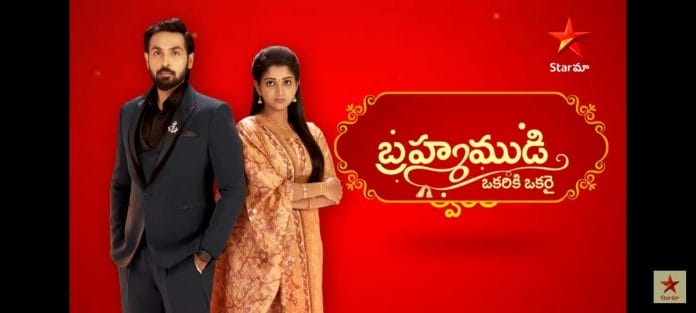 Brahmamudi 26th January 2023 Written Update on TellyExpress.com
The episode starts with Dhana Lakshmi asking Rudrani to think about Rahul leaving Swaraj's marriage. Rudrani says Rahul will get the queen as his wife. On another side, Swapna is dreaming to distribute money to everyone at the function and she throws cotton from the pillow. Kanakam and others notice cotton flying in their house. They rush to Swapna's room and make her come out of her dream. Krishna Mohan says it's a daydream. Kanakam says she has a way to make her rich house daughter in law. Swapna feels happy and goes with her mom to know about the plan.
Swaraj and Kalyan make workers get ready Vinayak with golden jewelry. Rekha comes there and asks Kalyan when he will marry. Kalyan says he will marry after Swaraj. Swaraj asks him to marry first and asks what kind of girl he wants. Kalyan says he wants a girl who has long hair and soft nature. On another tomboy type girl, Appu is shown to be delivering the pizza. One guy tries to misbehave with her but Appu teaches him a lesson. Kanakam calls Appu and asks her to return home to eat food.
Kanakam tells Swapna about Duggirala's family. She applies a face pack to her. Swapna asks how will they get passes. Kavya and Krishna Murthy ask Kanakam to see matches that are suitable for them. Kanakam rebukes him. Krishna Murthy asks Kanakam if it is his fault for her elder daughter not getting married? He reminds Kanakam that it was her who found faults in the matches when he brought them according to their status. Kanakam says she doesn't want her children to have the same lives that they are having. Krishna Murthy says they might not have money but he raised their daughters with dignity and comments on Kanakam. Kanakam says rich people will not come to poor people's homes so she is sending her daughters to show them. Kanakam asks Krishna Murthy if it is wrong to do it. Krishna Mohan says it is wrong. Kanakam says these ethics doesn't help to save our son so don't tell me about them. It's shown how they lost their son for not arranging money for his brain surgery.
Kanakam cries seeing her son's photo. Kavya and Swapna try to console her. Kanakam says we lose our son as we don't have money. She asks her husband if he can get back her son. Krishna Murthy stands silent. He tries to console her. Kanakam stops him and tells him that she can't get calm by his words and that's why I want my daughters to get married to rich household and I won't let my daughters walk in the wrong path and I will make my daughter get married to Duggirala son and will get passes to that function.
Seetharamayya sees the Ganesh idol with Gold jewelry. He feels bad and confronts Raj about why he made fun of god by doing it. Swaraj says he thought he will like it. Seetharamayya asks Swaraj to get the idol decorated with the painter before puja gets started. Swaraj agrees and calls the vendor. He asks him to send the painters. The vendor keeps him on hold and calls Kavya but the call doesn't get connected. The vendor informs it to Swaraj. Swaraj asks him to send the location of the artist. Vendor agrees.
Rahul calls Reporter and tells her that puja is stopped to get attention from her. The reporter asks what happened. Rahul says Swaraj used gold jewelry on the idol instead of paint one. The reporter thanks him and leaves. Swaraj calls Kalyan and they come out and faces the questions of media.
Episode ends.
Precap – Swapna calls Kavya and tells her that they didn't get passes and asks her to do something. Seetharamayya on the call tells Swaraj that he won't forgive him if puja didn't happen. Swaraj assures him that it will happen. He reaches to Krishna Murthy's shop and gets shocked to see Kavya.