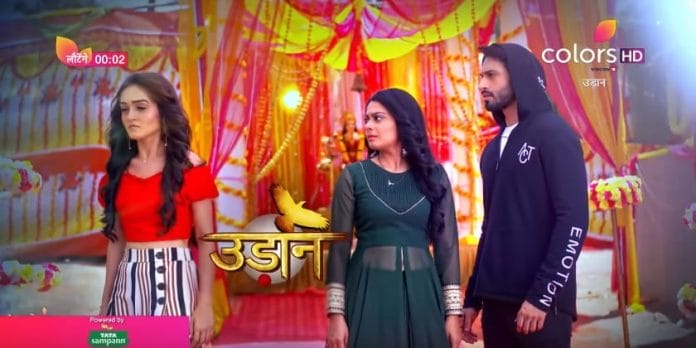 High voltage drama ahead in Colors TV Udaan.
So far in the episodes, Anjor lost her memory and acting childish. Doctor tells Chakor that Anjor is going through a big trauma and has lost her memory. He tells them that Anjor went back in her past and has become a child mentally.
Ranvijay and Bua smile looking at each other after hearing Anjor's condition. Back to home Anjor beats the servant for hurting her doll.
Later, Ranvijay decides to sell off Anjor. He shows her picture to a Sheikh. Someone informs Ranvijay that Chakor can come to take her anytime. Ranvijay says he will execute his plan before she will reach them.
Otherside, Chakor misses Anjor and Sameer's moment cries for her. Anjor looks at her marriage pics and ask about Sameer. Ranvijay says he is her friend. He fills Anjor's mind against Chakor and says she kidnaps the kid. She started hating Chakor and promises Ranvijay that she is on his side. Ranvijay gets happy
Chakor hears Ranvijay's voice and hides. She goes to meet Anjor while she is sleeping. Anjor gets hurt; Ranvijay scolds Chakor for her carelessness.
Ranvijay threatens Chakor later, she thinks of a plan to get rid-off from him.
In the upcoming episode will see, Chakor will disguise as saint to save her daughter.
Chakor arrives at the house disguised as a saint and lures Anjor away. Meanwhile, Ranvijay arrives at the haveli with the Sheikh and is upset after Anjor is nowhere to be seen.
What Ranvijay will do next and till how long Chakor will be able to save her daughter, to know more keep watching Colors TV show Udaan.
Stay tuned with us for more news and updates.