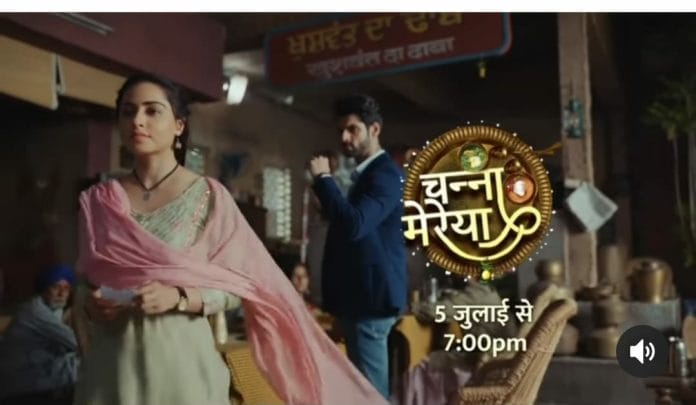 Channa Mereya 12th August 2022 Written Update on TellyExpress.com
The episode starts with Ginni telling that she did promised but how to fulfill it. Shampy asks Ginni to look at the menu. Gulraj comes there and scolds them for wasting time. Shampy and Dimpy says Goldie is taking care of everything with their client. Gulraj reminds them about Goldie's health condition now. Ginni tells Gulraj that she will look after Goldie and goes outside and gets surprised seeing Goldie's well behavior also working a lot. Santu asks Ginni what she has done to Goldie that lead him to do all the works.
Ginni tells its not her but he made her a promise to him. In Singh's house Aditya recalls everything after he returned to India. He starts sweating a lot. Armaan comes there and gives Aditya a glass of water and tells him before wedding itself his condition is like this then what will happen after the marriage. He also tells him that they aren't sure about whether the child Sam carrying is his or not. Aditya says it's not right to question the child's existence before it comes to the world. He also tells that he is doing all this to take care of the child because he is not Amber.
Armaan tells that he understands what he must be going through right now. Eventhough he dont approve his decision but the respect he had for him already increased. He then questions Aditya about the jewellery box in his hand. Aditya tells Armaan that Rajvant want to give this jewellery which belongs to his mother to Sam so he is going to get polished. Armaan tells that he understands what he must be going through but agree to be with his side always.
Sam calls Supreet as Mummy Ji then apologises to her for calling her like that but the latter asks her to call her as she wish because in few days she is going to become a daughter in law of their house. Sam apologises to Supreet for her the reason behind Singh and Cheema family's rift. Supreet assures her it has nothing to do with her. Sam then sees Ginni who enters the house. She goes and hides herself. Rajvant greets Ginni and asks her is she brought his favorite Halwa. Ginni nods yes. Sam acts and tells Supreet she is going to take rest. Supreet asks her to do it saying she will call her out after the priest arrives.
Sam leaves the place. Rajvant takes Ginni to the dining room and asks her to serve him Halwa. Ginni obliges. She serves him. Rajvant praises and tells her that he has to make Halwa on his own but Ginni asks him to let her know whenever he wanted then she will bring him Halwa. She then tells Rajvant she has some important work so she is leaving. Rajvant blesses her and Ginni walks away from there. Aditya comes.
Rajvant calls out Aditya and then Ginni. He asks Aditya to have Halwa made by Ginni. Aditya refuses saying he has important work to do. Rajvant asks Ginni to serve Aditya a cup of Halwa as a good luck. Ginni obliges and gives Aditya a cup of Halwa. Aditya taunts Ginni saying a chef knows whether the food made by a person is tasty or not with its smell. Ginni taunts him back saying its Amritsar here people will have the food first then let know the taste of the food.
Rajvant jokes how they both were told him they have important works to do yet here they are arguing. He then asks Ginni to feed Aditya the Halwa. Ginni forwards the spoon of Halwa. She then forwards the cup of Halwa in her hand to Aditya. She asks him to smell this and remove the bitterness from his life. Aditya stares at her then leaves the place. Rajvant tells Ginni it's the people's loss who refuses to have Halwa made by her. Ginni forces a smile then leaves the place.
Simran in her room walks here and there saying she knows Ginni is clever and she has to do something to stop her from catching her redhanded. She goes to close the door but Ginni enters the room forcibly. Sam gets shocked and asks Ginni what is she doing. She also threatens to call the family members.
Ginni challenges her to do it and tells het that she has a marriage album of her and Goldie's. If no one believes then she is sure Rajvant will believe her. She then tells Simran about Goldie going crazy without her and asks her why she didnt contacted them after she went to Canada. She also tells her the debt they are going through because of them helping her go to Canada. She further asks her what is she doing in Singh mansion also her relationship with Aditya. Simran looks on stunned.
Armaan praises Aditya's mother's upbringing. He then suggests Aditya to do shopping for his marriage but the latter refuses saying the marriage is simple and he want everything to happen according to Sam's wish. Gurleen and Marleen comes there and demands Aditya to take them with him to do wedding shopping. They also suggests to take Sam with them. Aditya gives into their request and goes to call Sam. Simran tells Ginni to not to tell anyone about her truth and she will talk to her later. Ginni gets happy. She then questions Simran about her relationship with Aditya. Simran acts and says they aren't aware how much a person has to suffer in outside country.
Ginni misunderstands Aditya and tells Simran that Aditya must be troubling her. Simran didnt say anything but smirk happily. Aditya knocks and calls Simran by Sam. Simran tells Aditya she will open the door. Ginni thinks Aditya is the one who changed her name so she starts accusing him. Simran pleads Ginni to leave saying she will meet her later. The door opens on it's own. Aditya looks inside and gets confused seeing Simran and Ginni. Simran and Ginni looks shocked.
Precap: Ginni runs out of the room. She drops the marriage photo of Simran and Goldie. Aditya gets shocked seeing the photo. Simran comes there. Aditya calls her Simran Preet Kaur Grewal. Simran reacts and gets shocked. Aditya tells her so she is Goldie's wife. Ginni watches this from her hiding spot.
The episode starts with Ginni wishing her dhaba a raksha bandhan. She then does the ritual. Shampy hurries her to do the ritual for puja. Ginni jokes at him. She then asks Gulraj about Goldie's whereabouts. Gulraj tells her that she send him to gurudwara after she saw him distressed returning from Rajvant's house. Ginni thinks to herself that she failed to find out the truth about Simran's look alike.
Other side Shailaja asks Sam why she is covering her face with shawl. Sam tells because of sun her skin will get affect that's why she is covering her face like this. She then asks Shailaja why she is taking her around this Amritsar like this. Shailaja tells she is going to be the daughter in law of the Singh's so this is a way to let everyone learn this that she belongs to the Singh's.
Goldie and Sam crosses path but they both fails to see one another. Before entering the temple Sam's shawl flies and falls on Goldie. Sam searches for her shawl. Goldie sees Sam's backside and goes to her asking is she searching for this shawl? Sam turns around. Both Goldie and Sam gets shocked seeing one another. Sam starts running away. Goldie runs behind her calling her Simran and asking her the reason behind running away from him.
Click to read