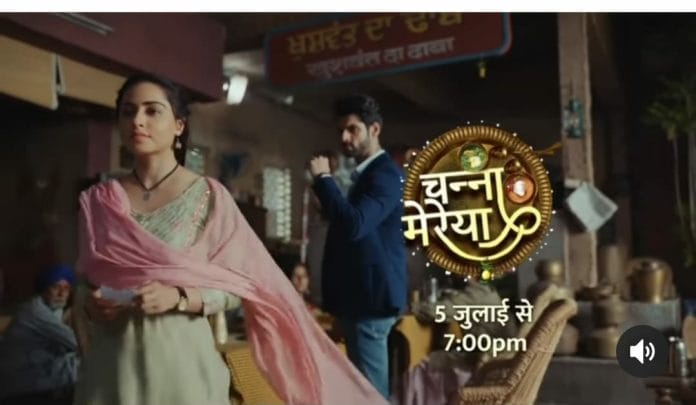 Channa Mereya 13th July 2022 Written Update on TellyExpress.com
The episode starts with Amber tells Cheema's it's all God's plan that's why they came here to see their daughter but they find a groom for their daughter. Mr.Cheema agrees with him and tells that Aditya impressed them so they will talk about it in near future. They all leaves.
Aditya goes to Amber and tells him that he isn't a hotel service so he can't offer him to anyone. He also asks Supreet to remove the fake mask from her face. Amber tells Aditya that he should feel grateful that he atleast helping the family like this. Aditya tells that he isn't interested in this marriage. Dada Ji scolds Amber for not asking Aditya's opinion.
Amber tells that if this marriage happens then in business world they can also rule along with the Cheema family. Aditya tells Amber he is not some animal he can kill and get benefits out of it and decides to walk away. Amber stops him by saying he is just a loser nothing else. He further adds that the family name and reputation is linked with Aditya and he is nothing without them.
He would love to show him his value if the family name is not linked with him. He then challenges Aditya to prove himself without the help of the family name. Dada Ji gets furious and asks Amber to stop his nonsense and tells Aditya deserves everything that each and everyone in the family deserves. Amber taunts Aditya again saying he knows Aditya is here to claim his rights using the family name.
Dada Ji tells Aditya has every rights so he don't need to claim anything. Amber tells Dada Ji that he knows well what else he did to create the business and Supreet hospitality only to leave Aditya who don't respect his father and tells Aditya to accept and respect Supreet as she is his mother. Aditya tells Amber that Supreet isn't his mother. Dada Ji asks both of them to stop arguing.
Amber asks Dada Ji to make Aditya to understand if he wants to stay with them then he has to respect his wife Supreet. He also tells Aditya that his mother died and he dont want any dead person's memory to be with them so he will make sure to remove everything that realate to his dead mother. Aditya tells Amber and Supreet is responsible behind his mother's dead. Aditya tells Amber the respect should be earned not to be begged to others.
He then tells that about the family name that's linked to his name he knows that he is a son of Gurkeerat Kaur's son and he don't need any other recognition other than this. Amber and Aditya glares at each other. Aditya walks away from there. Her uncle smirks at Supreet happily. Amber looks at Aditya's retreating back angrily.
Aditya goes to the place where the wrestling competition taking place. He recalls every words of Amber. Other side Ginni cries recalling her father's words. Also the offer given by Aditya along with Goldie's words. Aditya enters the wrestling ring and tells his opponent to beat him until he couldn't able to wake up on his own and offeres him ten thousand.
He also tells his opponent if he wakes up then he wont spare him. Ginni goes to her father's photo frame and asks him why did he left her even after he told her that she is his favorite. Aditya gets beaten up by his opponent. Aditya recalls Amber's words while getting beaten up by his opponent.
Ginni have sweet food recalling Aditya and Goldie's words. Aditya recalls Amber's words then stands up on his own. He tells his opponent to not to let him stand up on his own then hits him and his opponent falls unconscious on the ground then Aditya declares as a winner and the audience cheers for him. Aditya leaves the place. Ginni's mother asks Ginni what is she doing.
Ginni tells that she is having more sweet to become sweet. Ginni's mother laughs and tells her eating sweet won't change someone's actual character and asks her is she file. Ginni tells her that she is fine. Ginni's mother tells her that she is going home and asks her to come home soon then leaves the place.
Aditya walks on the road in his injured state. Vehicles moves fast him and Aditya unable to cope up with his steps. Ginni off the lights one by one in her dhaba and wonders what happened to all the drivers who are unnecessarily pressing the horon of their vehicle. She then sees a vehicle is approaching Aditya so she shouts and runs towards him and pulls him aside which leads both of them to fall to the ground.
Channa Mereya plays in the background. Ginni realises that Aditya is injured and not in a condition to walk on his own. She tells that she may left him without helping him but her father taught her to help whoever in needs. She then tries to get help from the ongoers but no one stop their vehicle so she decides to take Aditya to her dhaba.
She brings him to the dhaba and finds his injured state and tells he must have messed with people unnecessarily like he did with her earlier and those people must have beaten him up to teach him a lesson. She then goes and brings a water for him. She makes him have water and make him lay on the nearby cot. She then brings medicine and applies it in Aditya's wound. Lal Ishq song plays in the background. Ginni looks at Aditya.
Precap: Ginni goes to meet Aditya in his house. Aditya saves Ginni from falling to the ground. Ginni tells him that she is here to return the money which he left it in her dhaba. Aditya asks her to consider this as his treatment fees. Ginni tells that she has taken care of him under the basis of humanity not for money.
Aditya taunts her to have an ego that matches her status. Ginni tells him he is right and says if his mother taught him in his childhood when he misbehaved then he wouldn't behave like this now and tries to walk away but Aditya pulls her back to him and they both looks at each other.
Click to read