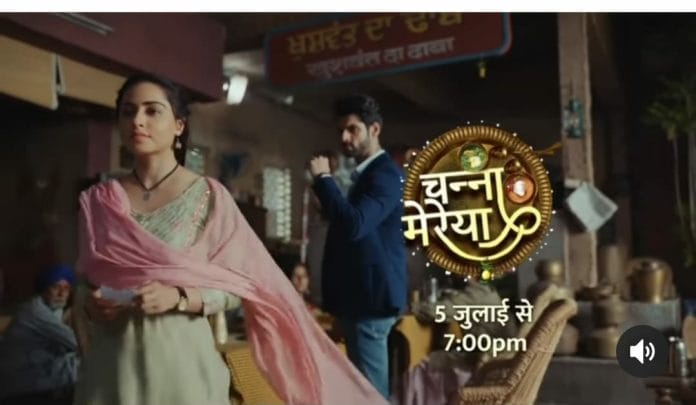 Channa Mereya 15th August 2022 Written Update on TellyExpress.com
The episode starts with Sam tells that she get rid off the relationship which isn't good for her unlike his mother. She told what she wanted to now he can decide whatever she wants. Aditya leaves the place. Goldie waits for Simran. Ginni watches this worriedly. She pleads God to help her. Simran follows Aditya. Goldie goes to Ginni and asks her is she told him the truth because Simran isn't here yet. Ginni tells why she would lie to him especially in this matter.
Goldie asks then why Simran isn't here yet. He then demands Ginni to take him to where Simran is because he dont want to wait any longer. He drags Ginni with him forcibly. Gulraj scolds Goldie and asks him to wait but the latter refuses. Ginni pleads him to leave her hand but Goldie refuses which leads Ginni to slap him. The Grewal's looks on stunned. Goldie apologises to Ginni for his behavior. Ginni also apologises to Goldie for slapping him and tells Goldie that she is going to bring Simran until then asks him not to bother the family members then leaves the place.
Pasha calls Aditya and asks him what is his next plan to get the dhaba. Neither him nor Armaan is telling him anything. Aditya cuts the call without saying anything. He then recalls whatever happened in his life and his moments with his mother. Akash comes there and asks Aditya to play with him because no one is in the house also challenges him to defeat him in ludo game.
Aditya turns around. Akash sees Aditya is holding an alcohol bottle. He tells him that Rajvant told the content in the bottle will always mess up the brain of the one who drinks it that's one of the reason why his cool father becomes monster after he had drinks then leaves the room. Aditya sit on the ground and takes the content out of the box which belongs to his mother. Meawhile Ginni enters the Singh's house. She sees Akash and asks him about Simran.
Akash tells her that he doesn't know also says Aditya is angry. Ginni asks him is he ever seen or heard about a smiling monster the latter says no. Aditya's alter ego appears infront of him. One asks him to fulfill his mother's dream because that's the reason he came to Amritsar. Another one tells him to fulfill his responsibilities by marrying Sam who is carrying a child in her womb. Aditya gets annoyed and frustrated so he creams shut up by closing his eyes and ears. He then opens and finds no one there.
He decides to drink alcohol but recalls Akash's words and throws the bottle opposite the wall and it gets shattered. He then tries to stand up but get hurt by broken glass piece. He tries to take it from his palm. Ginni comes to his room and knocks it. Aditya tells her he knows he is here for Rajvant but he is not in the house so he asks her to come later. Ginni tells she is here to talk to him. Aditya turns around and looks at her.
Ginni enters the room and says to Aditya that she is here to talk about Simran Preet. Aditya tells her that he knows Simran married Goldie. Ginni tells that means she dont have to waste her time explaining everything and asks him where Simran is. Aditya tells her that he and Sam is getting married so asks Ginni to not to come near Sam shocking Ginni. Ginni pushes Aditya away from her. She tells him he can't marry Simran because she is already married to Goldie. Aditya tells her both Simran and Goldie divorced already.
Ginni gets shocked. She asks Aditya why he is troubling her family like this by stooping this low to get the dhaba. He has already done so much against her and her family to get the dhaba but ended up losing in his own plans now he stooped this low to break them. Aditya asks Ginni to never give so much importance to her because it's not about her neither her dhaba. He also tells her that he and Sam is getting married and the Grewal's aren't invited so asks her to do what she is best at which is creating a scene but not in his house but outside.
Ginni tells him that she knows his father thrown him out of the house when he was a kid and she thinks now that he totally deserves that because he neither knows the value of a family and relationship nor the loyalty of it. She then decides to walk away but Aditya stops her and tells she is neither interested in her nor her dhaba and gives her a coin saying it's a Shagun from his side and tells her to never show her face to him it's a warning from his side.
Ginni leaves followed by Aditya. They both bumps into each other. They looks at each other then walks away in the opposite direction. Simran comes there and looks on. Aditya goes to the basketball court and cries recalling everything that happened since he returned from Vancouver. He hugs himself and curls up then cries his heart out. Ginni comes out and cries recalling everything that happened since she met Aditya.
Precap: Ginni promises Goldie that she will never let Aditya marry Simran. Goldie have alcohol with his friends. Pasha shows him a picture of Simran and Aditya and tells him Simran is Aditya's fiance. Ginni and the family members opens the door of Goldie's room where they gets shocked seeing something. Ginni shouts Goldie.
The episode starts with the room door opens and Aditya goes inside and asks Sam what happened why she looks so stressed. Sam recalls how she made a promise to Ginni and send her out. She lies that she get confused. Aditya tells her to take her own time and come out to go for a shopping with Gurleen and Marleen then leaves the place.
Aditya sees the Halwa made by Ginni. He recalls Rajvant's words then takes the Halwa in his hand then have it. Ginni who tries to walk away from there notices this and scolds him for enjoying the food/sweet made by her yet don't have a heart to praise her. She then sees Aditya is walking towards her so Ginni runs from there. On her way she drops her bag and things falls to the ground. She fails to see and take the photo with her and runs away from there. Aditya notices the photo and takes it in his hand. He gets shocked seeing the photo of Sam and Goldie.
He recalls everything that related to the Grewal's and Sam. Sam comes there and asks Aditya what is he doing here and asks him to come then walks past him. Aditya calls Simran Preet. Simran responds yes. She then gets shocked and turns around. Aditya asks that means she is Simran Preet Kaur Grewal right. Simran gets tensed. Aditya takes Simran with him to the room and asks her whether she is going to tell the truth to him or he wants to call her sister in law Ginni to expose her lies. He also shows her her wedding picture with Goldie. Simran gets tensed.
Click to read