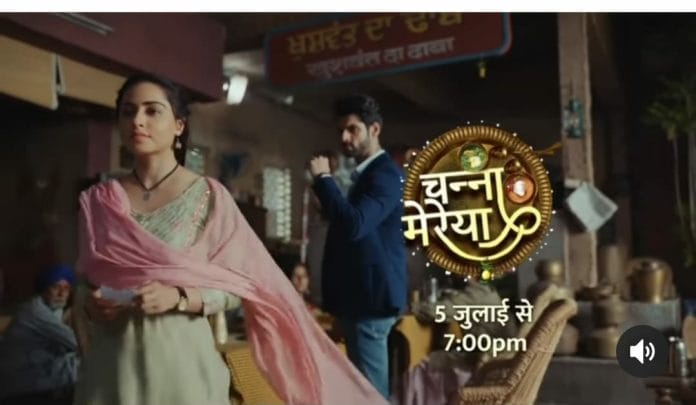 Channa Mereya 8th July 2022 Written Update on TellyExpress.com
The episode starts with Amber telld Aditya that he don't want to learn from him what he needs to remember and need not to. Aditya tells that he don't have that much time. He also says that he is here to make sure his mother's memory is alive. Amber gets angry and decides to leave but his father stops him and tells him that they all have to have breakfast together as a family also if he leaves the table just like that then it will be equal to insulting food which they don't do and make him sit in the chair and holds his hand. He then takes Aditya's hand in his and says there is a saying the family which have food together will stay together. He then asks everyone to have food. Both Aditya and Amber takes the same roti but refuses to leave their hold. Amber asks Aditya to respect his father and leave the hold but the latter tells he left his house film childhood because of him so this time it's his turn.
Dada Ji asks both of them to have half and half roti. Both of them take half roti's and glares at each other. Dada Ji talks about a party arrangement. Amber's little son tells it must be because his father won the tractor competition like every year but Amber tells this year the party is to celebrate Aditya's victory and asks Amber to not to think like this way. He then feeds him a piece of roti. Amber spit out the roti and tells that Aditya ruined his mood to have breakfast and the entire day just like his mother and leaves the table shocking everyone. Aditya gets furious and looks on.
Aditya hurts himself by hitting his hand on the wall. Armaam stops him and asks him why he is doing like this. Aditya tells that he is here only for the dabba once he gets it he will leave this hell as he dont want to stay near someone like Amber. Armaan asks Aditya to forget his past and leave his anger. Aditya tells how could he forget that his father not even mourn for his mother neither let him mourn. He get married to Supreet and moved on in his life easily. He can't forgive or forget his father's betrayal then once again hits his hand in the wall.
Armaan pleads him not to hurt himself. Aditya tells Armaan to find him a place where he can vent out his anger before he could do something to himself. He then removes his shirt and Armaan sees the scar. Armaan reminds him about it but Aditya tells him that he don't care about it. He then decides to leave and tells Armaan he himself doesn't know where he is going.
Amber's brother stops Amber and asks him to stop acting this way towards Aditya who returned home after many years. He asks him to have a conversation with Aditya and learn about whatever happened in his life. Amber refuses saying that Aditya not even consider him as his father also he is insulting him every time and not giving the respect a father deserves. He also tells his brother this is not the way they behaved with their father. His brother tells him that the time has changed and they have to treat their children as their friend.
Amber tells his brother that Aditya is blaming him for his mother's death and he thinks that he don't care about his mother or felt bad when she died yet he is blaming himself and not even leaving an opportunity to taunt him. His brother tells Aditya is a kid but Amber tells not anymore also he will not near Aditya's insults and leaves the place. His brother tells himself that he is somehow responsible for everything that's happening in this house and looks on upset.
Ginni on her way to take deliver the things in her bike talk to someone over the call offering the person about her catering service. The line gets disconnected also the same time her bike gets stuck. She gets down from her bike and tries to pull out her bike from where it get stuck. Aditya comes there in his bike and asks her to move away. Ginni tells her bike get stuck and Aditya taunts her. Ginni asks him few minutes. Aditya gets down from his bike. They both gets into an argument. The rain starts pouring so Ginni goes and takes a shelter near by a shop.
Aditya also goes there. They both tries to dry themselves. Aditya complaints about Ginni's manners and once again they both gets into an argument. Ginni asks Aditya who he is to command about her like this. Is he know about her since childhood. Aditya says he have seen people like her since his childhood. Ginni about to say something but the tea shop owner asks them to stop their argument and have tea. They both orders a tea. They both smells the tea and tells the owner that the sugar is too much. They both gets surprised seeing the each other's similarities. The tea shop owner also tells the same. Aditya asks the owner to make another tea without sugar as he forget to tell him that he don't drink sugar added tea.
Ginni mocks at him thr reason behind his rude behavior. She then mixes the rain water in her tea and starts drinking it. The shop owner recognizes Aditya is the one who participated in the cooking competition. Ginni gets shocked and surprised also shares her disappointment for him leaving the competition just like that.
Aditya pays for his tea but the owner tells him he don't have change so Ginni pays for his tea too. She also asks Aditya the next time one who is need of help asks him to help them instead of taunting them. The rain stops. Aditya lifts Ginni's bike from where it get stuck..Ginni gets happy but then gets angry when the rain water splashes on her face while Aditya drive past her in his bike.
In Singh's house one of the guest tells Aditya's aunt that cheema's will come to meet Gurleen the next day. Amber tells Dada Ji that he organized this party for Aditya but he is nowhere to be found. Aditya enters the house. Dada Ji Ji worries about seeing his condition but the latter assures him he is okay. Aditya refuses to take part in the party but Dada Ji persuades him so he agrees and goes to change himself. Aditya comes out in his party attire.
Amber sees him then Armaan. He smirks and calls out Armaan. He praises Armaan for all his achievements and taunts Aditya. He also asks Armaan to take credit for his hard work. Dada Ji notices this so he interrupts the conversation and thanks Armaan for taking good care of Aditya. Armaan tells Aditya is a gem. Amber once again starts taunting Aditya. Dada Ji asks the guests to pay attention and tells he is going to make an important announcement and tells Aditya will take part in the Singh groups of Hospitality management. Amber Supreet gets shocked.
Amber announces for their hotel they are recruiting interns so asks them to conduct him who is interested. He then taunts Aditya to join as an intern then learn something. Dada Ji once again stops Amber from insulting Aditya and tells soon Aditya will take over all the responsibilities of their business then tells Armaan the time has arrived that Amber has to give the responsibilities to Aditya. Amber and Supreet looks on shocked but Aditya smirks happily.
Precap: Aditya meets Ginni and tells her that he wants this dabba for that only he is paying her ten lakh rupees. Ginni gets shocked. Later Aditya takes part in a wrestling competition where he gets beaten up by his competitor. Ginni applies ointment on Aditya's injuries.
Click to read