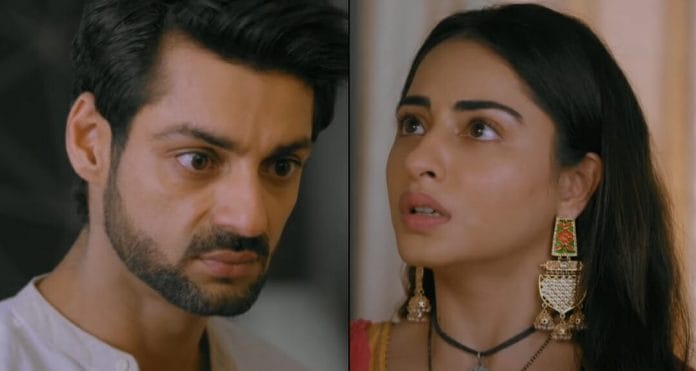 Channa Mereya Spoilers, Upcoming Story, Latest Gossip , Future Story, Latest News and Upcoming Twist on tellyexpress.com

Starbharat's show Channa Mereya is gearing up with an interesting drama with Ginni takes care of Aditya who suffers with high fever. Supreet feeds Aditya his soup but the latter gets furious at her and throws her out shocking Ginni.
Now it will be interesting to see what will happen next? Will Ginni help Supreet to get Aditya's love and respect? Will Ginni confront Supreet about Gurkeerat's death? Is Supreet the reason behind Gurkeerat's death?
In the previous episode we had seen that Ginni slept on the sofa after she helped with a fallen Aditya from sofa in hope he would sleep on the bed when he woke up. Gulraj refused to accept Simran. She warned Goldie about Simran. Goldie remained stubborn so Gulraj thrown both Goldie and Simran out of the house.
Simran felt insulted so she got determined to ruin the peace of Aditya and Ginni. Shailaja worried about her not getting any recognition in the family if Aditya and Ginni's marriage were consummated. She decided to find out the truth despite her husband's warning the next day.
Aditya woke up and got surprised finding Ginni on the sofa. The latter also wake up. Shailaja saw the sleeping arrangements of Aditya and Ginni and got happy knowing the truth. Rajvant informed everyone about his plan to go to a holy place for a month.
He then requested both Aditya and Ginni to take responsibilities of both house and family business. Both Aditya and Ginni hesitates. Supreet and Amber encouraged Ginni to took house responsibilities. Rajvant took Ginni with him and shared his worry about Aditya to her and made her promise to take care of Aditya until he returns.
He then asked both Aditya and Ginni what they wanted to tell him. Aditya decided to inform Rajvant about their decision to part ways after he returned from holy place. Later both Aditya and Ginni scolded one another for failed to tell Rajvant about their decision which lead them to stay together for a month.
Ginni found out Aditya was having a fever but the latter assured her to take care of himself and asked her to stop acting like his wife then left the place.
In the upcoming episode it will be shown that Aditya will tell Ginni that he don't get why she is digging his past because of which he is hurting more and more so plead with her to stay away from it. He will also tell Ginni to stop acting like his wife until Rajvant's return.
He will also remind her that she has to leave once Rajvant returns home. Aditya will then ask Ginni to never think he will accept her as his wife. Ginni will look on.
To know more about what's happening in Your favorite shows keep checking this space.