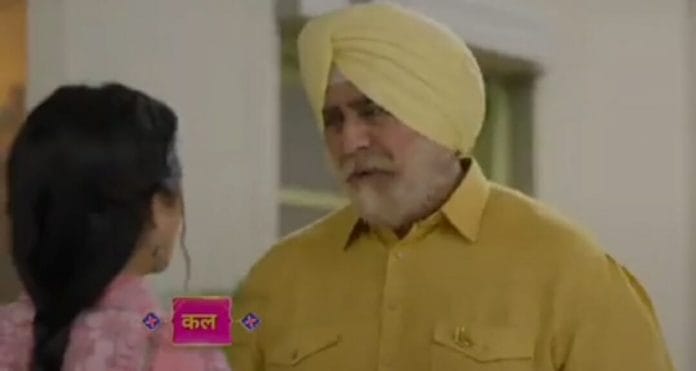 Channa Mereya Spoilers, Upcoming Story, Latest Gossip , Future Story, Latest News and Upcoming Twist on tellyexpress.com
Starbharat's show Channa Mereya is gearing up with an interesting drama with Ginni saves her brother Goldie who attempts suicide and vows to stop Aditya and Simran's marriage at any cost. Other side Rajvant suggests Aditya to call of this wedding if he isn't happy but the latter refuses saying he have some valid reasons behind this decision.
Now it will be interesting to see what will happen next? Will Ginni be able to fulfill the promise she made to Goldie? Will Aditya and Simran get married? How will Ginni stop Aditya and Simran's marriage?
In the current track it shown that Ginni comes to the house and finds Gulraj and others pleading Goldie to open his room door. She asks what happened to which Pasha tells her how Goldie learnt Aditya and Simran is getting married.
Ginni recalls Goldie's threat so with the help of Pasha and family members she breaks the room lock and finds Goldie in a hanging position. She rushes to him and cries hard. The doctor tells Ginni to not to leave Goldie alone. Ginni vows to Goldie to stop Aditya-Simran's marriage.
Other side Armaan asks Aditya the reason behind his actions but Aditya refuses to tell him anything. Gulraj worries about Ginni but the latter asks her to take care of Goldie and if she needs her asks her to call her she will return.
Rajvant gets emotional seeing Aditya in his groom attire. He notices Aditya is sad so he suggests him to call off the wedding if he isn't happy but Aditya refuses saying he has some strong reason behind his this decision. Rajvant promises to support his decision and gives blessings to Aditya.
In the upcoming episode it will be shown that Ginni will meet Rajvant outside the Singh mansion. She will tell him that Sam is none other than her brother Goldie's wife Simran which will shock Rajvant.
Ginni will plead Rajvant to stop this wedding but Rajvant will refuse saying he is helpless too and goes inside. Aditya will be seen in the mandap looking sad. Outside Ginni will cry her heart out.
To know more about what's happening in Your favorite shows keep checking this space.