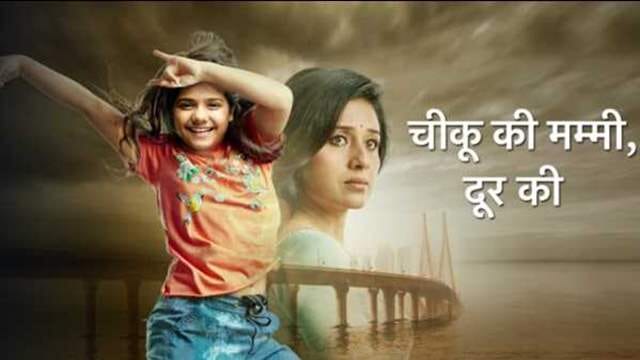 Chikoo Ki Mummy Durr Kei 5th February 2022 Written Update on TellyExpress.com
The episode starts with Nupur coming to Deepu's room and asks can she talk with her. Deepu tells she can talk if it's not a Lecture as I have to go to live. Nupur says sorry for previous behaviour but I don't care about Sameer status as relationships can't be based on these things and I don't like Tai's behaviour of discriminating against people based on their background and money.
Deepu asks is it good if she marries Sameer. Nupur agrees. Deepu asks her to make everyone agree. Nupur tells her she has to win his kid's heart to win him and doesn't behave like stepparents. Deepu thinks she thought about what she has to do with the kid. Nupur asks where is lost. Deepu asks her to come with her to Sameer house to make him agree as she has good convincing power. Nupur says let's talk on phone first. Deepu sends her number.
Nupur calls that number. Chikoo attends the call. Nupur gets stunned and asks if she is chikoo. Chikoo says it's not a fruit shop. Nupur says I'm Nupur calling and you're Chikoo right. Tai takes the phone from her. Pushpa takes phone from Chikoo. Tai asks if she is Pushpa kethan. Pushpa agrees. Tai asks who attended the call. Pushpa says it's Archiee. Tai tells it to Nupur. Pushpa asks why she called. Tai says she called to talk about her daughter alliance with her son. Pushpa tells she doesn't think about it. Tai asks her son to send Sameer to meet my daughter as he needs the wife and his kid needs Mom so talk with him for your granddaughter.
Later Chikoo asks Pushpa why she looks sad. Sameer asks her about the same. Chikoo says one aunty called here and they asked if they get Chikoo but I told them it's not a fruit shop. Sameer asks if they called for Chikoo. Pushpa says no, they want to get their daughter married to you. Chikoo asks means.
Sameer says you know how I behave so don't talk about another marriage and he is about to leave with Chikoo but Pushpa stops him. Sameer asks her to remove the idea from her mind. Pushpa tells loneliness kills the person and she asks him to think about it. Chikoo asks what's marriage. Pushpa asks him to know it from her Dad. Sameer says I got my best friend after marrying your Mom but I don't want to remarry and he sends Chikoo to tell Gajak to prepare popcorn. Pushpa asks him to marry for Chikoo. Sameer looks on.
Tai tells Kamini that they have to go to Pushpa kethan's house if they gets Pushpa's call. Kamini agrees and asks her to take Nupur. Tai says she can't take Nupur inside their house as she may cancel the alliance with her madness.
Kamini asks why she wants to make her daughter married to the father of a kid. Tai warns her to not question her and she leaves. Kamini calls Mini and asks her to implement her plan. Mini denies doing anything against Nupur and leaves. Kamini thinks about how to stop Nupur. Sameer and Chikoo sees cartoon movie. Chikoo asks why he watches kids movies. Sameer asks which movies will elders watch. Chikoo says romantic movies. Sameer asks where she heard. Chikoo says she watches in cartoons. He tells her to watch what he decides.
Chikoo asks him to listen to his Mom and request him to get married. Sameer denies. Chikoo insists him meeting the bride once. Sameer tells he doesn't want to waste the time. Chikoo tells she wants Mom. Sameer says we have memories with Mom. Chikoo tells she doesn't have any memories which makes her feel sad and I just want Mom so you have to marry for me. Sameer looks on.
Episode ends.
Precap – Nupur confronts Sameer with Chikoo and questions why he deceived her. Pushpa says she is their Archie.
Click to read