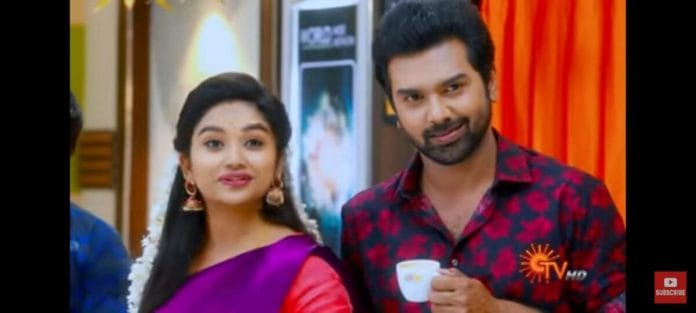 Chithi Upcoming Story, Spoilers, Latest Gossip, Future Story, Latest News and Upcoming Twist, on TellyExpress.com
Sun TV 's popular hit show Chitthi 2 never fails to engage audience with its interesting twists and turns. The show currently focuses on Venba won the challenge and asked Mallika to invite her home. Now it will be seen that Mallika will mix sleeping pills in Venba's drink during pooja.
Previously we have seen that, Mallika quit the auction unable to ask for bid due to laughing and Kavin and Venba bought the company. They revealed that it was Gowri who landed her money to them to buy the company.
In the yesterday's episode we witnessed, Venba organised for pooja for the company with Natraj and Subbu. She invited Mallika and the family for dinner the same. Mallika planned to ruin the pooja by mixing sleeping pills in Venba's drink during the pooja so that she would faint.
In the future episodes we will witness, Mallika will attend the pooja and will mix sleeping pills in Venba's drink. However her plan will fail as Venba will not drink the spiked drink.
What will be Mallika's next move? Will Venba return the money and enters the home?
All these questions will be answered in the upcoming episodes.
To know what will happen next in your favourite show Chitthi 2, stay tuned to this space