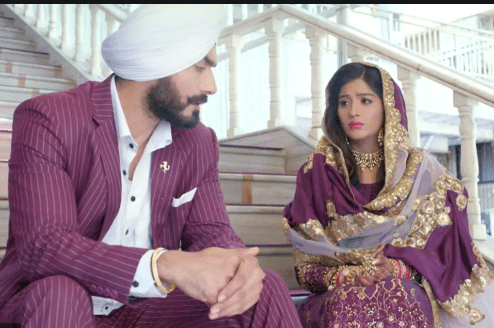 Today's episode begins with Meher crying thinking about Harleen's words. She keeps crying saying she spoiled everything and broke his family. She start taking the things that fell down, her finger gets cut and she don't notice. Sarab shakes her and make her understand that his family is hers as well. He tells her that Harleen is upset and she is right in her own way and it doesn't make us wrong. Param comes home saying Kulwant nani zindabad. Tharkhaji asks him what is the matter and he says when baby is born, he will give party to everyone and his nani will give money. Harleen scold him not to take that woman's name and she is not his nani. Param cries and Meher console him. Harleen taunt her not to do drama and leave angrily.

Kulwant thinks about what Amrita said about everything will go wrong if Sarab comes to know truth. Harleen comes there and shouts at Kulwant for her betrayal. While everyone stands in shock. Kulwant pretends not to know what she means. Harleen says bluntly to Kulwant that her daughter is carrying someone else baby and that she was pregnant even before marriage. Kulwant pretend to be shocked and deny saying that it is Sarab's baby she is carrying. Rana rushes in and divert Jeeto then brings Jagga outside.
Kulwant asks Harleen how can she make such an accusation on her innocent daughter. Harleen shows them report and ask her how is Meher 3 months pregnant while she has been married only for two months. She says she knows they all know this and still betrayed. Kulwant says she was the one who told them they can keep the marriage after 5 months. But Harleen was the one in hurry. Harleen look confused and asks then she don't know about this?Kulwant says what is there to know you are accusing her.
Kulwant thinks to go on defensive mode and accuse Harleen of getting insecure about his brother having another baby. She accuse her of waiting to loot all the property and infact she and her husband were the ones behind Meher's life attempt in Serbia. Harleen is stunned. Kulwant further threaten her she will file a police complain against them and its better if she and her no good husband return to canada and leave her son in law and daughter in peace. Harleen leaves angrily.

Sarab asks Meher to eat. Meher worry about Harleen and tells him that she will see her and come back to have her dinner. Harleen thinks about everything that happened. Meher comes there. Harleen says she thought about everything a lot and understand that everyone has a past. She says to Meher that she has no right to judge her or her past and it is not wrong to love someone before marriage but every girl end her past when she get married. She tells Meher that what she has done is sin. She further tells Meher that she is ready to forgive her and forget that ever happened on a condition that she abort the baby. She promise Meher that she will never talk about this after that.
Meher stands in shock and says firmly she cannot abort. Harleen tells her to leave Sarab in that case. Meher tells her she will neither abort the baby nor will leave Sarab. Harleen will try to convince her saying she has already discussed about her to top Gynecologist and they can get her abortion done without any complications. Meher refuse. Harleen issues her an ultimatum that she has ten days within which she either abort the baby or leave Sarab. Meher remain shocked.

Precap –Kulwant comes to Sarab home calling out Sarab and Meher's name.