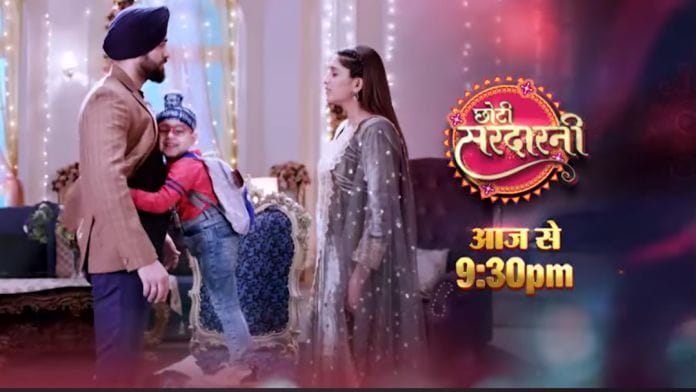 Choti Sardarni 10th May 2022 Written Update on TellyExpress.com
Episode begins with Seher reveals that Mannat is Bittu and Harnoor's daughter. Bittu recalls that how he met Harnoor and had an affair with her after his marriage with Jeeto. And also how Meher learnt about his affair. Jeeto asks Bittu to say that Seher lying. She adds that Mannat can't be Bittu's daughter. Kulwant tells her that Bittu had no knowledge about Mannat. Bittu asks her that why she hided this huge truth from him.
Jeeto tauntingly asks him that if he would have brought Harnoor and Mannat to the house if he got to know the truth earlier then. Mannat tries to say something but Jeeto pushes her and warns to not touch her. She tells Bittu that she never went against him then why he did this with her. Rajveer asks Mannat to go inside. Karan takes Mannat inside. Mannat tells God that she was worried about this only and everyone is sad because of her.
Kiara notices Zorawar's hand injury and goes to bring ointment. Dolly notices turmeric on injury and says that it's good that someone applied turmeric on his injury. He recalls that how Mannat applied turmeric on his injury. He asks her that if he is doing anything wrong by opening the factory. She asks him that why he want to open the factory. He tells her that to fulfill his mother's dream. She advices him to listen his heart and trust his decision.
Jeeto asks everyone to stay away from her. She adds that she tolerated enough but not anymore. She tells Bittu that he made fun of their relationship and ruined everything. She beat him up. Kulwant tells her that it happened many years back. Jeeto asks her to not say a word. Kulwant asks her to not raise her voice. Jeeto reminds her that how the latter insulted her family. Kulwant recalls that how she insulted Jeeto's parents for being poor. Jeeto tells her that now time changed and her family has everything.
Seher asks her to calm down. Jeeto asks her that if the latter stayed calm when she got to know that Rajveer is Prince's father. She adds that, that time Seher decided to leave the house and Rajveer. She reminds her that she supported her that time but what the latter doing now. Seher tells her that she knows that the latter is angry with her but Mannat is innocent. Jeeto says that she can't even ask Harnoor that why she did this with her.
She reminds that Kulwant made fake video of her to question her character and she tried to commit suicide. She tears Mannat's picture and says that Kulwant can stay happy with illegitimate child Mannat. Kulwant asks her to not address Mannat as illegitimate child. Jeeto realises that Kulwant wanted to give share in land to Mannat. Seher tells Jeeto that Mannat is really good girl.
Karan goes to Mannat. She tells him that she expected this to happen and cries. He tells her that he is with her and everything will be fine soon. He adds that she will win everyone's heart for sure. Jeeto tells Kulwant that only Gullu is her son. She asks her to enjoy the property once she and Gullu dies. Bittu falls on her feet and asks her to stop it and cries. Jeeto says that everyone ruined her and Gullu's life and cries. She locks herself in a room. She calls her parents.
Episode ends.
Click to read