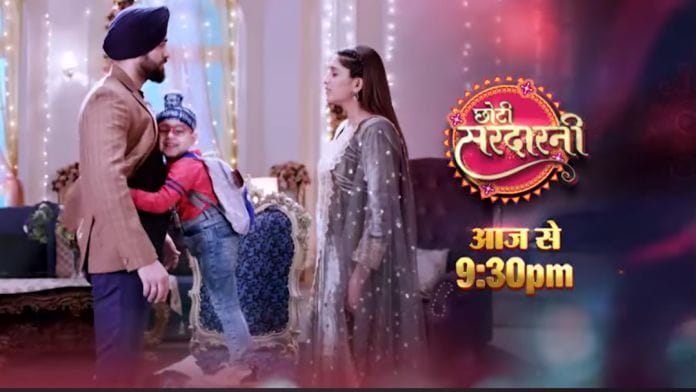 Choti Sardarni 11th May 2022 Written Update on TellyExpress.com
Episode begins with Kiara praises Mannat for helping her to get rid of her neck pain. She tells Zorawar that she was tired of visiting Doctor but Mannat cured it just like that. She adds that she become Mannat's fan. Scarlet gets annoyed hearing her. Zorawar recalls the recent moments he shared with Mannat. Kiara tells him that she knows that he is busy but he wants him to watch movie with her. He nods at her. She notices that Scarlet wearing traditional and compliments her and leaves from there.
Scarlet asks Zorawar that why he didn't tell Kiara that how much Mannat troubles him and creates problems in his business. He tells her that he don't want to give tension to Kiara so she need not to know all that. She tells him that Mannat is not important. He concentrates on file ignoring her which pisses off her. She tells him that he always thinks and talks about Mannat so it's possible that he may fell for her in the future. He glares her.
On the other hand, Bittu asks Kulwant that how can she hide this huge truth from him. Ranna tells him that, that time situation was different. Bittu slaps him for hiding the truth from him. Ginni taunts him for blaming others when he did all the mistakes. Bittu asks her to not come in between two brothers. Ranna tells him that the latter was wrong and now too.
Jeeto's mother comes there. She recalls that how Kulwant insulted them in the past. Her servant puts the gifts there. She asks Kulwant that won't the latter say anything today. Kulwant asks her to leave the house saying that the latter don't have any rights to involve in her family matters. Jeeto's mother says that Jeeto suffered so much and she won't let her daughter stay in the house now. She lashes out at Bittu. Rajveer and Seher asks her to calm down. Ranna asks Jeeto's mother to think about Bittu and Jeeto's relationship. Seher says that they can't change the past so have to think about the future. Gullu tells Prince that he is hungry and leaves the room.
Jeeto's brother asks Mannat to come out and leave the house if she want to stay alive then. Kulwant points gun at him. Seher and Bittu asks Kulwant to calm down. Mannat asks Kulwant to not get angry. Jeeto's brother is about to attack Mannat but Karan stops him. Jeeto's mother asks her son to call the Police. Jeeto comes there and asks Kulwant to shoot her first. They gets into the fight others tries to stop them. Gullu gets shot by mistake. They stuck in the traffic on their way to hospital. Zorawar comes there and takes Gullu to the city hospital. Jeeto stops Kulwant from entering the hospital. She blames Kulwant and Mannat for Gullu's condition.
Meanwhile, Mannat blames herself for Gullu's condition. Zorawar asks her to calm down and says that saving Gullu's life is their priority. Nurse stops Jeeto from entering Gullu's room. Jeeto says that she can't live without Gullu and cries. Mannat blames herself for everything.
Episode ends.
Click to read