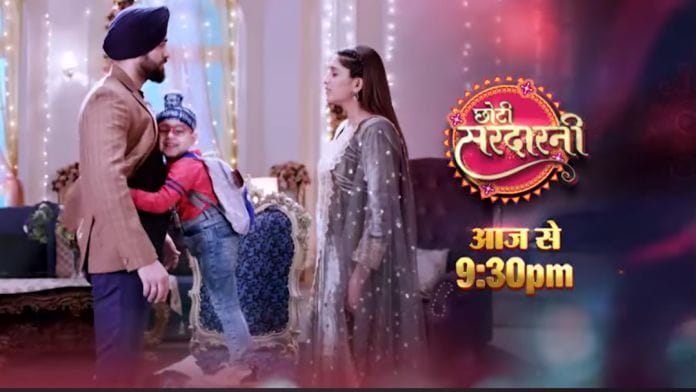 Choti Sardarni 26th April 2022 Written Update on TellyExpress.com
Episode begins with Bittu reaches the shop. One guy asks Bittu about Mannat. Bittu replies to him that Mannat is like his daughter. Mannat gets emotional hearing him. On the other hand, Rajveer and Karan brings sugarcane. Kids gets happy seeing sugarcane. Seher sends kids inside to have their food. Rajveer plans something special for Seher. Dolly and others comes there. Dolly introduces Kulwant to her family. Kiara and Zorawar takes Kulwant's blessings. Kiara meets kids and Seher.
Bittu and Mannat returns from shopping. Mannat hears Dolly calling Zorawar and thinks that Zorawar won't be there. Bittu greets Dolly. Mannat gets shocked seeing Zorawar there and turns around before he sees her. She goes to the kitchen and recalls Zorawar and Scarlet's words. She cries recalling Harnoor's death. Jeeto comes there and asks her that if the latter missing her mother. She hugs her and consoles her. She says that she will introduce her to everyone. Mannat thinks that if she went in front of them then everyone will get to know that she is Harnoor's daughter.
Village people laughs at Scarlet. She asks Zorawar that why they are behaving like they saw an alien. He tells her that she is unique and she won't face any problem when they settles in abroad. She tells him that she is doing all this for him.
Zorawar talks to Rajveer about his work. Kiara scolds Zorawar for talking about business. Dolly says that business talks are not allowed. Bittu asks Zorawar about landslide. Rajveer praises Zorawar for saving others life. Zorawar says that they should help each other in difficult situation. He recalls Mannat's words. Dolly asks him about Mannat. He tells her that Mannat is not that important. Kiara says that Zorawar can even start his business here.
Kulwant says that if Zorawar opened a factory then many will get jobs. She adds that Zorawar is not like his father. She asks him that how Inderpal Singh doing. Dolly changes the topic and asks Kulwant to become MLA. Zorawar recalls Inderpal's harsh words. Kulwant asks Dolly about Scarlet. Dolly asks her to find a bride for Zorawar or else Scarlet may end up becoming her daughter in law. She jokingly says that it's even possible that Kulwant has granddaughter and she hided her from everyone.
Seher hears that. She tells Kulwant that she talked to private investigator and they should publish that they are searching Mannat. Kulwant asks her that what if their family gets to know about it. Seher tells her that, that won't happen.
Mannat wears veil to hide her face from Zorawar. He saves her before her hand gets burnt. Scarlet tells Zorawar that Kulwant is too much. Mannat mixes one pill in Scarlet's drink to teach a lesson to her. Scarlet drinks it and runs for bathroom.
Rajveer offers sweet dish to Zorawar and the latter hesiates to eat it. Kiara notices that and takes sweet dish from Rajveer. She tells Zorawar that now no one can humiliate him. He leaves from there and hurts his hand recalling Inderpal's words. Mannat notices that. She collides with Scarlet and her and Harnoor's picture falls on the floor. Everyone gathers in the hall. Seher asks Mannat that where the latter going.
Episode ends.
Click to read