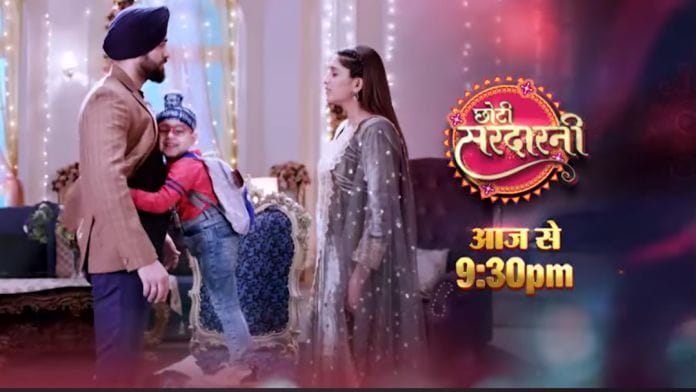 Choti Sardarni 26th May 2022 Written Update on TellyExpress.com
Episode begins with Zorawar stops the car and tells Mannat that she did wrong. She tells him that he exposed her identity and insulted Kulwant. She adds that he beginned everything. He tells her that he never went personal like her. He says that everyone calls her as illegitimate child and Bittu left her and Harnoor. She gets angry and slaps him. He asks her to slap him more because that pain is nothing. He says that she feels bad when someone calls her as illegitimate child then what he would have felt when Inderpal criticised him when he was just five years old. He reveals that he used to stammer when he was child and Inderpal beat him for that and cursed him. He adds that Inderpal never accepted him and hated him because he could not fulfill his expectations.
He says that Mannat is lucky that she had Harnoor with her. He informs her that today is his mother's death anniversary and he wanted to reveal her portrait. He adds that he never saw his mother's face because his birthday is her death day. He says that he lived without parents love. He reveals that this factory was his mother's dream. She gets shocked hearing everything. She is about to get hit by a truck but Zorawar notices that and saves her. Goons searches them.
On the other hand, Dolly tells Kulwant that what all Mannat did in the inauguration. Kulwant praises Mannat. She says that Mannat did all this to took revenge on Zorawar for insulting her. Dolly says that illegitimate child Mannat had no rights to do all that. Kulwant warns her to not utter a word against Mannat. Bittu tells Dolly that he won't hear a word against Mannat. Dolly mocks him. She asks about Zorawar. Scarlet says that Mannat would have did something to Zorawar. Kulwant says that she has no idea that where is Zorawar now.
Meanwhile, Mannat recalls that how Zorawar saved her. He tells her that she always brings problems for him and moves from there. Karan says that Mannat is not picking the call. Kulwant says that Zorawar would have done something to Mannat. She takes the sword and threatens Dolly. Dolly takes the gun out and points at Kulwant. Jeeto's mother recalls that how she hired goons to kill Mannat.
In the forest, Mannat falls down. Zorawar returns hearing her scream. He ties his handkerchief on her feet. She wonders that how they are going to escape. He notices that there is no network in that area. Karan stops the fight and says that they should find Zorawar and Mannat. Kiara agrees with him. They leaves the house to find Zorawar and Mannat.
Zorawar tells Mannat that seems like someone was following her to kill her. She tells him that they must be his enemies. She says that she is stuck in the forest because of him. They fights over factory issue. He says that his foreign clients wanted handmade phulkari design duppatas so he planned for a collaboration with those ladies but Mannat ruined everything. She thinks that if he is telling the truth then he is not that bad.
Episode ends.
Click to read: