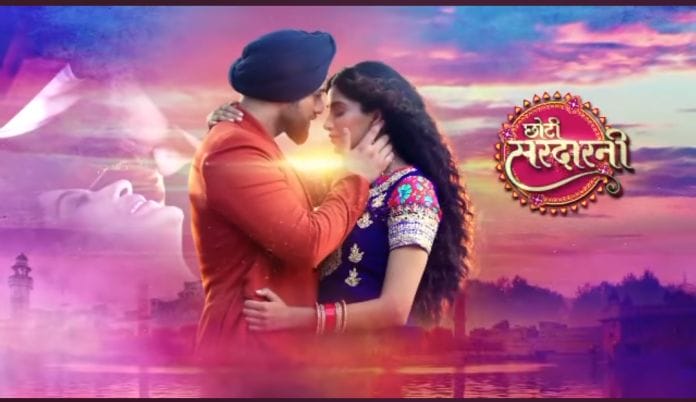 Choti Sardarni 28th April 2022 Written Update on TellyExpress.com
Episode begins with Mannat tries to find a job. She prays to God for a job. She notices few ladies selling bawan bagh phulkari design duppata. She goes to them. They asks her to buy duppata. She tells them that she don't have money to buy. They says that they have not sell anything since morning. She feels bad for them. And she helps them to sell duppatas by promoting the duppatas. Those ladies sells many duppatas. She convinces mens to buy duppatas for their wives.
She takes one duppata and asks Zorawar to buy it for his wife without seeing his face. He picks the call and introduces himself. She gets shocked hearing him and leaves from there before he turns around. Scarlet comes to those ladies shop. She feels like Mannat is there and tells about it to Zorawar. He asks her to not think about Mannat. Mannat hears them and taunts them in her mind. She is about to leave from there but Scarlet stops her saying that the latter's duppata design is beautiful. Mannat leaves from there before Zorawar sees her.
On the other hand, Kulwant washes Bittu's shirt. Seher helps her. She feels bad that she could not find Mannat. Kulwant asks her about advertisement. Seher hugs her and asks her to not worry saying that she will find Mannat for sure that too soon. Kulwant tells her that she lost all hopes. Rajveer comes there and asks Seher that if she got ready. She gets confused hearing him. He reminds her that they are going to office party. She says that they can leave after Prince's online class and goes inside. Rajveer follows her.
Bittu reaches home and notices his shirt. He asks Kulwant that how she found his favourite shirt. He adds that it still looks like a new shirt. She snatches the shirt from him and tells him that it's Manpreet's father shirt. He tells her that he thought it's his shirt because he also had this design shirt.
Zorawar questions those ladies about phulkari work. He buys duppata for Scarlet. They leaves from there. One guy threatens those ladies and demands money from them. Mannat notices that and slaps him. Public scolds that guy. That guy apologizes to everyone and moves from there. Those ladies blesses Mannat. Mannat hopes to not see Zorawar again. That guy brings his goons and they destroys those ladies shop. Zorawar stops them and beat them up. Mannat saves him and gets hurt in that process. He gets shocked seeing her there. She beat those goons up ( Title song plays in the background ). Zorawar saves Mannat when one goon tried to attack her from behind. They taunts each other while beating those goons up. Those goons runs from there.
Mannat and Zorawar notices each other's injury. Those ladies thanks them. Mannat tells them that goons won't disturb them again. Scarlet asks Mannat that why the latter following them. Mannat says that she has many work to do than following them. Scarlet tauntingly says that Mannat must be busy with finding her lost family. Zorawar asks her to not get personal. He tells Mannat to stay away from him. She asks him to not come in front of her again and leaves from there. She tells herself that she has to stay away from him to hide her identity.
Episode ends.
Click to read