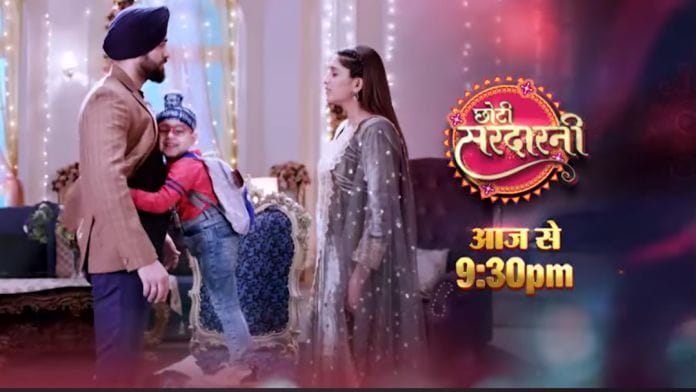 Choti Sardarni 30th May 2022 Written Update on TellyExpress.com
Episode begins with Mannat tells Zorawar that his mother will be happy seeing him celebrating his birthday. She adds that his mother's blessings are with him always and his happiness only matters for her. He tells her that her mother must be happy for her too because she got her family. She recalls that how she yelled at him for publishing article about her being an illegitimate child. He tells her that he didn't publish any article. He apologizes to her. She tells him that she didn't burn his mother's name logo. She adds that she fought with him for land because she can't let those village people lose their homes that's why. She apologizes to him. He hesitates to eat the fruit which she brought for him. So she curses him to get hiccups. He starts hiccuping. He tells her that it must be her who kept cursing him.
She pulls him towards her and asks him that if he didn't like her cursing him. He gets shocked seeing their closeness. She tells him that his hiccups gone. She says to him that he took time to understand those ladies talent. She adds that he is not an artist so it took time for him to understand. He asks her that if she thinks that he don't have any talent. He starts singing.
They gets ready to sleep. He ties her duppata with his hand. He asks her that what is she doing. She tells him that he sleep walks that's why. He asks her that how she knows about it. She recalls that how she witnessed that. She lies to him that Kiara informed her. They lays down. He tells her that he can't sleep without giving any challenge to his mind. She tells him that they are going to sleep in the forest and none of the challenge can beat that. She plays with him. They falls asleep.
On the other hand, Jeeto notices that Bittu is worried about Mannat. Jeeto's mother asks her to stay silent and witness the drama because they can't find Mannat. She reveals that she send goons to kill Mannat. Jeeto recalls that how Seher said that Mannat is Bittu's daughter and also how Bittu yelled at her for Mannat.
Next day, Zorawar and Mannat wakes up. They hears footsteps and decides to take their help to go out of the forest. Meanwhile, goons searches Zorawar and Mannat. Zorawar notices the goon. Mannat screams for help so he closes her mouth. One of the goon hears noise and asks others to search Zorawar and Mannat.
Goons talks about killing Mannat. Zorawar and Mannat hides from goons. Mannat wonders that who want to kill her. She asks him to stay away from her or else they will chase him too. Goons finds them. Zorawar and Mannat runs from there. Kulwant asks Jeeto's mother to tell her goons to not kill Mannat and Zorawar. Meanwhile, Goons catches Zorawar and Mannat.
Episode ends.
Click to read: