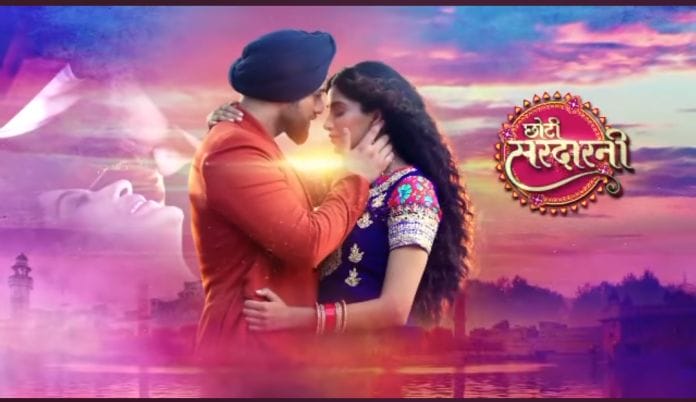 Choti Sardarni 31st May 2022 Written Update on TellyExpress.com
Episode begins with Goons catches Mannat and Zorawar. Mannat tells Zorawar that she will get her revenge on him. He understands that she is fighting with him deliberately. He tells her that now he is in this problem because of her so he won't leave her. They argues with each other to divert the goons. Then they beat them up. Meanwhile, everyone reaches the forest and searches Mannat and Zorawar. One of the goon points gun at Mannat and Kulwant beat him up. Police comes there and takes goons from there.
Mannat hugs Kulwant. Dolly hugs Zorawar. Kulwant asks Mannat that if the latter is fine. Mannat nods at her. Bittu gives water to her. Jeeto apologizes to Mannat saying that her mother is behind this. Mannat tells her that she is fine so the latter need not to apologize. Scarlet is about to yell at Mannat. But Zorawar stops her and says that he is alive now because of Mannat. He tells Kiara that it's time to heal his wounds. Mannat tells Kulwant that she is alive now because of Zorawar.
Kulwant tells Dolly that she is glad that Mannat and Zorawar are safe. She cut off all ties with Dolly and her family. Dolly tells her that she also don't want to keep any kind of relationship with her. Zorawar and Mannat recalls the moments they shared with each other. They smiles at each each other. Kiara notices that and wonders that what if Zorawar loves Mannat.
Everyone reaches the house. Kulwant attacks Jeeto's mother. Mannat tells her that she is fine and asks her to leave Jeeto's mother. Jeeto asks her mother to leave the house. Jeeto's mother tells her that she did everything for her only. Jeeto tells her that she don't want Kulwant to end up in jail after doing something in anger. She asks her to not show her face again and it's her punishment. She locks the door and goes inside.
Kulwant asks Mannat to change saying that she will bring haldi milk for her. Mannat moves towards her servant room. Kulwant stops her and says that from now on the latter need not to stay in servant room. She says that today Jeeto took the right decision and she need to take one more right decision which is giving Mannat's rights to her. She asks Jeeto that if she is right. Jeeto nods at her and goes inside. Kulwant asks Mannat to go to her old room.
After some time, Kulwant treats Mannat's injury and says that if anything happened to her then she would not have forgive herself. Mannat tells her that she got them after so long and she can't lose them.
On the other hand, Zorawar recalls the moments he shared with Mannat and sings a song. He thinks that Mannat won't like him. Meanwhile, Mannat thinks that she should not think about Zorawar. She calls him and disconnects the call. He calls back and asks her that why she called him. She tells him that she called him by mistake. They talks about some random things.
Episode ends.
Precap – Mannat tells Zorawar that if his life is scarlet. Bittu comes there.
Click to read