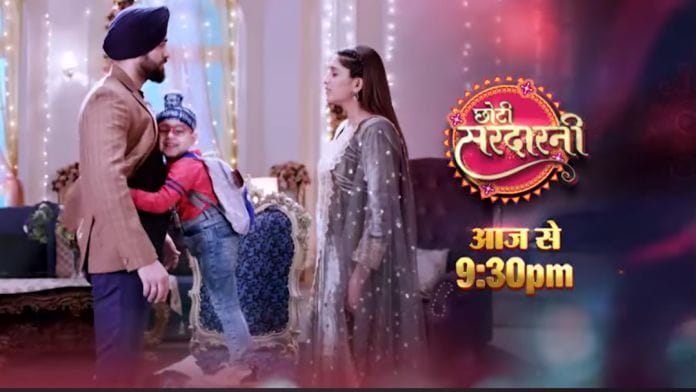 Choti Sardarni 3rd May 2022 Written Update on TellyExpress.com
Episode begins with Kulwant recalls Gullu's words about Manpreet's birth mark. She also recalls Manpreet's words and runs from the house. Priest asks Seher about Kulwant. They realises that Kulwant is missing. Seher is about to go to find Kulwant but Jeeto stops her saying that the latter can't leave in the middle of the prayer because it's kept for her and Rajveer. Seher asks Priest to continue the prayer. She asks Rajveer that if he remember that they always worked as a team to solve all the problems.
Meanwhile, Kulwant runs on the road. Then she reaches Mannat's house. Mannat notices that Kulwant's feet bleeding. She treats her injury and gets worried for her. Kulwant gets emotional seeing her care. Mannat brings water for her. Kulwant asks her that if the latter can't see her Dadi in pain. Mannat gets shocked hearing her and drops the glass. Kulwant kisses on Mannat's birth mark. They hugs each other and cries.
Kulwant apologizes to Mannat for her sins. She says that she should have understood Harnoor. She adds that she deserves punishment only not forgiveness. She tells her that she will give all the rights to her. Mannat tells her that she dreamt about living with her family. She says that Harnoor must be happy too seeing this. Kulwant tells her that she won't let her go anywhere and she is so happy today.
On the other hand, Zorawar recalls Mannat's words. Dolly asks him that what happened. He tells her that everything is fine. She informs him that Harleen and Robbie leaning for US. Robbie tells Dolly that he hopes that therapy works on Khushi. Harleen tells Zorawar to take care of Gill mansion and business. She adds that she will meet him again on his marriage.
Kulwant packs Mannat's luggage. Mannat tells her that she can't go home. She adds that she saw Bittu with Jeeto and Gullu and she can't ruin their happiness. Kulwant tells her that the latter will complete her family so she has to leave.
Kulwant reaches her house and tells Seher that she have something to tell her. Prince calls Seher so the latter leaves from there. Kulwant tells herself that she has to tell Seher about Mannat.
Zorawar tells Kiara that if her neckpain haven't got cured then she should visit Doctor. Dolly receives Simrat's 58th birth anniversary card. Kiara says that her name is not in the card. Zorawar says that no one will attend it. He orders Akhil that they will inaugurate the office on that day. Scarlet thinks that Zorawar is not spending time with her.
Mannat reaches Kulwant's house. Kulwant says that Mannat will stay with them from now on as their tenant. Ranna welcomes Mannat. Kulwant recalls that how Mannat convinced her to not tell the truth to anyone. She asks her to win everyone's heart especially Jeeto's.
Episode ends.
Click to read