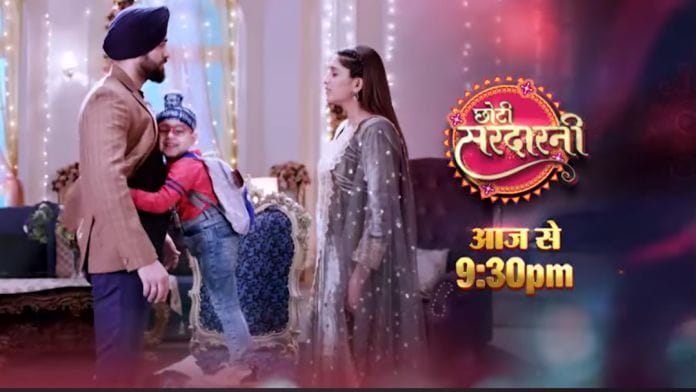 Choti Sardarni 4th May 2022 Written Update on TellyExpress.com
Episode begins with Seher puts Prince's books in his school bag. Rajveer gives few books to her. She promises to handle all the relationships well and not give any complaint to him. She asks him that if he is not happy. He tells her that she don't have time for their relationship when their relationship needs both of them. She hugs him and apologizes to him and says that she will try her level best. Kulwant overhears their conversation and thinks that she can't tell Mannat's truth to Seher now because she has to concentrate on her relationship with Rajveer.
Akhil tells Zorawar that those ladies refusing to work in the factory. Zorawar asks him that they expects more salary or feels like working hours are long. Akhil tells him that they are interested in handwork and they don't want to work in machines. Zorawar recalls Mannat's words about those ladies. Scarlet says that those ladies are stupid to choose handwork. Kiara says that she can understand those ladies point. Zorawar says that those ladies needs money and asks Akhil to arrange a meeting with them.
Dolly notices that they are making sandwich. Zorawar says that he was hungry so he told to make sandwich. Dolly suggests to make bread pakoda. Zorawar makes bread pakoda. He put flour on Kiara's face and she chases him. Dolly gets emotional seeing Zorawar's smile.
Mannat tells Harnoor's picture that she got everything and shows the room to her. She misses her. Kulwant comes there and hugs her. She asks her to stay happy always. She notices Harnoor's picture and says that she could not meet Harnoor to apologize to her. She asks her that when Harnoor told her about them. Mannat recalls Harnoor's words and also Scarlet and Zorawar's words. She tells her about Zorawar. She adds that Zorawar don't care about others emotions. Seher searches Kulwant.
Mannat tells Kulwant about factory issue and also how Zorawar insulted her. Kulwant tells her that everything is her mistake and apologizes to her. Seher hears that and asks Kulwant that why the latter apologizing to Mannat. Mannat hides the picture. Seher asks Kulwant that if everything is fine. Mannat hurts her finger and says that Kulwant apologized to her for hurting her finger by mistake. Kulwant gets worried and sends Seher from there to make a tea. She closes the door and apologizes to Mannat again. She tells her that Zorawar is good guy. She asks her about her favourite dishes.
Next day, Kulwant makes Mannat's favourite dish laddu and gives it to her. Gullu learns that Kulwant made laddus and searches it in the kitchen. He asks Kulwant about laddus. She lies to him that she didn't made it. He sees the laddu box and tells Jeeto that Kulwant gave laddu to Mannat only. Kulwant comes there and gives laddu to everyone saying that she found Mannat first so she gave it to her. She feels bad that she is hiding the truth from Seher. Later, Seher convinces Rajveer and spends time with him. She tells him that they will be 'SehRaj' always.
Episode ends.
Click to read