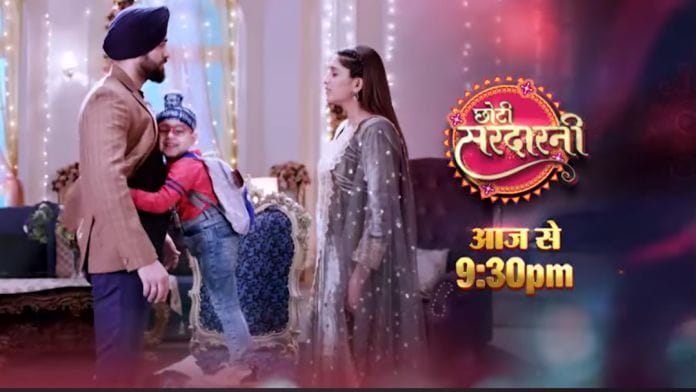 Choti Sardarni 8th June 2022 Written Update on TellyExpress.com
Episode begins with Dolly asks Scarlet about her parents. Scarlet tells her that they are on the way. Meanwhile, Scarlet's parents car hits by Ranna's car. Scarlet's father and Ranna fights with each other. Scarlet's mother tells her husband that they are getting late for the engagement. Ginni puts the gun in Scarlet's mother bag without anyone's knowledge and calls the police. After some time, Scarlet tells Zorawar that police arrested her parents. Dolly recalls that how Kulwant promised to stop Zorawar's engagement. Scarlet and Zorawar leaves for the police station. Dolly says that Kulwant proved that she is such a low life. She adds that she will teach a lesson to Kulwant for sure.
Guests praises the preparations. Ranna and Ginni returns house. Kulwant calls Nirvair but no response from other side. Ranna tells her that seems like they don't want this engagement to happen. Mannat gets relieved hearing him. They hears dhol playing sound and assumes that Nirvair's family arrived. But gets shocked seeing Dolly. Dolly tells Kulwant that how can the latter think to do Mannat's engagement after stopping Zorawar's engagement. She reveals that she threatened Nirvair's family so they won't come.
Police inspector tells Zorawar that they found gun in Scarlet's mother bag. Scarlet defends her parents. He asks her that if she has valid passport and visa. Zorawar gets angry and yells at him. Kiara tells police inspector to talk to police commissioner and gives phone to him.
Dolly tells Kulwant that even a beggar won't marry Mannat now. Nirvair comes there and apologizes to Kulwant for coming late. He says that they were threatened to stop the engagement but they are not afraid of anyone. He adds that this engagement will happen at any cost and his father convincing his family. Kulwant tells Dolly that she found a great guy for Mannat. She mocks Dolly.
Police inspector orders Constable to leave Scarlet's parents. Kiara informs Dolly that everything got sorted out. Dolly tells Kulwant that Zorawar's marriage will happen tomorrow at any cost. Kulwant tells her that Mannat's marriage will also happen tomorrow.
Mannat and Nirvair gets ready to exchange the rings. He notices her tears. Kulwant tells him that Mannat going to leave her family that's why she is crying. Bittu recalls Meher and Sarab's engagement and how Kulwant forced Meher for that. Mannat hallucinates Zorawar. She and Nirvair exchanges the rings. Everyone claps for the couple. On the other hand, Zorawar hallucinates Mannat. He and Scarlet exchanges the rings.
Mannat faints. They sprinkles water on Mannat. She regains consciousness. Nirvair says that he feels like Mannat is not happy with this marriage. Kulwant tells him that Mannat fainted because of tiredness. He nods at her and leaves from there. She asks them to prepare for mehndi ceremony. They reaches the temple with mehndi. Dolly's family also comes there with mehndi. Kulwant and Dolly argues with each other. Kiara asks Dolly to calm down. Mannat and Zorawar stares each other.
Episode ends.
Click to read