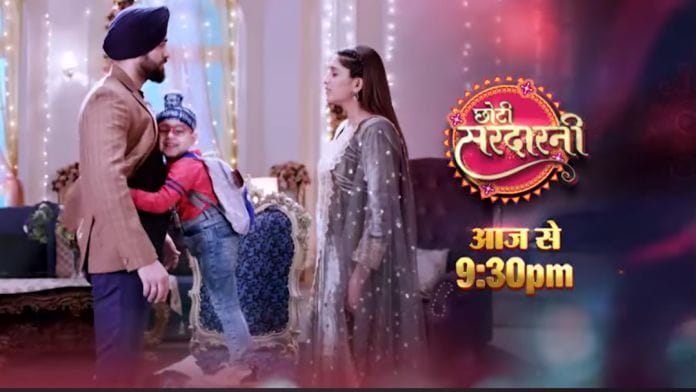 Choti Sardarni 9th May 2022 Written Update on TellyExpress.com
Episode begins with Kulwant tells Mannat that Seher got to know the truth. Seher tells Mannat that they were adamant to find her so they can keep her with them, but Mannat was adamant to not tell the truth to them. She adds that the latter did wrong by hiding the truth from them. She says that she finally found Mannat and hugs her. Kulwant thanks God. Seher says that they have to reveal Mannat's identity to everyone. Mannat tells her that they can't do that because if they revealed the truth then it will ruin their family. Seher tells her that she is happy that the latter thinking about family but she can't let injustice happen with the latter.
Mannat asks Kulwant to stop Seher. Kulwant tells Seher that if Mannat won everyone's heart then everyone can accept her easily. Seher tells her that there is no difference between herself and Mannat so they should not wait to reveal the truth. Kulwant tells her that she is scared. Seher tells her that it's time to get rid of the latter's guilt. Kulwant nods at her. Seher says that she want to add someone in their team before revealing the truth to everyone.
Rajveer helps Prince to make a project. Seher comes there. Rajveer and Seher argues with each other that Prince will draw Babbar mansion or Gill mansion. But Prince draws his US house. Rajveer tells Seher that Prince missing his US house. Prince goes downstairs. Seher tells Rajveer about Harnoor and Mannat. He tells her that he is happy that she and Kulwant found Mannat. But this truth will bring storm in Bittu and Jeeto's life. She tells him that Mannat suffered so much till now and now it's time for her to get her rights. He tells her that he is with her like always. She takes him to the temple.
In the temple, Rajveer blesses Mannat and tells her that he will support her always. He adds that Kulwant must be so happy that one more member added in her team. She gets emotional and agrees with him. They prays to God. Seher asks God to give strength to her to reveal the truth to her family. Later, Mannat tells Harnoor that today Seher will tell the truth to everyone but she is scared about everyone's reaction. Everyone gathers in the hall to play antakshari. Ginni asks Jeeto that why Mannat joining them when family members playing together. Jeeto tells her that Mannat don't have anyone so let Mannat join them.
Seher asks everyone to say something about Mannat to make her feel comfortable. Everyone praises Mannat. Bittu says that Mannat fulfilled daughter's place in his life. They starts playing antakshari. Everyone dances. Mannat gets emotional seeing the family tree. Seher adds Mannat in the family tree. Jeeto asks that what Mannat's picture doing in their family tree. She adds that Seher wrongly wrote Mannat instead of Manpreet. Seher tells her that Mannat is Bittu's real daughter and her name is not Manpreet which shocks everyone.
Episode ends.
Click to read