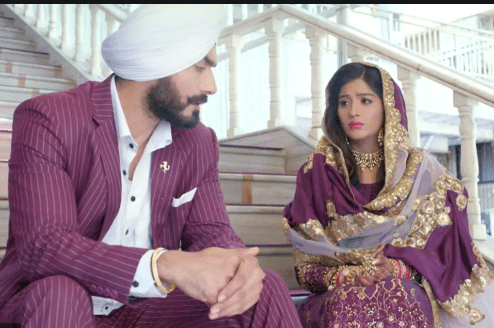 Today's episode begins with Meher telling Sarab she is impressed now leave her down.Sarab says he stopped worrying about himself now that he has her bandriya who worries about him.Bittu shouts at Amrita and accuse Yuviof keeping chewing gum on Jeeto'shair.Amrita tells him Yuvi is naughty but he will never do anything to harmJeeto.Bittucontinue to yell at Amrita and Kulwant laughs in the other room this is what is called divide and rule.
Jeetocries. Amrita calls Meher and ask her what she did when her friend hair got stuck with chewing gum. Meher instruct her to use ice cubes on Jeeto's hair and towel it off softly. Kulwant pretends to be shocked at Jeeto's plight.
Harleen is annoyed to see Sarab bringing Meher and continue to ignore her.Harleen slips and was about to fall off when Sarab pulls her saving her.But he falls down with the force.Harleen and Meherare shocked.Sarab holds an iron rod.Meher descend down the stairs and uses her duppataand ask Sarabto hold it.Harleen too comes and attaches her duppata.Together they both pull Sarab and save him.They hug him and cry.He kisses their hands and hugs them.
Robby finds Meher's medical report in Harleen'scupboard and reads it.He dint see it properly at first and thinks its all normal then when he places his glass on the report his eyes falls on 3 months pregnancy and thinks so this is it.Bittuscolds Yuvi and beat him with bat.Yuvi denies doing it.Amrita shouts at Bittu.Bittu yells at her and speaks disrespectfully.Jagga hears it and shout at Bittu.He asks Yuvi who denies again.Both brothers continue to fight while Kulwantis delighted that her plan worked out.
Dolly gifts skates to Param and try to find out if Harleen and Meher fought when they went to Chandigarh.Param deviates and wanted only to play.Sarab applies bandages to both Harleen and Meher.Param is worried to see Meher hurt and asked what happened.Harleen takes few red chillies and takes nazar off Sarab.Sarab explains to Param that he met with small accident and Meher,Harleen saved him.
Harleen tells Meher she only has 7 hours to decide.At night Meher struggle to braid her hair,Sarab comes and helps her.He tells that they both will make a promise to eachother that they will always stand by eachother and always help out.
Precap –Sarab searches for Meher at night and Meher reaches maternity hospital and recollect Harleen's condition to either abort or leave Sarab.