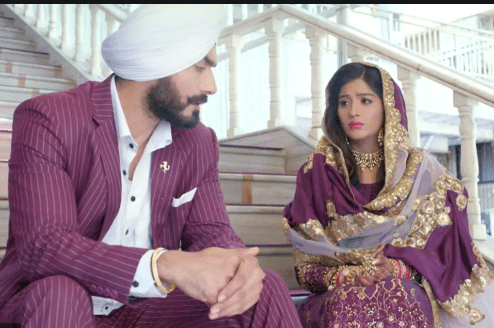 Today's episode starts with Press converging news of Sarabjeet's return to India. Meher sees the news and cries. Harleen and Dolly tries to meet Sarabjeet but inspector stops them from meeting him. Public out their accuses Sarab for killing his wife. There, Param and Jolly too arrives on the airport. Param sees Sarabjeet and runs towards him. Meher cries seeing the news.
Sarabjeet sees Param and thinks he shouldn't learn about the truth. He says to Param that he is playing game with him meanwhile; someone throws the black ink on Sarabjeet's face. Inspector separates Sarabjeet and Param. Meher cries. Param cries too and Jolly stops him. Afterwards, Meher asks the goon to open the door. She says she is alive and will not let anything happen to Sarabjeet. Gooen enters and ask Meher not to shout else he will shoot her. He puts Meher on Gun point and closes her mouth with tape.
Sarabjeet, Meher cries recalling the past moments. Later, Harleen comes to meet Sarabjeet and ask him what happened. Sarab refuses to answer to Harleen and ask her to take care of Param. Harleen gives her promise to Harleen and ask Sarabjeet to tell her the truth but Sarab remains silent.
Harleen insists Sarab to tell the truth and slaps her when he refuses to answer her. She further decides to hire a lawyer for Sarab. Rovi informs to his sister that everything is going according to her plan. There, Meher's family sees the news and Bittu gets angry on Sarabjeet. Jagga supports Sarbajeet and Kulwant gets angry on him for showing sympathy for Sarabjeet. She further decides to hire a lawyer against Sarab.
Meher overhears the talk of Goons and their mastermind and thinks of a plan to escape from the place. She looks for a way and sees the fire alarm. She burns the papers and fire breaks out in the room. Meher thinks Sarabjeet has done much for her and her unborn child and now she will pay him back. (Episode Ends)
Precap: Meher fights with the goons and runs away. There, Police beats Sarabjeet.